With digitalization, the power to make a difference has never been more accessible. Yet, amidst the vast sea of possibilities, finding the best donation plugins for WordPress to channel this generosity can be a daunting endeavor.
Worry not, because we've created the top 10 WordPress donation plugins for 2024.
Whether you're a seasoned nonprofit organization, a budding charity, or an individual with a fervent desire to ignite change, this comprehensive guide is your compass.
Say goodbye to the dilemmas of technical integration, limited payment options, and complex tweaks. We'll reveal powerful plugins that simplify donations, boost your impact, and let you concentrate on driving positive change. 
Your vision for a better world deserves nothing less than the best. And these plugins are here to ensure that your aspirations transcend limitations and your impact knows no bounds.
Our Picks for the Best Donation Plugins for WordPress
A top-notch WordPress donation plugin combines the following elements to empower your fundraising efforts and maximize your positive impact:
User-Friendly Interface: Intuitive and easy-to-navigate interface for both administrators and donors.Customization Options: Ability to personalize form templates, payment options, and branding.Payment Flexibility: Support for various payment gateways, including popular ones like Stripe, PayPal, and Authorize.net.Recurring Donations: Option for donors to set up regular, automated contributions.Coupon Management: Ability to manage and apply promotional codes and discounts.Multi-Language and Multi-Currency Support: Accommodates diverse donor audiences.
With the features mentioned above (and more), we've carefully curated 10 of the best WordPress donation plugins that you can choose from.
1. GiveWP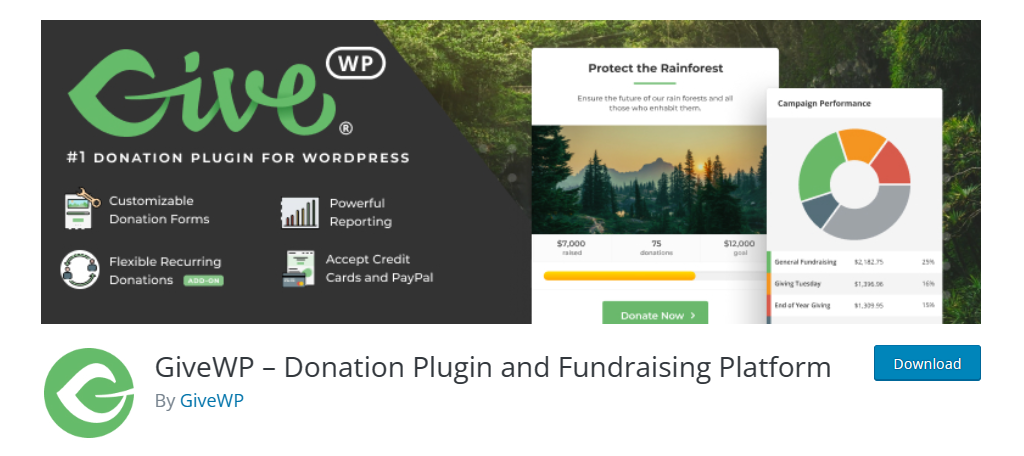 With more than 100,000 active users, it's no secret that GiveWP is one of the best WordPress donation plugins. But this popularity isn't random luck. Here's why:
It caters to both newcomers and seasoned campaigners, making it effortless to create engaging campaign pages and custom donation forms, all available even in the free version. 
This plugin also gives you extensive control over your donation process. You can personalize donation tributes, various donation amounts, goals for your campaigns, currency choices, tax-deductible receipts, and more.
GiveWP also gets along with major email marketing services, so you can easily talk to your donors. This is great for setting up special campaigns for holidays or important events, which brings joy and helps build good relationships with supporters.
And of course, donors also benefit from GiveWP's versatility, as it effortlessly collaborates with prominent payment gateways like Stripe, PayPal, and Authorize.net. 
Benefits of GiveWP
GiveWP's free version is perfect for budget-friendly entrepreneursEnhance your plan with plugins that fit as you can pick what you need, such as Google Analytics integrationIt lets WooCommerce stores add a donation upsell directly on the checkout pageAdjusting visual elements is hassle-freeShow transparency and trust to donors by giving PDF receipts
Drawbacks of GiveWP
Basic plan starts at $240/year, Plus plan at $360/year, affecting plugin choice based on budgetGiveWP's setup might be a bit challenging for some usersLive online support chat is not available for time-sensitive queries
2. Seamless Donations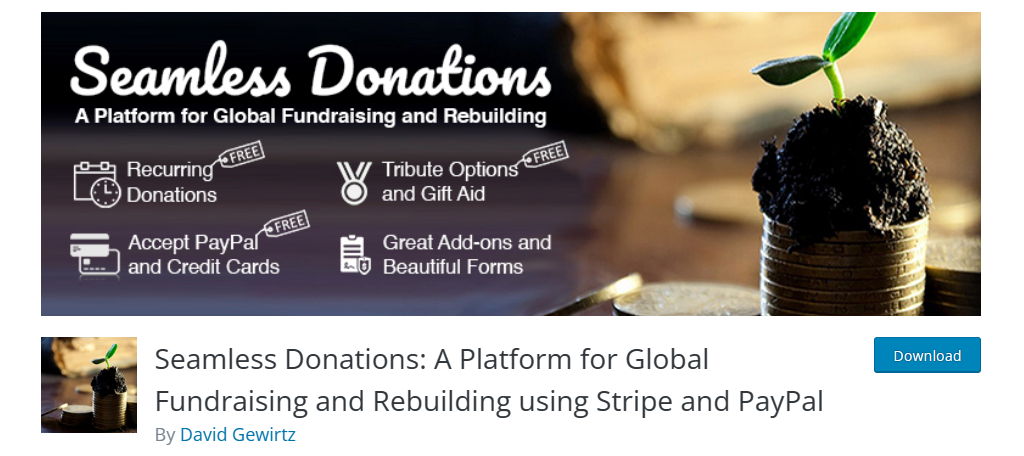 Seamless Donations provides easy-to-use donation forms that seamlessly (no pun intended) blend into your website. This makes it easy for your supporters to donate without any complications.
In addition, the plugin includes a powerful system on the backend, which helps you effectively organize and keep track of the donations you receive.
Embracing the power of PayPal, Seamless Donations offers a convenient dual avenue for donors. They can use their PayPal accounts or credit cards. This way, more people can join in and be part of it.
Unlike some alternatives, Seamless Donations comes with an added perk – no-cost thank-you messages and the ability to set up recurring donations. This helps you build better relationships with donors and it doesn't cost you anything more.
Benefits of Seamless Donations
It offers a straightforward experience without compromising its powerful featuresIt easily connects with tools like Goodbye Captcha and SendGrid to make your website more efficientYou can handle all your donations right from your WordPress dashboard, saving you time and effortDonors can choose which cause or campaign they want to supportWith some paid add-ons, you can make your donation forms look even better, helping them stand out
Drawbacks of Seamless Donations
While beneficial, each premium add-on comes with a $19.95 price tag, which might not be affordable for everyoneAlso, the premium add-ons are sold individually, which could increase costs for users needing multiple enhancementsThe lack of well-classed HTML elements makes CSS customization frustrating and challenging
3. Charitable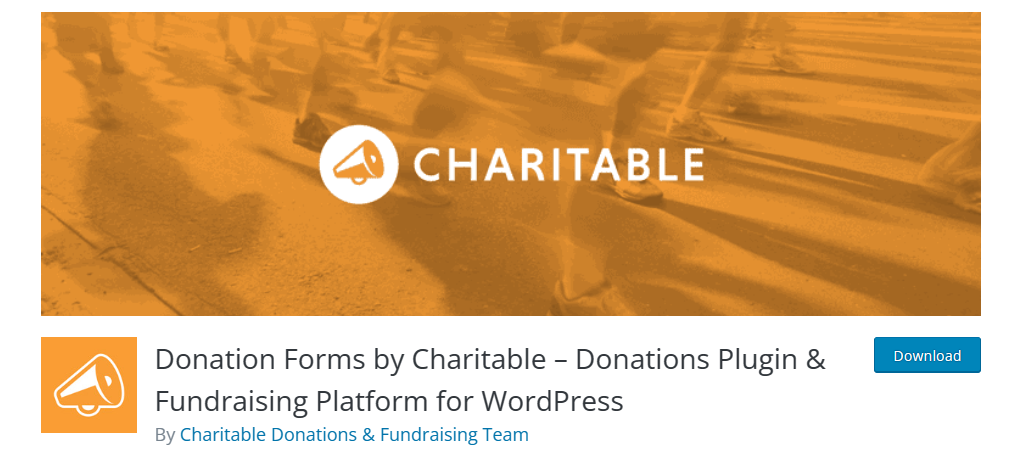 Looking for strong WordPress donation plugins like GiveWP? Charitable stands out as a top contender.
Charitable offers a user-friendly way of handling donations. It lets you easily keep track of and locate specific contributions, making the management process smooth. And if you enjoy looking at data, you can even export donation information to get detailed insights and reports.
Another impressive thing about Charitable is its ability to create time-limited campaigns that perfectly fit things like events, holidays, or seasonal content. Also, you can customize campaigns for different occasions.
Charitable isn't just packed with great features – it's also kind to your budget. There are no extra fees, so it's a smart choice for helping your fundraising efforts go further. And when it comes to payments, Charitable works well with PayPal without any additional costs.
Benefits of Charitable
Charitable gives you special email tags to personalize your messagesYou can easily create and add donation forms to many campaign pagesCharitable lets you accept donations even if they're not online, making it easier for donorsYou can do even more by adding peer-to-peer fundraising with an extra toolYou get a 14-day money-back guarantee, so you can feel safer about your choice
Drawbacks of Charitable
To use payment gateways like Stripe, Authorize.net, and Braintree, you need to upgradeRecurring donations and fee relief are in the $249/year Growth plan, possibly pricey for nonprofitsIf you're used to GoFundMe and similar platforms, you might notice some features aren't included by default
4. Donations via Paypal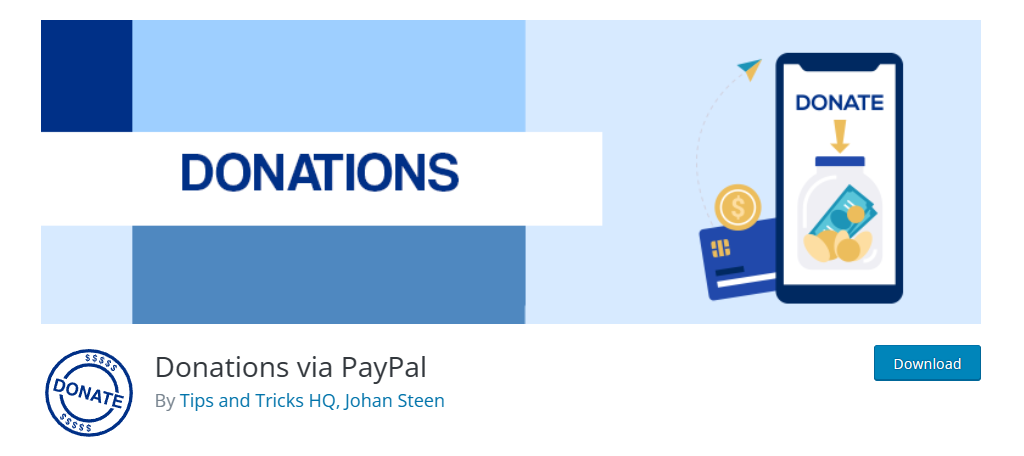 This plugin might be self-explanatory, but it still deserves an introduction. Donations via Paypal is perfect for those who don't need all the bells and whistles other plugins offer.
This free donation plugin for WordPress adds a PayPal donation button to your site, letting visitors donate using their PayPal accounts or credit cards. You can place the button using a widget or shortcode – it's easy either way.
The best part? This plugin works smoothly with any WordPress theme. No need to worry about compatibility issues – it'll blend seamlessly into your site's design.
Cut out the clutter and make donating easy for potential supporters. When it comes to WordPress donation plugins, this one proves that simplicity can be powerful.
Benefits of Donations via Paypal
With the free version, you get multiple ready-to-use button styles that you can personalizeYou can also create your very own button design, adding a touch of your site's personality to the donation processThe plugin includes a Sandbox mode that lets you test how donations work using PayPal without actually making real transactionsMake donating simpler by setting up a dropdown menu that suggests specific donation amountsCustomize each donation button to speak the language of your audience and show their preferred currency
Drawbacks of Donations via Paypal
The free version only lets you get one-time donations easilyEnabling recurring donations results in the 2.9% + $0.30 per donation charge
5. Donorbox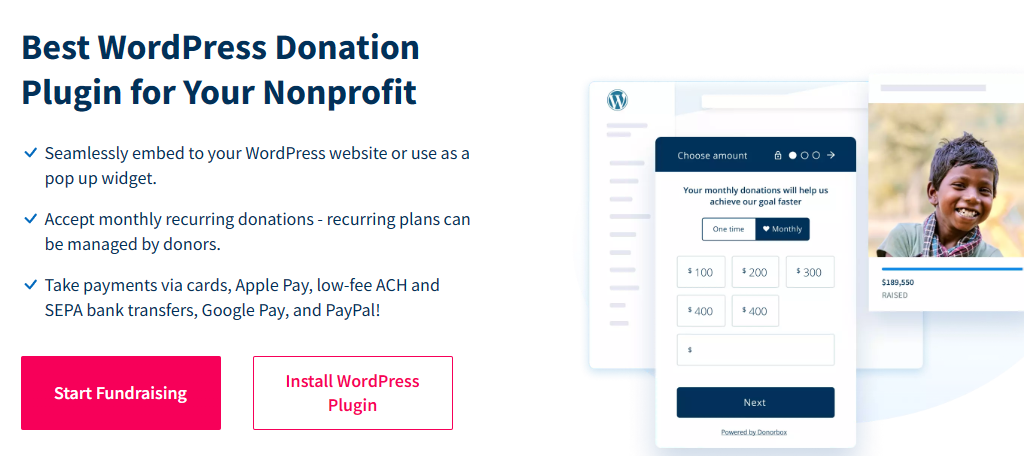 Donorbox is a versatile cloud-based donation platform that works well with different content management systems (CMS) and website-building tools. To use it on your WordPress site, you just need to add a free plugin called "Donorbox integration."
One impressive thing about Donorbox is that it can automatically detect the language that donors prefer. This is handy because it lets donors contribute comfortably in the language they're most comfortable with.
Regular donors using Donorbox can easily monitor their donation history and activity through secure login details. With this, they can track their contributions over time.
Last but not least, it provides customizable donation forms. Adjust the color scheme and style to make the donation process look and feel seamless and attractive on your website.
Benefits of Donorbox
The donation forms are designed to work well on various devices, so they'll look good no matter what you're usingIt ensures your donations are safe by providing options like Stripe so you can accepts cards, Apple Pay, bank transfers, Google Pay, and PayPalAdd a meaningful message on the donation form, allowing donors to contribute in memory of someone specialMake things clear for donors by showing different donation amounts and explaining the impact of each choiceIt lets you display desired donation frequencies (weekly, monthly, quarterly, yearly) upfront for effortless recurring support
Drawbacks of Donorbox
Donations up to $1,000 are fee-free, but amounts beyond that are subject to a 1.5% charge along with payment gateway fees like PayPalDonorbox charges extra monthly fees for various email marketing and CRM integrationsSwitching to Donorbox from another software might be a bit challenging at first due to the learning curve
6. WPForms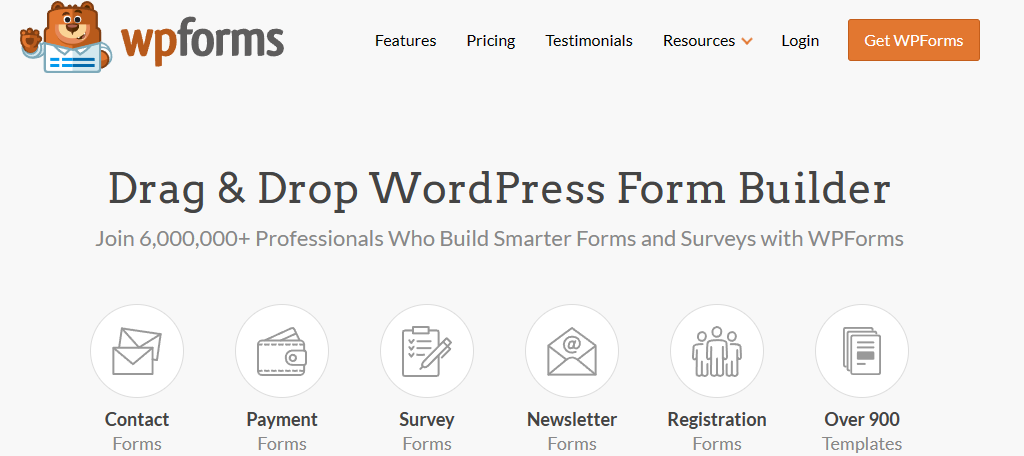 Smaller charities and nonprofits often like things simple when it comes to raising funds. They prefer an easy donation form that can handle both one-time gifts and regular pledges.
Enter WPForms—a well-known player in this arena. It earns its reputation through a user-friendly drag-and-drop form builder that empowers users to create tailored forms without any coding fuss.
Even though it might not have all the fancy things that other plugins do, WPForms remains a solid choice. You can still enjoy seamless integration with trusted payment websites such as PayPal, Stripe, Authorize.net, and Square.
Besides helping with donations, you can use it to create contact forms, surveys, polls, email newsletter signups, volunteer registrations, and even lead generation.
Benefits of WPForms
Start with more than 300 templates, including donation forms, so you don't have to build everything from scratchAdd videos and photos to your formsConnect easily with email and CRM tools such as MailChimp and AWeber to reach more peopleMake your forms more interactive and customized with "conditional logic," meaning the questions change depending on previous answersIf you're a nonprofit, you get a big 75% discount on the Pro plan
Drawbacks of WPForms
The payment add-ons for PayPal, Stripe, Square, and Authorize.Net are exclusively available with the Pro planWPForms may not be the best fit if you require specialized donor management features to track and organize contributorsThe annual subscription cost is high, and the basic tier offers limited features compared to others
7. Donation for WooCommerce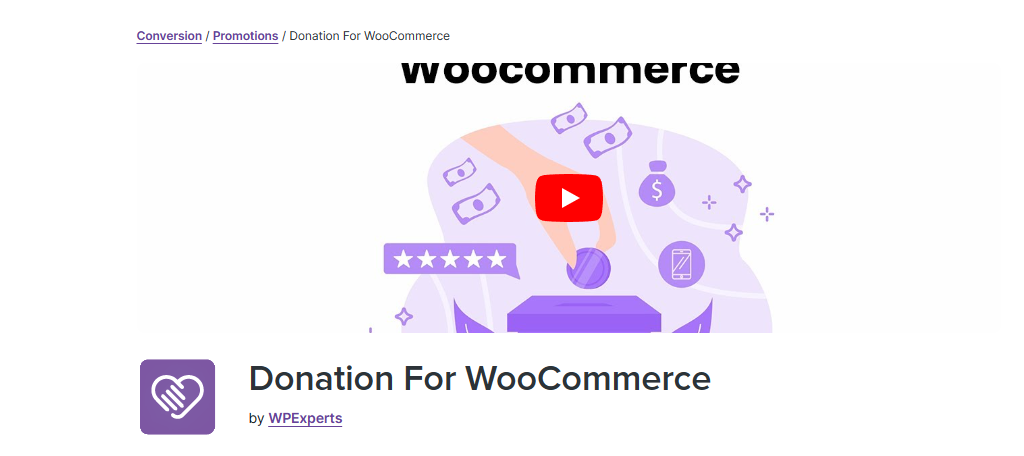 If you already have an online shop using WooCommerce, this extension is a great choice to add a donation feature.
With the Donation for WooCommerce extension, you can convert your WooCommerce product pages into functional fundraising spaces.
Customize your donation campaigns by setting goals for how much money you want to raise and offer fixed donation amounts for people to choose from.
It also goes the extra mile by letting customers round up their purchases to the nearest dollar when they're checking out. The extra change then goes towards a donation.
This makes it easy for customers to give a little extra and support a good cause while shopping.
Benefits of Donation for WooCommerce
Customers can choose the charity they want to support with their round-up donationsEncourage people to donate regularly by using the subscription donation featureEasily place a donation widget on your online store wherever you want using shortcodesGet clear reports on donations in formats like CSV and PDFKeep track of specific campaign donation goals and let your customers see the progress
Drawbacks of Donation for WooCommerce
Donation for WooCommerce's $99 yearly cost could be a barrier for some usersThe plugin's exclusive compatibility with WooCommerce limits future platform changesStandalone donation products can't be formatted or customized using the Gutenberg block editor like regular WooCommerce products
8. WP Crowdfunding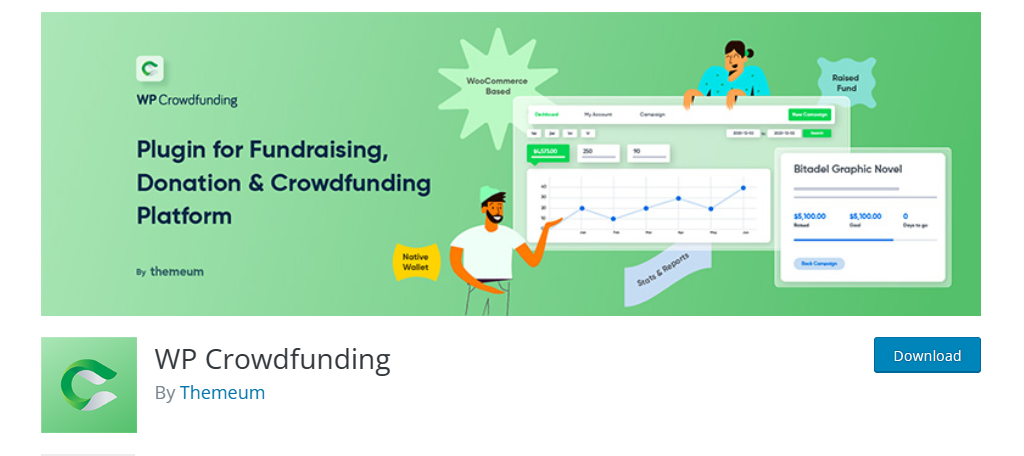 WP Crowdfunding is your ticket to an efficient crowdfunding experience in WordPress. It helps you turn your online store into a thriving center of campaigns and donations.
When people come to your website, they can quickly become part of the community, start their own projects, and secure the necessary funding for their projects. The campaign pages boast a sleek and professional design, while the plugin seamlessly blends with your existing theme.
Central to WP Crowdfunding's effectiveness is its native wallet system. The concept is simple yet incredibly practical. You gain the capability to accept and manage pledges from multiple donors.
As the administrator, you have the power to approve withdrawal requests when the campaign meets its goal. This smooth process makes sure that money is used well and openly, making donors feel more confident.
Benefits of WP Crowdfunding
Make unlimited rewards with estimated delivery dates for your campaignsConnect with various safe payment methods like Stripe, PayPal, and moreGet automatic emails when new campaigns are createdAnalytical reports show how well your campaigns are doingDisplay backers' names on the project page, showing gratitude, either openly or anonymously
Drawbacks of WP Crowdfunding
Developers might find the lack of hooks and limited shortcodes constrainingLimited user-friendly admin customization can be less intuitive for non-technical usersUnlocking all features requires a payment of at least $149/year
9. Formidable Forms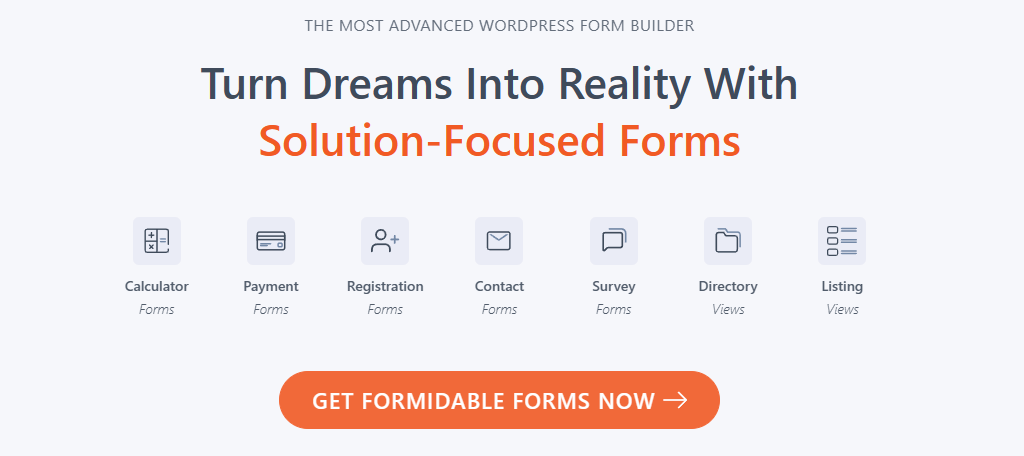 Formidable Forms offers a dynamic approach to crafting forms, providing both a drag-and-drop form builder and a visual styler. This combination seamlessly integrates form creation with your website's design.
With lots of ready-made form templates, you can quickly create the perfect form for your needs. There's even a special template just for collecting online donations. You can change these templates to look exactly how you want using Bootstrap and custom HTML codes.
Formidable Forms doesn't stop at form creation. It also helps you understand your data better. You can see graphs and charts on your WordPress dashboard that show how your donation efforts are doing.
And that's not all – this plugin easily works together with well-known email tools like Mailchimp and AWeber. With this, your donation campaigns can have an even bigger impact by reaching more people.
Benefits of Formidable Forms
Receive text message alerts for each donation you receiveFormidable Forms works well with WPML, letting you switch your form to any languageProtect your donation campaign from fake donors using built-in special tools like Honeypot, reCAPTCHA, and AkismetAccept donations using Stripe, PayPal, and Authorize.netUse the Skip Logic feature for personalized forms that adapt to donors' responses
Drawbacks of Formidable Forms
You're unable to decrease the gaps between fields which can affect the compactness of formsAs your projects get more complicated, the cost might seem high for individuals, small businesses, and hobbyists
10. WP Simple Pay
With WP Simple Pay, you can easily link to Stripe and collect donations right on your WordPress site. As such it is one of the best donation plugins for WordPress.
Setting it up is simple – just add the plugin, connect your Stripe account, and put a payment button or form on your website.
Use the plugin's simple drag-and-drop editor for stress-free customization of form templates. You have the flexibility to adjust field names, change preset prices, and set payment options as one-time or recurring.
WP Simple Pay works well with tools like AffiliateWP, Groundhogg CRM, and Uncanny Automator. This ensures a smooth collaboration and improves your fundraising efforts.
Benefits of WP Simple Pay
Set user-defined prices, recurring payments, and more with flexible payment settingsManage coupons effectively for powerful discounts and promotionsCraft custom payment receipt emails for a unique touchTest Mode allows trial transactions before going live with the payment button or formEnjoy full multi-language and multi-currency support for wider accessibility
Drawbacks of WP Simple Pay
The plugin requires a yearly license renewalWhile easy to use, complex customization can be challengingStyling options for buttons and pop-ups are somewhat restricted
FAQs on WordPress Donation Plugins
What is a donation plugin?
A donation plugin is a tool you can add to your WordPress website to make it easy for people to support your cause. It helps you collect donations from visitors by creating forms, connecting to payment systems (like PayPal), and managing the process.
Should I add a donate button to my website?
Putting a donate button on your website is a good plan, especially if you're all about a cause, or a nonprofit group, or if people really like what you're sharing and want to help.
A donate button makes it easy for visitors who believe in your work to contribute and help sustain your efforts.
This button strengthens your connection with the audience and provides vital funds to maintain your site and mission. Ensure the process is secure and user-friendly for maximum engagement and support.
How do I add donations to my WordPress site?
To add donations to your WordPress site, you can use a plugin mentioned in this article. Install and activate the plugin you choose from the WordPress dashboard. 
Follow the plugin's setup instructions to configure donation options, such as payment methods and suggested amounts. Customize the donation form to match your site's design and add it to a page or post using a shortcode or block. 
Make sure to test the donation process to ensure it works smoothly. Additionally, consider adding a clear call-to-action, explaining the purpose of donations, and showing the impact they make to encourage user engagement.
Where should I put a donate button on my website?
Place a donate button prominently in your website's header, footer, or sidebar for better visibility. Also, think about putting it where you talk about your cause, like in stories or updates.
This helps people find it easily when they visit your site.
Can WooCommerce be used for donations?
Yes. WooCommerce, originally designed for eCommerce, can be repurposed effectively for accepting donations on your WordPress site. 
By creating a donation product and customizing the checkout process with donor information fields, you can utilize WooCommerce's payment gateway options such as PayPal and Stripe to securely process donations. 
While WooCommerce's adaptability allows for a seamless donation experience and comprehensive reporting, dedicated donation plugins might offer more specialized features for streamlined charitable giving, depending on your preferences and needs.
Elevate Your Fundraising With The Best WordPress Donation Plugins
Picking the best WordPress donation plugin is key for successful fundraising. This article has highlighted top choices that excel in being user-friendly, customizable, payment processing, and overall effectiveness.
Use these plugins to create powerful donation campaigns and make a real difference in the world.