Websites today are huge and have a lot of content for visitors to explore, but it can be difficult to find what you are looking for. That's where navigational menus come into play. And luckily, WordPress has a great selection of menu plugins to choose from.
These plugins can help you make site navigation easier and get visitors to view more of your content. These plugins add all types of design from mega menus to mobile menus, not to mention hundreds of animation options.
Today, I will share the best menu plugins to use in WordPress to expand your site's navigation.
Our Picks for the Best Menu Plugins
1. Max Mega Menu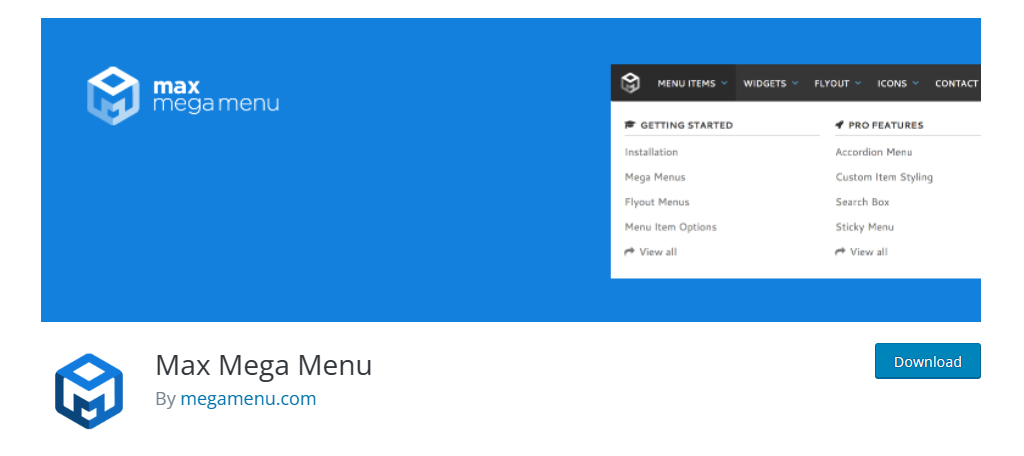 As websites grow over time, it becomes more challenging to fit all of the important links a website offers into a menu. That's where a mega menu comes into play. This is a much larger menu designed to fit lots of links in a visually appealing way.
There is no better plugin to build one of these than using the Max Mega Menu plugin.
This plugin utilizes a drag-and-drop editor to help you put together your mega menu in minutes at any skill level. Any menu you do build with this plugin is naturally responsive, and it even has unique mobile options for very large menus.
The plugin is fully functional with the free version. But if you are looking for more options, the Pro version is definitely superior. It even has sticky menu support and WooCommerce integration options.
Max Mega Menu is easy to use and starts out free, so give it a try.
Benefits of Using Max Mega Menu
Toggle Blocks for Mobile UsersBasic Support for Free VersionAdd Menus Anywhere with Max Mega Menu BlockRestrict Menu Options Based on User RoleUses Font Awesome, Genericon & Custom Icons
Drawbacks of Max Mega Menu
WooCommerce Options Are Locked Behind the Pro Version
2. WP Mobile Menu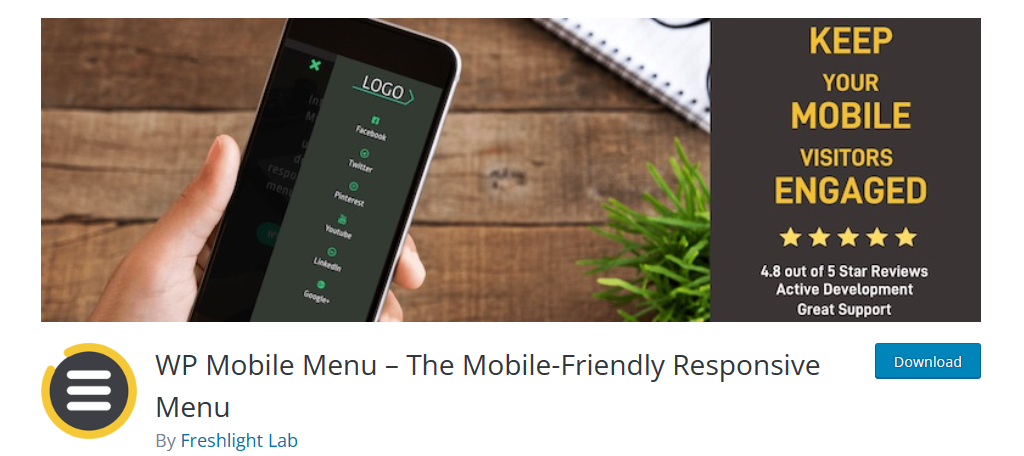 Regular WordPress menus are responsive and can work fine on mobile devices. However, if you ever compare them to custom-made mobile menus, you'll see that they leave a lot to be desired. The WP Mobile Menu plugin can help you build custom menus for mobile.
You can install the plugin for free, but the premium version is where most of the standout features reside.
Perhaps one of the most prominent features of this plugin would definitely be the sliding menus designed specifically for mobile users. They can drag the menu into or out of view in one movement. You can also choose to hide other elements when the menu is on display.
This makes sure that users don't accidentally click on elements not fully covered by the menus. When it comes to customization, you are in full control of the colors, fonts, and even have access to over 2,000 icons, or you can even upload your own.
Benefits of Using WP Mobile Menu
Gain Access to Animated IconsIncludes A Premade Copyright SectionEasily Upload Your Own Logo to the MenuAdd Background Images to Your MenusSupports 3 Depth Menus
Drawbacks of WP Mobile Menu
Menu Cart Icon Locked Behind Premium
3. Menu Image
Images are powerful tools a website can use to help direct users around their website. And as such, they can be implemented in your WordPress menus. That said, you need to make sure they are properly sized and accurately fit the content they are pointing to.
The Menu Item plugin was made specifically for this purpose and offers a lot of useful features.
The bread and butter of this plugin is to allow images to act as links in your menus. For example, if you run a gym and offer Yoga classes, you could just use an image of an instructor doing Yoga to help users find that option.
This works for any type of business, just make sure the image makes sense and is properly sized. The other part of this plugin is a big focus on icons. You'll be able to utilize Font Awesome and more for hundreds of options.
Benefits of Using Menu Image
Add Cart Count to Menu (How Many Items Are in Your Cart)Display the Total Price Of Your CartChoose From Font Awesome or DashIcons LibrariesAdd "Hiring Now" to Career MenuChoose the Dimensions of Images in Your Menu
Drawbacks of Menu Image
The Plugin Doesn't Really Do Anything Else Besides Images, Icons, and Notification Symbols
4. Responsive Menu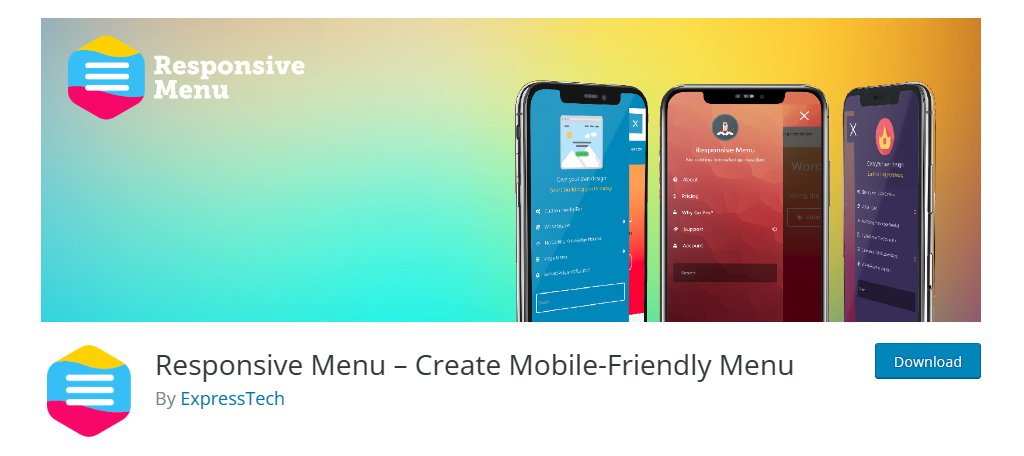 The name really says it all with this plugin. Responsive Menu is exactly what it sounds like; a plugin for creating responsive menus that can be navigated on any device. Most importantly, it is easy to use and free.
The plugin utilizes a visual builder to ensure it is accessible at any skill level, which makes it perfect for beginners.
As you might expect from a visual builder, you have a lot of customization. You can easily control the colors, font, icons, and every other element in your menus. The plugin boasts 22,500 options to choose from, so there is something for everyone.
While the free version brings a lot to the table, there are a lot of worthwhile features in the premium version. For instance, you'll be able to preview changes before implementing them. This can help you spot mistakes and avoid confusing typos.
Benefits of Using Responsive Menu
This Plugin Is Translation ReadyChoose From Premade Menu ThemesMenus Look Great on Any Screen SizeAdd Custom HTML ComponentsChoose Which Side A Menu Appears On
Drawbacks of Responsive Menu
There Are a Lot of Options, Which May Get Confusing
5. UberMenu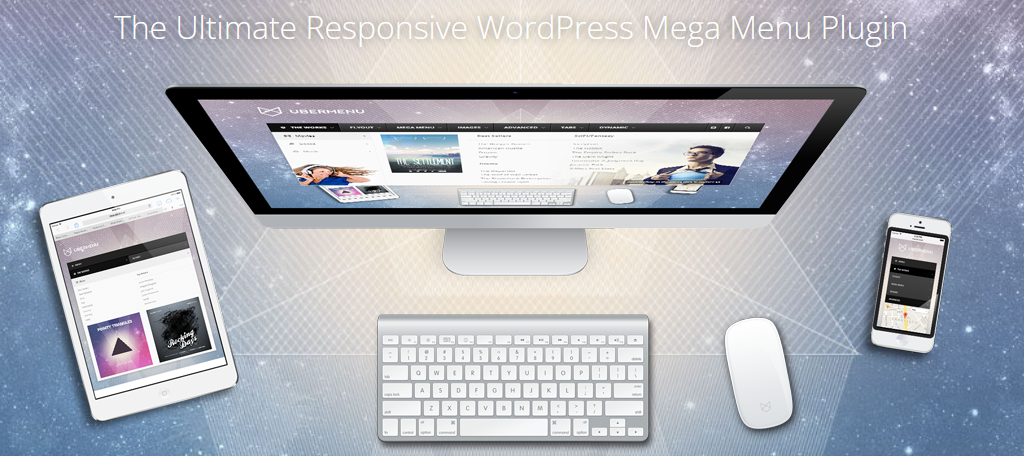 UberMenu is an amazing premium menu builder for WordPress that creates responsive menus that look great on any screen size. Since it is premium, you can expect a lot of features and more importantly, access to dedicated support.
This makes it a great choice for beginners that may need more help to troubleshoot issues.
In terms of menu types, this plugin handles everything. Flyouts mega menus, images as menu items, submenus, and anything else you could think of are in this plugin. You'll also be in full control of the menu style from the color to the font being used.
One of the most tedious parts of building menus is adding all of the individual links, but UberMenu can help with that. It can automatically fill in menu items for you by entering certain taxonomies like categories or tags.
Benefits of Using UberMenu
Create Tabbed SubmenusOver 100 Font Awesome Icons IncludedAdd Custom Badges to Menu ItemsChoose From A Variety of Drop Down TransitionsInsert Your Own Custom CSS
Drawbacks of UberMenu
There Are No Free Options
6. WP Mega Menu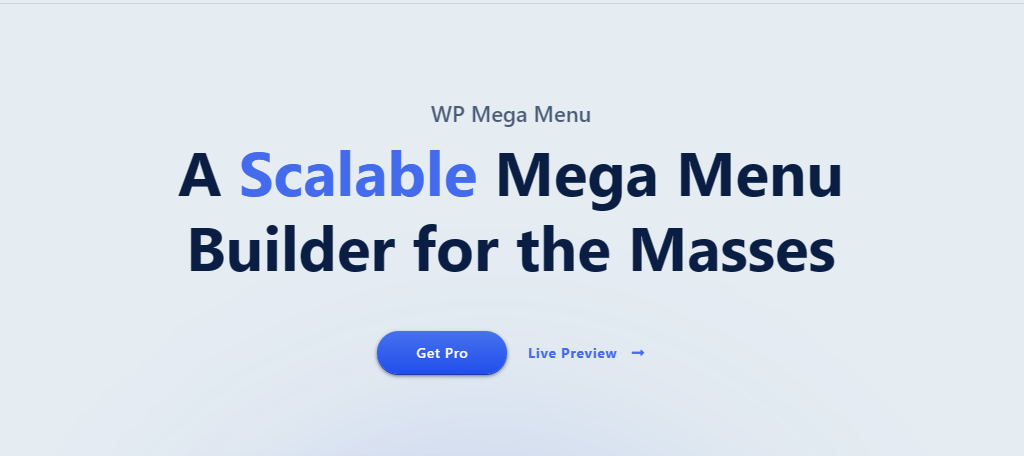 WP Mega Menu is one of the best plugins for WordPress when it comes to building large scalable menus. It utilizes a visual editor to allow you to move elements around and get them into the best position in seconds.
As such, you won't need any coding skills to make the most of this plugin, which is ideal for beginners.
Design is really the bread and butter of WP Mega Menu, and you have a nearly endless amount of options at your disposal including layouts, fonts, colors, icons, and anything else you could put in a menu.
One of the standout features is the integration options with WooCommerce. In the Pro version, you can create product menus with pricing information and allow users to add items directly to their cart from the menu.
Benefits of Using WP Mega Menu
Add Menus to Widget AreasAdd Your Logo to MenusIncludes Social Media OptionsDisplay Animation Effects In MenusCreate Tabbed Submenus
Drawbacks of WP Mega Menu
Premium version is For a One-Year License
7. JetMenu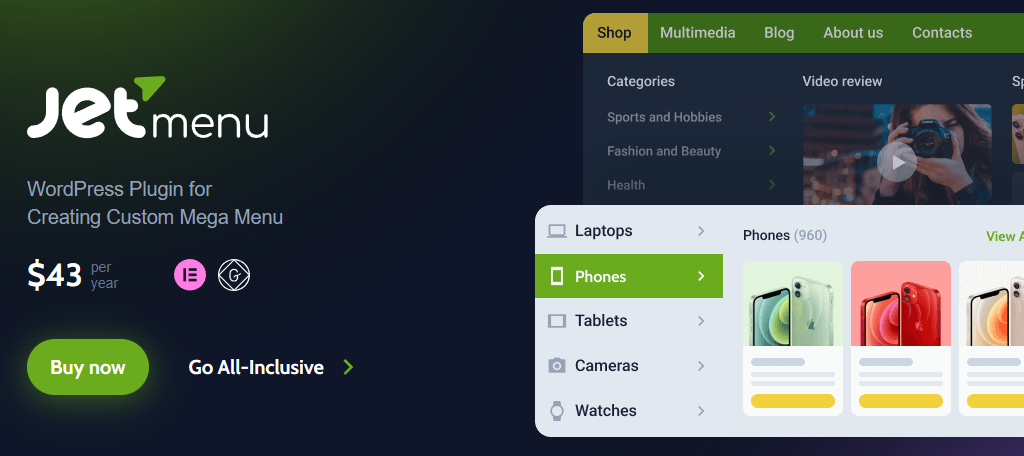 JetMenu is one of the best premium menu plugins for WordPress. It has nearly every feature you can think of when it comes to menu creation and utilizes a drag-and-drop interface to ensure it is accessible to all users.
Perhaps the most noteworthy feature is support for both horizontal and vertical menus.
Horizontal menus are more traditional and work well on most sites, at least when users are on a desktop. On mobile devices, they can be hard to use, but vertical menus are ideal. It's much easier to go up and down a page instead of horizontally.
Design-wise, JetMenu might just have the most options. Nothing makes that more apparent than the integration options for Elementor. You can insert these menus onto any page created with the Elementor page builder.
Benefits of Using JetMenu
Add Transitions And Animations to MenusCreate Menus to Show Off WooCommerce ProductsSupports Hamburger Menus (3 Horizontal Lines)Control What Menu Items Appear on Desktop And MobileAdd Your Own Icons
Drawbacks of JetMenu
No Free Option is Available
8. QuadMenu
When it comes to the best free menu plugins in WordPress, QuadMenu easily makes the list. It offers stunning design options thanks to a drag-and-drop menu builder that is perfect for users of all skill levels.
And no matter what you build with it, you can rest easy that it will look great on mobile devices.
The plugin focuses on providing a way to build mega menus, tab menus, and carousel menus. In terms of layout, you have complete freedom to create columns and rows as needed, add icons, and more.
Since it is all done through the editor, you won't need any coding skills to get great results. It's also worth pointing out that this plugin supports both horizontal and vertical menus, so you get the best of both worlds.
Benefits of Using QuadMenu
Show or Hide Menu Items Depending on the Screen SizeAdd Dropdown AnimationsSupports Font Awesome IconsEasily Change colors and Fonts to Match Your ThemeAdd WordPress Widgets to Your Menus
Drawbacks of QuadMenu
Carousel Features Are Locked Behind Premium
9. Advanced Sidebar Menu
Advanced Sidebar Menu is easily one of the best menu plugins for WordPress. And as the name implies, it focuses on adding menus to your sidebar. This is great for showing related post content or content by category or other taxonomies.
As you might expect from sidebar content, this plugin utilizes a widget to display the menus.
The plugin allows you to show children of the current page or post, or alternatively, you can use it to display posts or pages that share the same category. You also have the option to exclude some content from appearing.
To do this, you would just need to enter the page or post ID into the respective exclude box and it will not appear. In the case a child page also has a child page, it will appear indented underneath it.
Benefits of Using Advanced Sidebar Menu
The Pro Version Adds A Navigation Menu BlockEnable Accordion View To Prevent Long ListsAdd Icons to Your Menu ItemsPriority Support Is Available In the Pro VersionIncludes English French, German, and Spanish Translations
Drawbacks of Advanced Sidebar Menu
Features Are Very Limited In the Free Version
10. Hero Mega Menu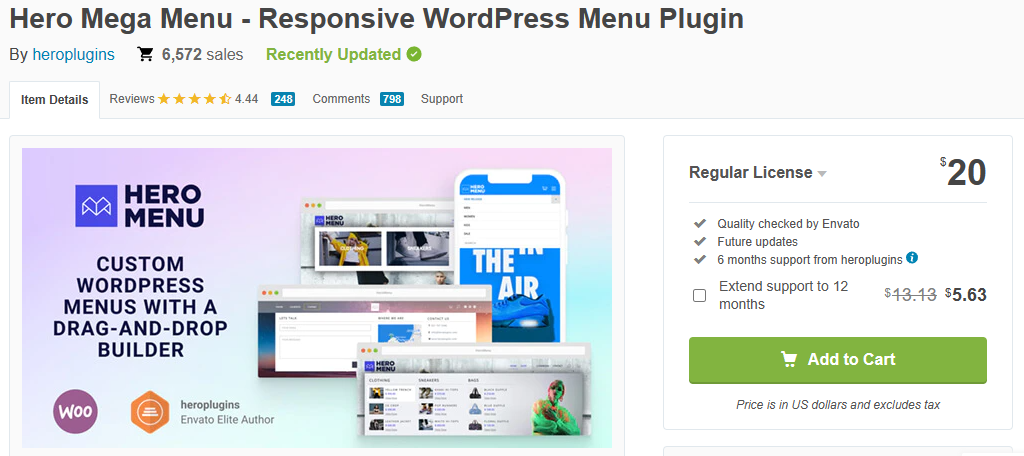 Closing out this list of the best menu plugins for WordPress is Hero Mega Menu. It is yet another terrific drag-and-drop menu builder for WordPress that can do just about anything when it comes to menu design.
One of the main focuses of this plugin is on integration with WooCommerce.
You can create full mega menus with your WooCommerce products on display. This can help you show off current sales or hot products on your site.
Hero Mega Menu also has a ton of options to help make the menu more accessible for users.
For example, if you have a lot of products on your page, scrolling back up to the top can be a real pain. You can avoid this by enabling the sticky menu with a single click. That way, it follows the user throughout the page.
Benefits of Using Hero Mega Menu
Add Line Dividers Between Navigation ItemsChoose From Hundreds of Menu IconsIncludes Three Different Search FieldsChange the Color of Menu Items SeparatelyDecorate Menus With CSS Gradients
Drawbacks of QuadMenu
No Free Version is Available
FAQs for Managing Menus
Do Sticky Menus Get in the Way of Content?
Sticky menus are great options for websites that have a lot of content on a single page or post. That's because these are menus that follow the user down the page. Thus, they are always accessible.
While this can greatly benefit the user, these menus can get in the way of actual content, which is why some sites avoid them.
This problem can be mitigated by properly sizing your sticky menu and controlling the width of the content on your site. By leaving some extra room on the side, you can ensure that sticky menus do not get in the way.
Does My Site Need Mobile Menus?
Probably. There is no denying that some websites can work fine without having mobile menus, but at the same time, when compared to a site that takes the time to create them, they are almost always superior.
And when you realize that more than half of all web traffic comes from mobile devices, taking the time to create mobile-specific menus is time well spent. It's also worth pointing out that it can help your website's SEO.
The user experience is a consideration in rankings, thus well-designed menus are a factor.
When Does a Site Need a Mega Menu?
A mega menu is designed to accommodate sites with a huge selection of options and content types. For example, if you run an eCommerce store, you will most likely want a mega menu to show all of your product types.
Even larger blogging sites that cover all kinds of content may have the need for a mega menu. Simply put, you should consider using a mega menu when your site has a lot of options to present users like products, categories, services, or anything else.
Just be aware that sometimes slimming down your options may be more beneficial than trying to cram everything into one menu. This can help you concentrate traffic on certain categories or products.
Are Sticky Headers Better Than Sticky Menus?
A sticky header is when your header is always in the view of your visitors regardless of where they are on a page. It has an advantage over a sticky menu because it is locked to the top of the page.
This ensures that it doesn't block out content and is properly sized regardless of where a user is on a page. The header is usually one of the main reasons why someone scrolls up, thus, this addresses that problem as well.
Is It a Good Idea to Include Animations in Menus?
Animations can add some extra flair to your website and add to the overall feeling of your style. However, there is such a thing as too much animation. This can sometimes distract users, and ultimately slow down the user experience.
And not just from having to wait for an animation to finish. Having too many moving objects on a page can slow down your entire website. This is why many websites avoid them as they eat up resources. If you want to use them, keep it simple.
Should A Menu Include Images?
This is really up to the developer. Images can be extremely beneficial because it can be much quicker to look for a specific image or icon in a menu versus reading through a list of options. This can even make them more accessible.
Many websites already do this. For instance, blogs will show off categories in menus with an image to help visitors find what they are looking for faster. Or a business site can do this for the services they offer.
Imagine a gym having images of its instructors performing exercises to represent the classes they offer clients. You just need to make sure the image is easily understood and represents what the visitors will see when they click on it.
Should I Make Sticky Menus Transparent?
Transparent menus are menus that are not solid, which means they don't completely block the content that is underneath them. They are almost exclusively used on sticky menus because they can sometimes cover up the page content.
Transparency can solve this problem, however, some users with visual impairments may have trouble seeing transparent menus. As such, you may want to consider other alternatives or make it a togglable option users can enable.
Are Premium Plugins Better Worth The Cost?
WordPress has a ton of plugins to choose from and they can often be broken up into two categories, free and premium. This raises the question, of if premium plugins are worth the cost.
In most cases, premium plugins offer additional features that their free counterparts do not. They are also usually better equipped to handle more requests, which makes them a better choice for larger websites.
Most of all, they offer dedicated support. This by itself is enough for some users to purchase the premium version. These teams can help you troubleshoot issues on your site related to the plugin. This is invaluable for beginners.
With all of this said, it's worth pointing out that there are some amazing free plugins. If you won't need additional help, and the features get the job done, a free version is perfectly usable in WordPress.
Overall, premium plugins offer more features and dedicated support, which does often make them the better option.
Improve Your WordPress Menu With These Plugins
As you can see, WordPress has an excellent selection of menu plugins to choose from. Improving your website's navigation helps improve the user experience and can be used to guide users to the content you want them to see.
You'll also need to be mindful of the devices visitors use to view your content. A good menu for desktop users is not always good on mobile devices. Creating a menu for each device requires more work, but can greatly improve your site.
The plugins on this list offer unique solutions, so be sure to find the ones that best suit your needs and design philosophies.
Do you think WordPress should have more menu options? Do you use sticky menus on your website?