For one reason or another, there will probably come a time when you need to migrate your website from one web host to a better one. While this can be a stressful process, good migration plugins can help you move your WordPress site safely and quickly.
To successfully migrate your WordPress website, you are going to need to transfer your databases, files, plugins, and themes to the new host. A migration plugin helps you move all of this without losing any data in a simple and easy-to-understand process.
Since this has become a common occurrence for website owners, WordPress has a large library of amazing migration plugins, thus it is tricky to pick the best one.
Some of the key features to keep an eye out for include:
The ability to not only do full site migrations but also migrate individual filesCreate automatic backups before the migration process begins to ensure nothing is lostSupport all types of web hosting environmentsCompress files to bypass upload limits that a web host may have in placeAn intuitive design that makes the tool accessible for any skill level
With these factors in mind, let's take a look at the best migration plugins for WordPress.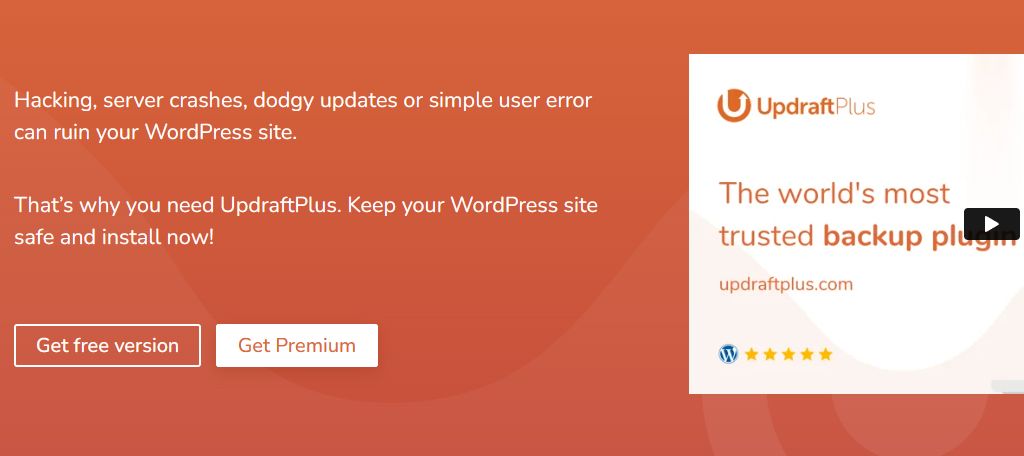 When it comes to copying the content on your website, UpdraftPlus is one of the best options for WordPress. With it, you can make a complete clone of your website and transfer it to another web host in minutes.
While the plugin does sport a free version, you will need to purchase the migration add-on pack to work with it. Otherwise, you can just buy the premium version in which the add-on is included.
To actually migrate the site, go to your original site, and create a copy using UpdraftPlus, then simply use the migration tool to bring it to the new web host. You'll be done in just a few minutes.
UpdraftPlus is a full backup plugin. Thus, you'll also be able to schedule routine backups and keep them stored in different locations. You can even create incremental backups that just back up the files that have been recently changed.
Benefits of Using UpdraftPlus:
Automatically backup your website before any core, plugin, or theme updates take placeThis tool isn't just for a single site, it also works well in a multisite networkReceive email notifications when backups take place, or if a backup failedAnonymize personal data in your backup to protect your own, and visitor informationQuickly restoring your website is important and with this tool, it only takes one click
If you are looking to migrate your website for free, then you are in luck. Duplicator is the best free WordPress migration plugin. In just a few minutes, you can create a perfect copy of your entire website and migrate it to a new web host.
It can save you a lot of time as it even copies the WordPress install, thus, you won't need to install WordPress again.
It also has a Migration Wizard to help you carry out the process. With that said, it still recommends backing up all of your files in a separate location first, as the plugin does require some technical knowledge to use.
And when it comes to backing up WordPress, Duplicator is once again an amazing choice. It allows you to create manual backups at any time and store them in your favorite cloud storage system.
It's a great free tool for WordPress, so give it a try.
Benefits of Using Duplicator:
Save time by creating pre-configured bundles for when you build new sitesSupports Dropbox, Google Drive, Microsoft OneDrive, and more cloud storage platformsReceive email notifications whenever a new backup is created or if it has failedAmazing documentation is available that even includes video tutorialsMigrate an entire multisite network at once (can even be used to combine sites)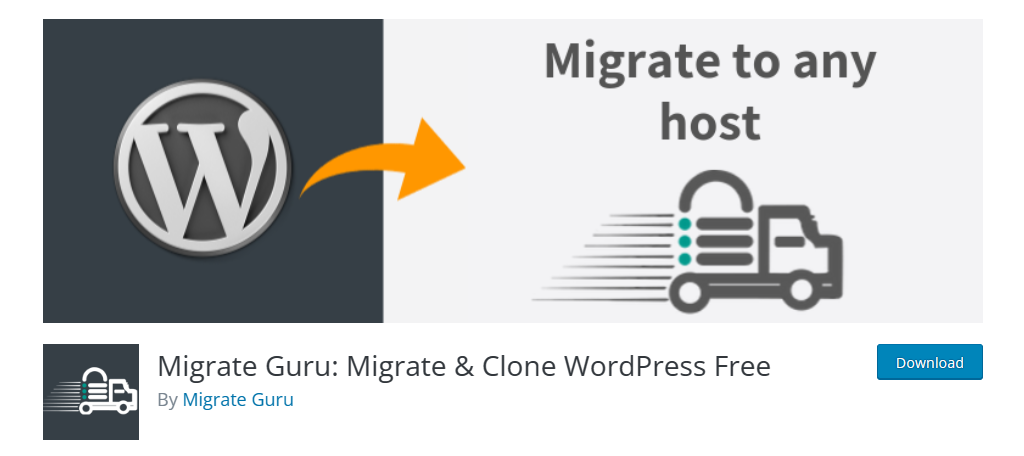 The Migrate Guru plugin was designed for one purpose, to migrate your website from one web host to another in the easiest manner. And it succeeds with flying colors, but unlike most migration tools, it lacks any backup functionality.
That's right, this tool focuses exclusively on migrations, and for that reason, it is easily one of the best on this list.
This tool supports websites that are up to 200 GB in size and you can migrate them for free. To actually perform the migrations, simply install this tool on the website you wish to migrate, then install WordPress in the desired destination.
Then from the tool itself, choose the destination you want to send the files and the plugin takes care of the rest. The transfer is handled through their own servers; thus, it will not have any impact on your live website.
It's free and safe, so there's plenty to love here.
Benefits of Using Migrate Guru:
Supports over 5,000 web hosts around the worldOne GB sites take less than thirty minutes to migrateThe copy of your website that is stored in the Migrate Guru servers is deleted once the migration is completeNo storage space is required, the Migrate Guru servers handle everythingReceive email notifications when the migration is complete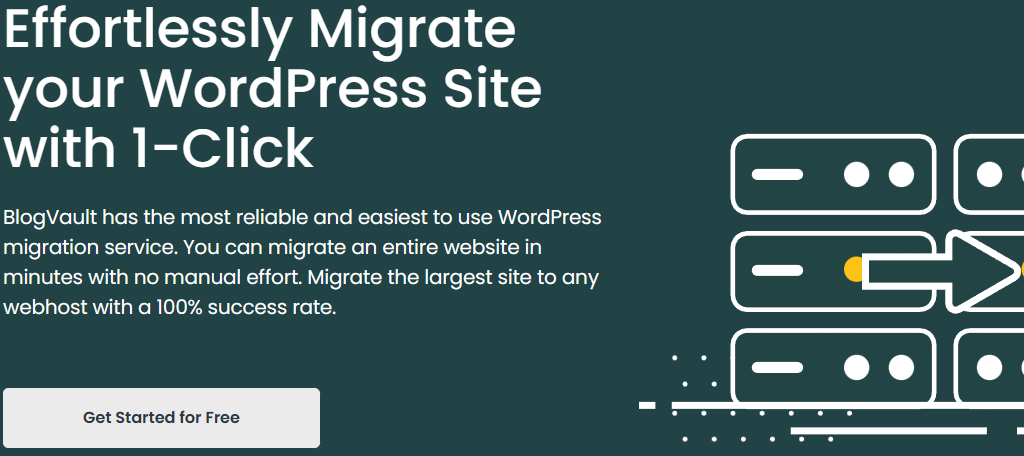 BlogVault is another wildly popular migration plugin for WordPress that focuses exclusively on migrating websites from one web host to another. However, it offers the most migration options out of any other entry on this list.
It is also worth noting that it is trusted amongst most web hosts, which helps avoid any compatibility issues you may run into.
When it comes to migrating your WordPress website, you have a ton of options. You could migrate the entire site, just the database, the plugins, your theme, or just about any other individual part of your website from one location to another.
This makes it a great choice for building staging areas.
It's also worth mentioning that it supports local migrations from one domain to a new one with the same web host. It has a robust tool list, which is why it is one of the more dominant plugins for migrations.
Benefits of Using BlogVault:
Your website will not experience any downtime during the migrationMigrate websites up to a size of 100GB at mostSupports migrations of multisite installations including subdomains and subdirectoriesAutomatically rewrite the database and config files during the migration processIncludes daily backups with your subscription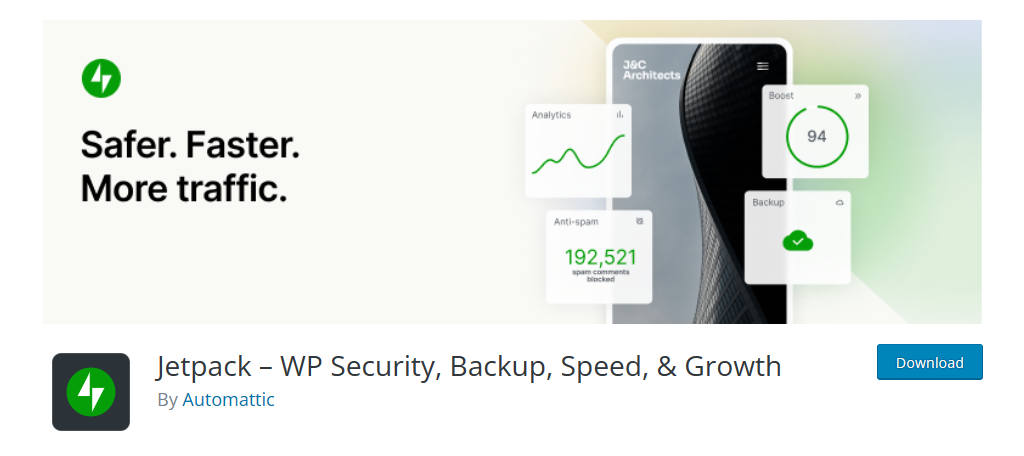 Jetpack is often described as the Swiss army knife of WordPress because it has a module for just about anything in WordPress. One such module focuses on site backups which can also be used to migrate from one web host to another.
In many cases, you probably already have Jetpack installed, so adding the Jetpack Backup module seems like an obvious pick for most.
Due to the sheer volume of modules available in Jetpack, the plugin can sometimes be intimidating to beginners. However, it is actually rather simple when you look at the individual modules, and this one isn't any different.
Backups just take a single click.
Even better, restoring that backup also takes one click. All of the files are uploaded to the cloud, so there is no need to upload the backup to the new destination manually.
Instead, it's as simple as accessing your cloud in the new environment.
Benefits of Using Jetpack:
Jetpack is an extremely versatile plugin that fits into any websiteIncludes security features to protect your backupsThe first month only costs $1 (additional months cost $10)Migrate specific parts of your website such as plugin files, themes, databases, etc.Works great when setting up a testing environment for your website
All-In-One WP Migration is by far the most popular plugin when it comes to site migration with over 5 million active installs. And that's because it exclusively focuses on migration to deliver the best experience possible.
While the base plugin is free, it only supports migrations of sites that are 512MB. To remove this limit, you'll need to get the pro version.
In terms of actually using the plugin, it's incredibly simple. Just install the plugin on the site you want to migrate. Click on the "Export" button, and the plugin will generate a zipped file for you.
Then just go to the new site and install the plugin again.
Finally, drag that file into the appropriate area of your WordPress dashboard and your website will be migrated. It's quick and easy, which is precisely why this plugin is so popular. It even works well if you are on a mobile device.
Benefits of Using All-In-One WP Migration:
Available in over 50 languages to help as many people as possibleSupports most web hosting companies to ensure compatibilityCan be used to migrate smaller parts of a websiteWill not interrupts a live website (no downtime)This plugin supports all versions of MySQL and MariaDB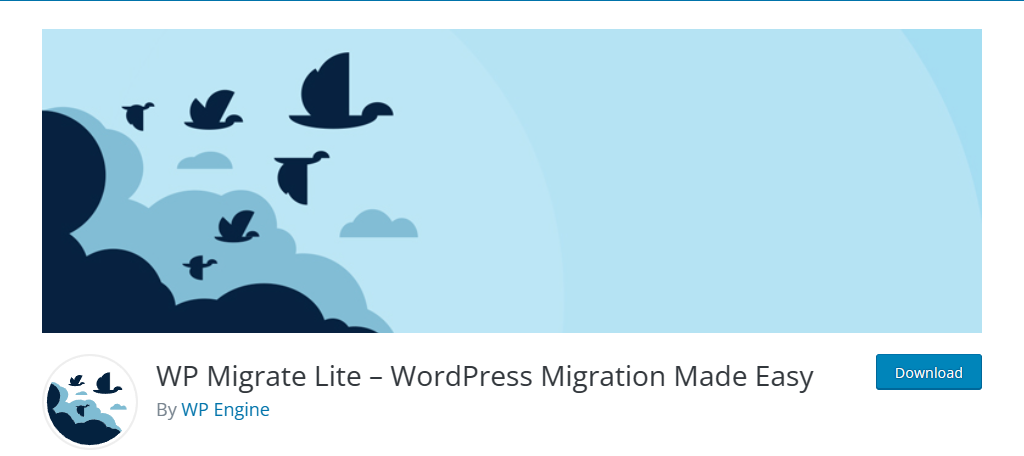 WP Migrate Lite is an impressive migration tool that is one of the best. It was previously known as WP Migrate DB but has changed its name as it has evolved past just exporting databases. Instead, you can use it to export full sites.
Of course, you can still use it to migrate smaller pieces of your website like the database, plugins, themes, and more.
One of its strongest features would be the local migration options. You can easily make a copy of your site and upload it to a new subdomain to create a testing environment.
Though, transferring to a new web host is just as easy.
It's quite a simple process. You can export the site you want to migrate as a zipped file and copy that file over to the new destination. Unzip it and you have a perfect copy of your WordPress website. Quick, easy, and free.
Benefits of Using WP Migrate Lite:
Receive priority email support if you upgrade to the Pro versionSpecify what tables to migrate in your database or just copy the whole thingEasily make edits to your database with the find-and-replace featureAutomatically makes a copy of your website before using the find and replace featureImport your website using the phpMyAdmin tool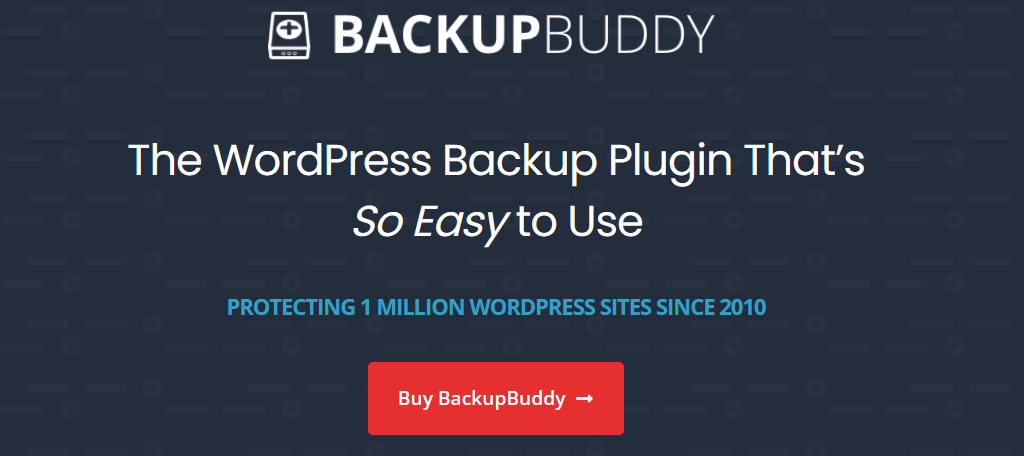 BackupBuddy is another one of the top backup plugins available for WordPress and it doubles as one of the best migration plugins. It can create a full copy of your WordPress website in a single click and restore it in a different location in one click.
As you can already tell, the process is quick and easy regardless of your skill level, which is why it is so popular.
BackupBuddy does have a dedicated migration tool you can use that will take care of everything including replacing all instances of the URL. It's a comprehensive tool but do remember that it is not free.
In terms of actual backups, it is quite competent, which is to be expected. You can schedule regular backups of your site and even create backups of individual parts such as your plugin or theme files.
Overall, you can't go wrong with this plugin.
Benefits of Using BackupBuddy:
Easily store your backups off-site or on your favorite cloud storage platformReceive email notifications when a backup is created or if it failsCustomize what content is backed up (databases, plugins, themes, etc.)Helps set up staging environments that connect with existing sitesChoose to exclude certain files or folders from ever being backed up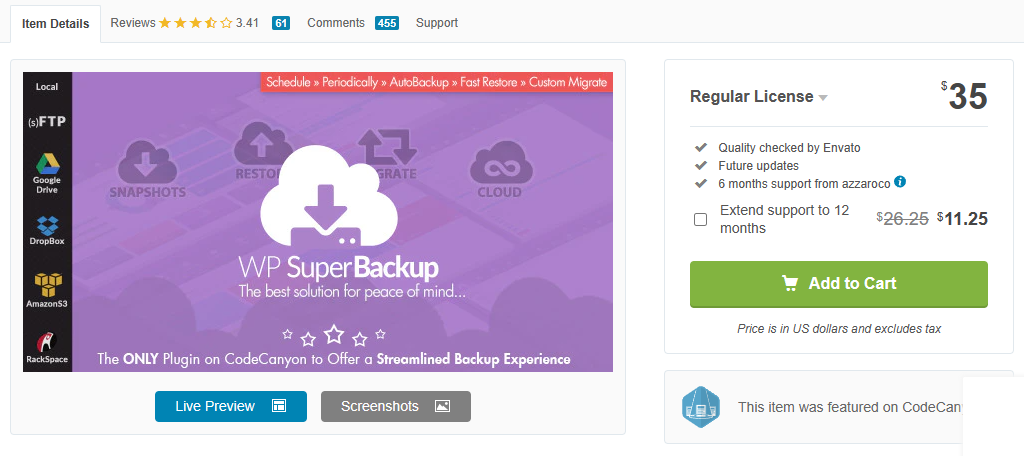 Every website needs a good backup solution, which is exactly what the Super Backup & Clone plugin aims to deliver. It specializes in backups, site cloning, and migration (both locally and to a new web host).
It is easily one of the best WordPress migration plugins.
Super Backup & Clone is a premium plugin, but that purchase will give you access to premium support for six months.
In terms of backups, you'll be able to schedule regular backups of your entire site or just smaller pieces like your database in just a few clicks. You'll also be able to make a perfect clone for staging purposes quite easily.
When it comes to migration, this plugin is equally impressive. It can handle both a single website and an entire multisite network. You also have the freedom to only migrate certain parts of your website like just the database.
It's a great tool with a lot of versatility.
Benefits of Using Super Backup & Clone:
Includes a self-diagnosis system to identify any issues before you backup or migrate a siteIncludes an easy setup process that will get you started in minutesCompatible with cloud storage services like Google Drive, Dropbox, and moreReceive email notifications when a backup has been completed or if there was an errorRestore your website in just a single click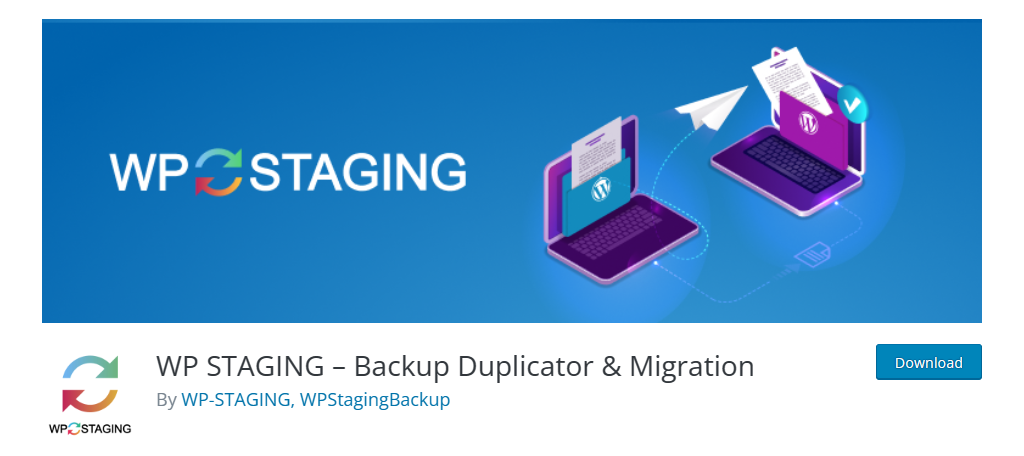 Creating a staging ground for your website to test new plugins, custom code, and tweaking the design of your website without interrupting your live site is incredibly useful to web developers. And there's no better plugin than WP Staging for the job.
Staging requires making a copy of your site and pasting it on a subdomain to use for testing. Naturally, it can be used for migration.
The plugin also handles backups and gives users the ability to schedule regular backups of their site. Alternatively, you can create manual backups at any time. The backups are customizable, so you can do a full backup or a partial one.
While the backups can be used to restore your site on another domain, there is a dedicated migration tool available in the Pro version of the plugin. It streamlines the process to make it more accessible to less tech-savvy users.
Benefits of Using WP Staging:
Name your backups to be more identifiable when searchingSupports major cloud storage platforms like Google Drive, Amazon S3, Dropbox, and moreEnsure that only certain user roles have access to the plugins toolsDecide how many backups the plugin should keep at once to help save spaceYour clone website is not accessible by search engines to avoid impacting your SEO
When Should I Switch Web Hosts?
A web host is a company that rents you server space to store your website. Whenever a visitor loads up your website, they are actually connecting to the server it is stored on. Thus, a web host has a direct impact on your website's performance.
There are several reasons why you may need to switch web hosts.
First, and foremost, if you are experiencing a lot of downtime, it's time to change. When a web host is doing maintenance, it will make your website inaccessible, which means you won't get any traffic during this time.
While this is necessary from time to time, most web hosts offer 99.9% uptime, thus it should be a pretty rare occurrence.
Of course, it is possible to have great uptime, but get terrible performance. If your website is running sluggishly after optimizing it, then the culprit is most likely your web host.
Since speed is a factor that search engines use, it is imperative to have a fast website.
Slow performance can be caused by a variety of things in a web hosting environment like not having enough resources to handle the requests from your website. If you are paying for a service that does not provide what is advertised, it is time to find a new host.
Sometimes switching from one web host to another is just a matter of saving a few bucks.
The truth is, the web hosting industry is massive. Every website needs a web host, thus, it has become a very competitive space. This is very apparent when comparing the prices of services, and sometimes an offer is just too good to refuse.
Web Hosts Often Provide Migration Services
Migrating your website can be a very stressful and time-consuming endeavor, which is why some people are reluctant to switch web hosts. Obviously, this is a problem for web hosting companies looking to expand their customer base.
To help streamline new customers, most web hosts actually provide migration services to help make the switch effortless.
Essentially, the web host themselves will provide a migration tool you can use to migrate your web host to or even from their services. This is often included when you sign up with a new host, but in some cases, it may cost extra.
They can come in a lot of forms. One of the most common ways is for the web host to have a dedicated migration team. They will handle the entire process for you, which can save you a lot of time and help avoid any mistakes along the way.
The second is that some web hosts have their own dedicated plugins for WordPress. These are tools specifically designed to migrate a website from one web host to their own server (usually they don't work the in the other direction).
The process is different for every web host, so be sure to ask your web host about any migration services they offer.
Migrate Your Website Safely Today
As you can see, WordPress has an incredible selection of migration tools to choose from. They work well for websites of any size from simple blogs to large eCommerce sites. There is a plugin that fits everyone's needs in WordPress.
Possibly even more importantly, the plugins come at a variety of price points. There are free options as well as premium ones. The main difference is usually just how much data these tools can move, thus larger sites might need premium tools.
Nonetheless, you may be able to handle the process without ever installing a product by contacting your new web host about site migration. In any case, you should have no problem migrating your website with these WordPress plugins.
Why did you migrate from one web host to another? What is your favorite migration plugin for WordPress?