Podcasts have risen in popularity to the point where just about every content creator or influencer has one. While a podcast is simple to make, you will need specialized themes to deliver a great experience in WordPress.
Podcasts require dedicated audio players to get the maximum effect and the default WordPress one leaves a lot to be desired. While you can install plugins to fix this, many themes come with their own audio players that are perfect for podcasting.
Not to mention, you want to be able to build a full podcast library and easy access to your latest episodes. Picking a theme that was built for podcasts will save you a lot of time, and luckily, WordPress has a lot of great themes to choose from.
Today, we will take a look at the best WordPress themes for your podcast website.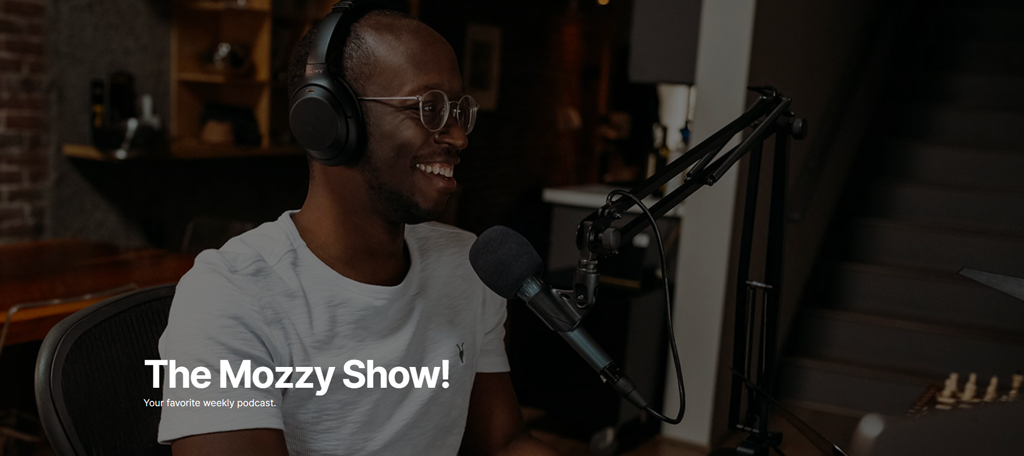 Mozzy is an incredible theme built specifically for podcasts and music content in WordPress. It comes with a built-in audio player and design layouts that are perfect for highlighting your latest episodes.
It also boasts seamless WooCommerce integration, which can help you set up a merch store in minutes. And no matter what you do with this theme, you can rest easy as it is fully responsive. Thus, your site will look great on any device.
If you don't want to host your podcasts directly on the website, no problem. Mozzy can embed your episodes from virtually any platform with some of the biggest names including SoundCloud, Spotify, Castos, and more.
Benefits of Using Mozzy
Integrates with Elementor for more design optionsCreate global sections that can be reused and edited in bulkEasily configure the site color scheme to match your brandGreat performance as CSS/JS are only loaded when they are neededThis theme is translation ready with RTL support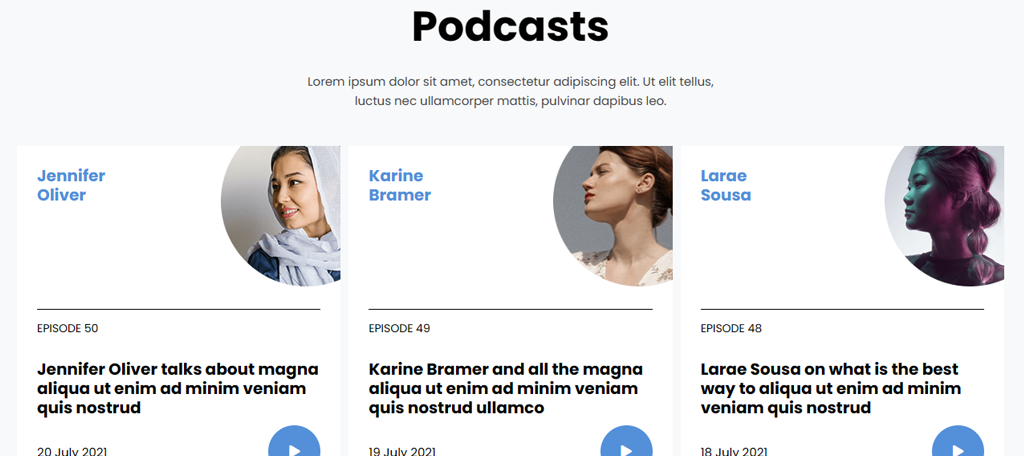 When looking for the best themes in WordPress, Astra is always a top pick. It offers over 240 site templates that cover just about every niche imaginable. It has awesome podcast templates that are perfect for any WordPress site.
That said, you can build your site from scratch with the amazing creative tools this theme provides. And you can also combine them with page-builder plugins like Elementor for even more creative options.
What really makes this the most popular theme in WordPress would be its ease-of-use factor.
Many users are building a website for the first time; thus, this is a huge aspect. Astra has an intuitive design that makes it easy for beginners but also has the depth that experts love.
Benefits of Using Astra
Build your own header and footer areas from scratchSeamless integration with WooCommerce makes building an online store a cinchEasily add your own hooks and filters to the theme codeConfigure the site colors and typography on a global scaleBuild an archive section to house your older podcast episodes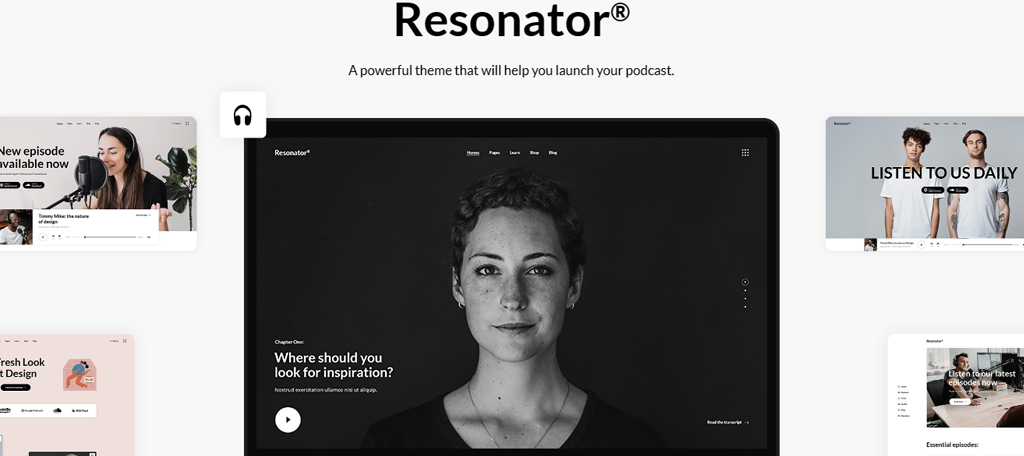 Resonator is easily one of the best podcast themes in WordPress. This premium theme comes with a variety of templates that were specifically made for podcasts and can fit nicely into many niches.
That said, you can customize them to meet your needs or build from scratch with the Elementor page builder plugin. As you might expect, you can embed your podcast from any of the popular services out there, or upload it directly to the site.
This is easy thanks to its own podcast player. It has all of the normal features you would expect from an audio player, but one of the more interesting components here is the transcripts feature. Listeners can read a full transcript of your podcast.
Benefits of Using Resonator
Create beautiful blogging pages to accompany your podcast topicsIt includes multiple pre-designed pages that you can utilizeListeners can easily jump to certain parts of the podcastSeamless WooCommerce integrations makes it easy to set up an online storeIncludes social media integration like an Instagram List shortcode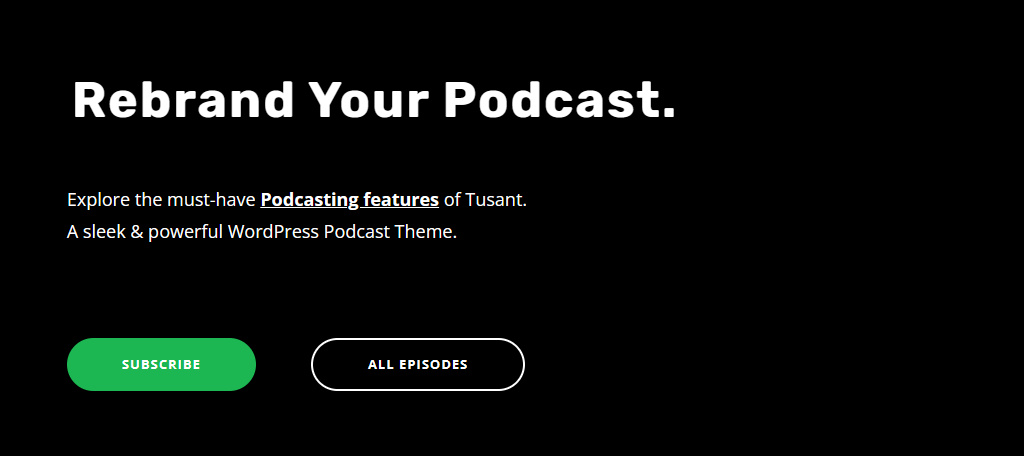 Tusant may just be the best podcast theme in WordPress. It comes with all of the necessary features your website will need to be successful while also sporting an excellent design that looks great on any device.
While it was made for podcasts, it also works well for video content and more traditional blog content, which makes it a strong choice if your website is looking at anything past podcasts. And yes, you can also build an online store with WooCommerce.
Perhaps one of its best attributes would be its playlist creator. You can easily create playlists for your podcast season, music, or video content. You also have the option to display episodes on an individual level.
Benefits of Using Tusant
Supports nearly every major podcast hosting platformChoose from over 900 Google FontsDetailed documentation provides step-by-step guidesChoose from multiple podcast page layouts to find the right fit for your siteUtilize page builder plugins to take your design to the next level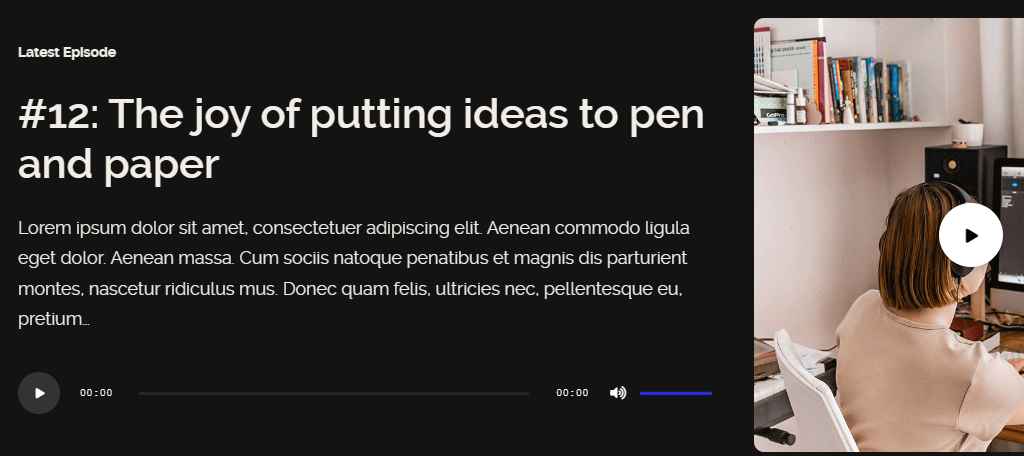 When it comes to the best podcast themes in WordPress, look no further than the aptly named Podcaster theme. It utilizes a modern minimalist design to let your content take center stage for visitors.
It also provides the option to choose between light and dark templates with 24 pre-built websites to choose from. You can easily embed podcasts from any hosting service with just a few clicks of the mouse.
And there are no limits on where you embed the podcast player. This can help you craft some truly unique page designs.
It also has a dedicated archive section for storing your older episodes and seasons.
Benefits of Using Podcaster
Choose between a list of grid layoutEasily add host and guest information to podcast pagesEasily collect donations to keep your show onlineCustomize your theme's colors in just a few clickssupports popular podcasting plugins for WordPress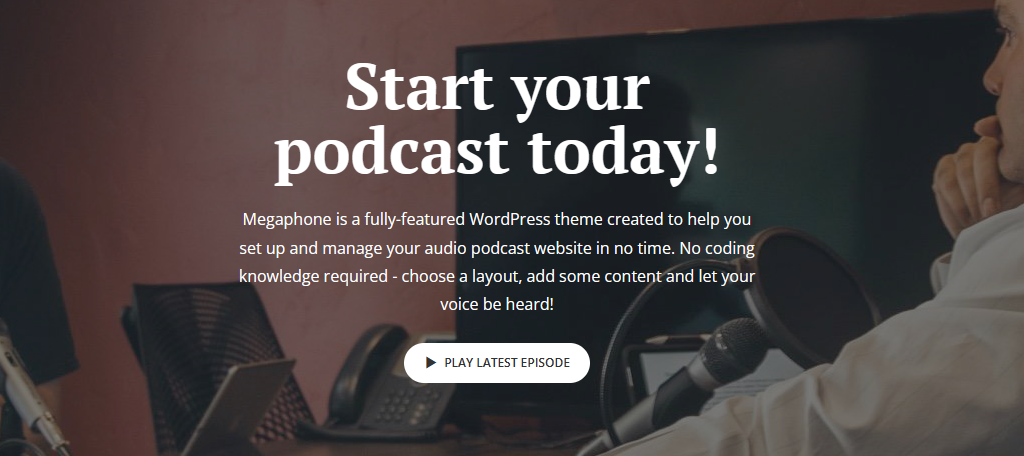 Megaphone is easily among the best podcast themes in WordPress. It has an excellent design that was made for podcasters that can be customized to match your niche while still being easy to understand from the visitor's point of view.
The podcast player can be made to be sticky, thus, visitors can listen to the podcast while viewing the other content on your site like blogs or the online shop. This can be a great way to boost sales when mentioning them on the show.
One of the more unique options is the ability to number your podcast episodes. Essentially, the theme will look at previous uploads and attach a number to the podcast.
This feature can be disabled or configured to meet your needs.
Benefits of Using Megaphone
Include social media profiles for your guests to help listeners find themEasily display what other platforms users can listen to your podcast onIncludes plenty of ad banner space for monetizationGreat pagination support with multiple display optionsBuilt-in translation option helps you reach more listeners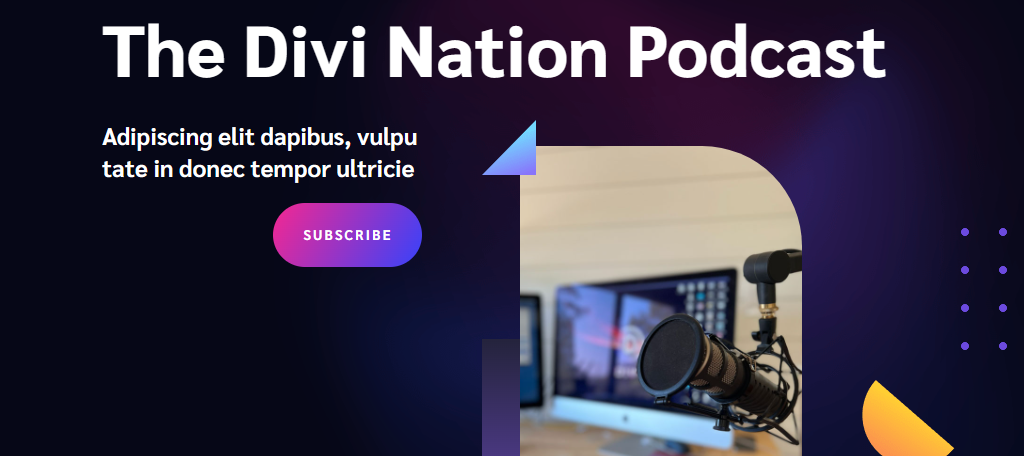 Divi is another wildly successful multi-purpose theme that does pretty much everything. It has a variety of pre-built content and site templates that work well for podcasters, which makes it a strong pick.
One of the reasons why Divi is so popular is because it delivers one of the best page-building experiences in WordPress. Its custom drag-and-drop page builder makes it easy for beginners to get started, which is a large percentage of podcasters today.
Perhaps one of the best features in the editing process is the very rare, but coveted undo button. That's right, if you're not happy with a change, you can click a button to undo it, or even redo it if you want to quickly compare a before and after shot.
Benefits of Using Divi
Save your designs to use them again in the future or to tweak themIncludes hundreds of modules like testimonials that you can useGain access to over 200 pre-made website packagesEasily add hover style effects to your site elementsInsert shape divers to sperate sections from one another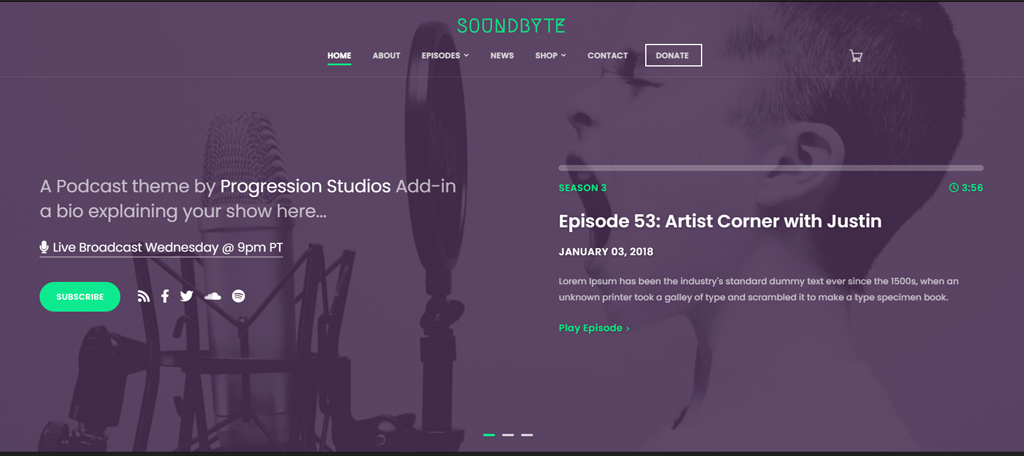 Soundbyte is another terrific option for building a podcast website in WordPress. It has an excellent design with a ton of customization options to configure, which are taken to the next level when combined with tools like Elementor.
It comes with a variety of pre-made content like episode cards so you can add details from your podcast. This includes information like a short summary, guest information, release date, and whatever else you want to include.
One of the other major design options you have at your disposal are sliders. You can create a slideshow to show off popular podcast episodes or different podcast series you may offer.
If you're looking for more creative options, Soundbyte is for you.
Benefits of Using Soundbyte
Want to reach a broader audience, no problem this theme is translation readyDrag-and-drop page builder makes it easy to craft pages from scratchExcellent responsive design ensures your website looks great on any screen sizeBuild pop-ups from scratch to promote your email newsletterInsert social media icons from all major platforms
Dixie is one of the best podcast themes in WordPress with a classic design. It offers an excellent audio player, which should be expected of any podcast theme at this point, with embed options for all major podcast hosting platforms.
The audio player can be placed anywhere, with demo sites showing it off right in the header area. This is a great way to get visitors to immediately listen to the latest podcast episode.
Of course, you can place it in post content, or as a sticky audio player as well.
In terms of design, you have a ton of page-builder options, which give you the creative freedom to build just about any kind of website.
Overall, Dixie is a great choice for a podcast website with a great feature list and customization options to choose from.
Benefits of Using Dixie
Easily configure your site's color scheme on a global levelCreate a host page and guest page to show off regulars of the podcastInclude social media icons to make sharing your podcast easyCreate an episode slider to make it easy for visitors to find where they left offBuild a merch shop with seamless WooCommerce integration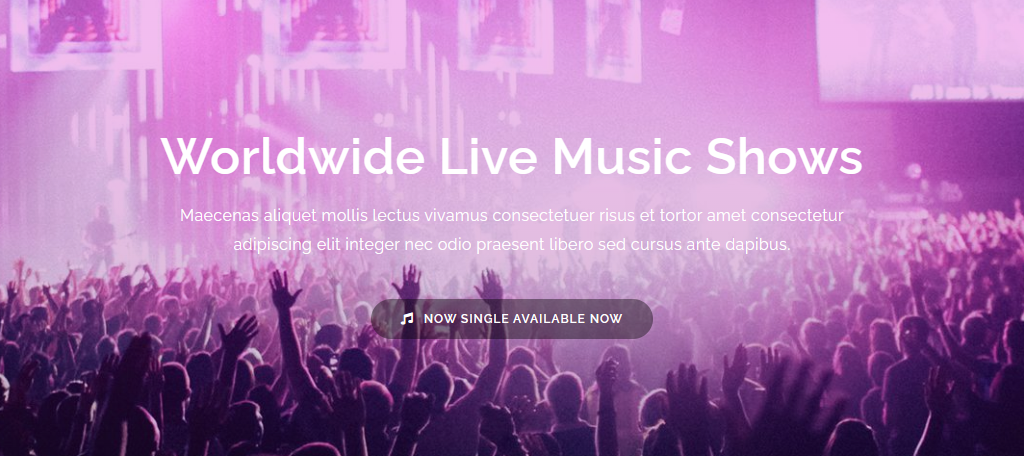 OceanWP is yet another terrific all arounder that can do anything thanks to a huge library of pre-made templates. That said, you can also build your own design from scratch with the excellent design tools this theme provides.
You can easily embed audio from multiple podcast hosting platforms anywhere on your website.
It's easy to build episode pages with areas to show off the host and guest speakers. And yes, you can easily include social share buttons for everyone.
It's also worth pointing out that OceanWP really excels when it comes to building online shops with WooCommerce integration. It has amazing shop tools that make it great for building large or small online shops.
Benefits of Using OceanWP
Create individual page sections that are reusableIncludes custom Elementor widgets for better integrationChoose from three mobile menu stylesIncludes a cookie consent notification templateInstall demo content in a single click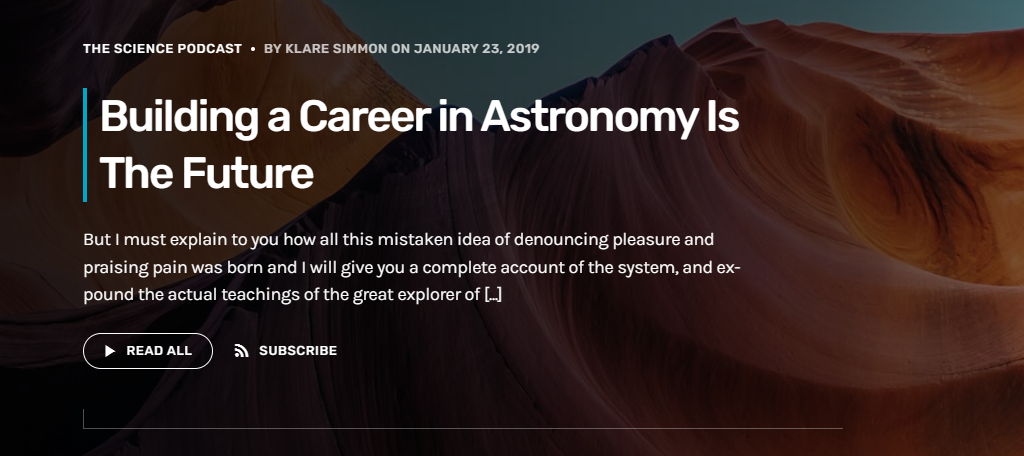 Wpcast is one of the best podcast themes to build a site in WordPress. One of its key features includes a non-stop audio player that can continuously play your podcast to visitors, that said, visitors can stop it if they desire.
Perhaps one of its more unique features would be the Series Manager. This feature makes it easy to arrange your podcast episodes by a variety of filters such as the author, category, or series. There are also dedicated series cards.
These contain the entire podcast series, thumbnail images, and social media icons in one small card. In terms of site design, you won't have any limits thanks to integration with the WPBakery page builder plugin.
Benefits of Using Wpcast
Gain access to powerful shortcodes to easily add features to your siteAdd the podcast player to your slideshowsIncludes four archive designs to choose fromIntegrates with Mailchimp for excellent email supportCompatible with the Give Donations plugin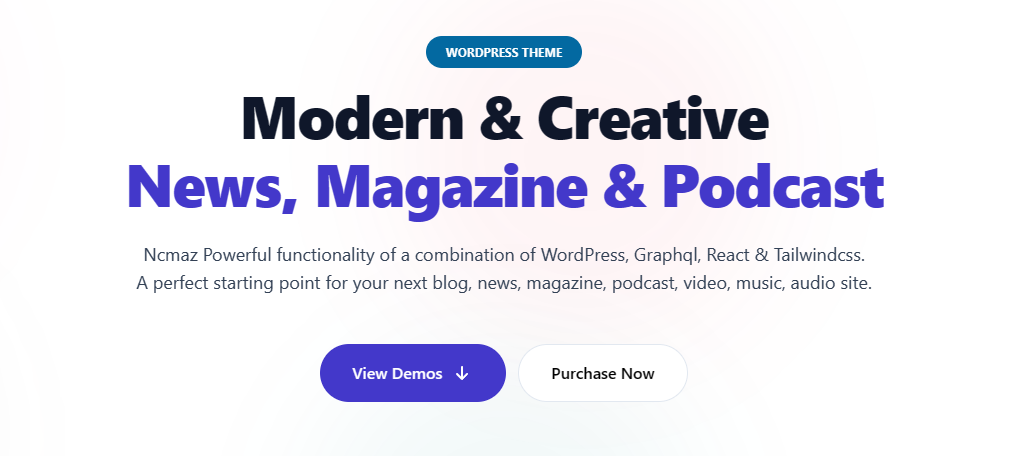 Regardless if you are trying to promote a single podcast or multiple, Ncmaz is one of the best themes to do so in WordPress. And that is because its interface is designed for showing off your podcast series to visitors.
You can easily display multiple episodes from different podcasts right on your homepage. There are plenty of templates to choose from with some even being better suited for promoting a single podcast, so there's something for everyone.
This theme also comes with a built-in audio player that is great for podcasts. It also has an excellent video player if you decide to upload the live recording of the podcast itself.
Overall, Ncmaz has all of the tools you'll need to be successful.
Benefits of Using Ncmaz
Supports social media login areas for user convenienceSupports all major video embeds (YouTube, Vimeo, Twitch, Daily Motion, and more)This theme is translation ready with RTL supportChoose between dark and light modeSeamless integration with WooCommerce
Looking for a fantastic podcast theme for WordPress? Well, look no further than Gumbo. This theme has everything you'll need to successfully promote your podcast episodes, and so much more.
Its strongest feature would definitely be the audio and video player flexibility. You can display either in any location on your website, and they work on any device thanks to excellent responsive design.
In terms of layout, you have a lot of page formats to choose from when it comes to displaying your episodes. Some of the options include one column podcast list, grid display, masonry, categorical view, and much more.
Benefits of Using Gumbo
Full support for Elementor page builderCreate show host pages with social media iconsAutomatically generates RSS feeds for podcast propagationAll demo content can be imported in a single clickIncludes PSD design files for you to add your own custom touch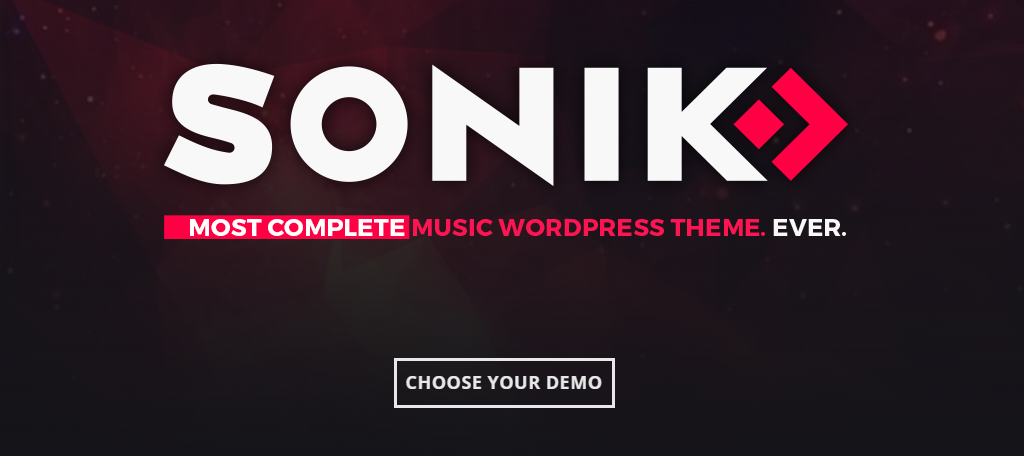 SONIK was made for music-related sites like bands, DJs, and more, but all of those tools also work really well for podcasts. It comes with one of the best music players out there that doubles as a podcast player.
One of the best features would be the Radio Schedule shortcode. While this is intended to show a radio lineup, it actually works really well for podcasts. You can show off a monthly schedule with a single shortcode.
It also has a stylish way of showing off your host and other staff members with a roster shortcode. In terms of design, you can display your podcasts using grid stacks. Think of these as carousel styles that you can choose between.
Benefits of Using SONIK
Choose from over 600 Google Fonts to find the best fitUtilize demo content to save time with one-click importsEasily upload your podcast logo throughout the siteEasily incorporate pagination into your page designAccess over 100 customization options to make the site look great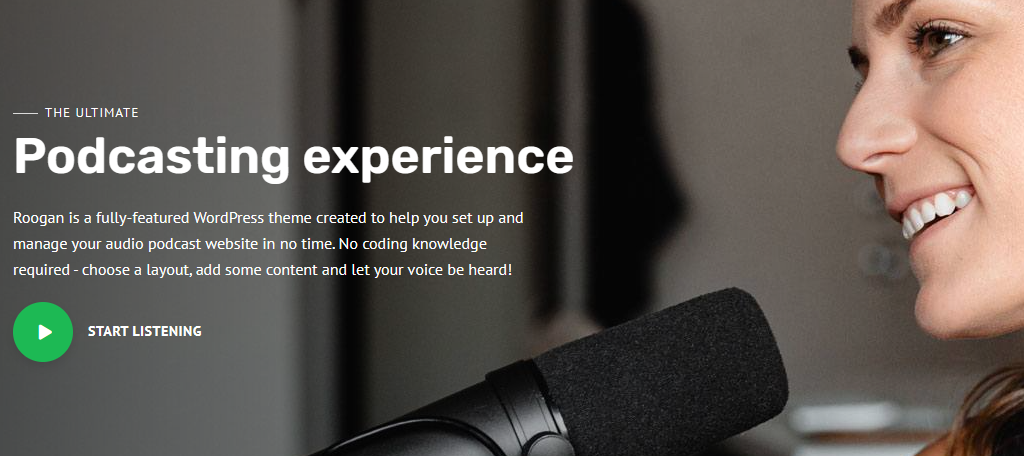 Roogan is a feature-rich podcast theme for WordPress that delivers an excellent user experience, which makes it one of the top picks for beginners. And it shows right from the beginning with eight unique homepage designs to choose from.
The audio player is great with all of the options you would expect from playback speed to volume controls. You can even control the color of the audio player to better match your website or brand.
It also supports just about all major podcast hosting platforms, so there's no pressure to host the podcast on your website. Overall, Roogan is another excellent choice to consider when building a podcast website.
Benefits of Using Roogan
Create gradient color backgrounds, borders, and menusCompatible with all major podcast plugins for WordPressAutomatically generate episode numbersIf your podcast covers multiple topics, you can assign categories to episodes independentlyIncludes plenty of ad space to place advertisement banners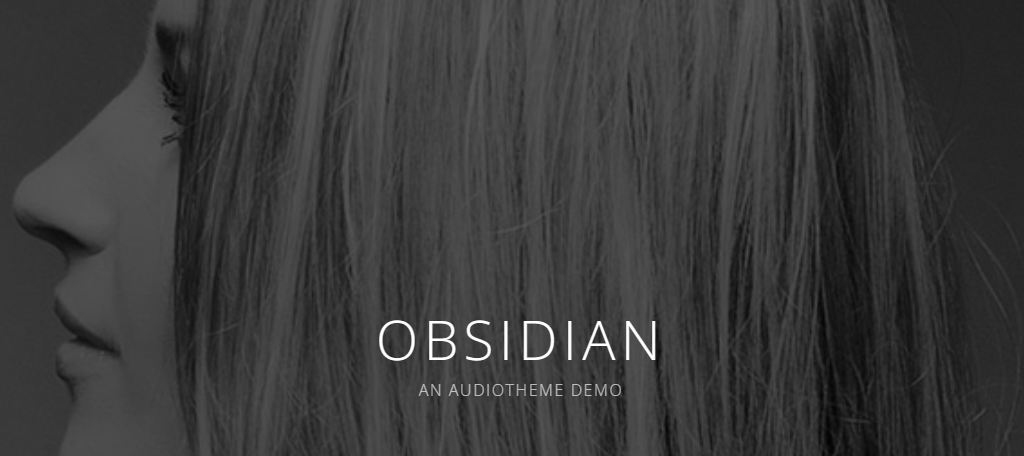 Obsidian is another music-focused theme that works well for podcasters. It has a wonderful music player that doubles as a podcast player with support for most file types. The audio player can be placed anywhere with sticky support.
It has a Gig section that can be customized to allow you to share upcoming podcast dates and include key information like guests, topics, and more. It's also worth mentioning that it excels at video embedding, thus, you can upload the live podcast recording if you desire.
There is an album feature that makes it easy to put your songs together into a single playlist. This works similarly for podcast seasons. You can add your podcast episodes and instead of an album, create a season.
Benefits of Using Obsidian
Create a gorgeous grid-view video libraryExcellent responsive design ensures your site looks great at any screen sizeIncludes your favorite social media icons throughout the siteCompatible with WooCommerce for setting up an online shopAdd gradient effects to background images and menu designs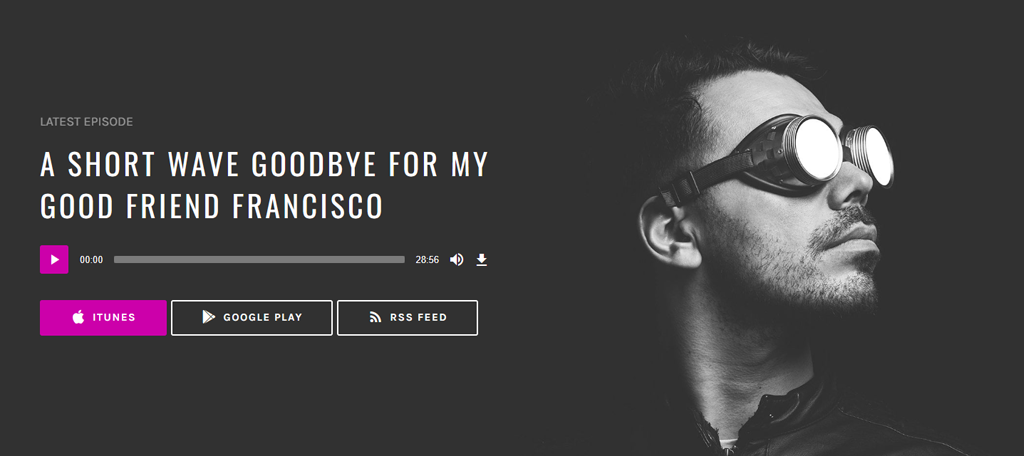 Closing out this list of the best podcast themes for WordPress is none other than Castilo. It was made specifically for podcasters and has some really awesome tools that can help you set up the perfect podcast website.
For example, knowing your audience is half the battle, and Castilo has one of the best, if not the best, analytics systems on this list. You can learn stats about who is listening to your podcast from their age, sex, location, and other interesting statistics.
The theme offers a great design and provides the tools you'll need to make it your own. This includes the full HTML theme template and Photoshop files so you can tweak everything about the theme.
Overall, it's easily one of the best options on this list.
Benefits of Using Castilo
This theme is optimized for speed on any device with excellent responsive designEasily upload your logo for better branding options throughout the websiteIntegrates with popular plugins like Contact Form 7Choose from a variety of demo content and easily import it with a single clickAdd social media icons throughout your website to improve sharability
Use These Themes to Build A WordPress Podcast Site
As you can see, WordPress has no shortage of amazing themes built for podcasters. This makes WordPress one of the best platforms to build a home for your podcast and any other content you might have going on.
While platforms like Spotify are great choices, being able to release other content like blogs or offer merchandise through an online store can really help you stand out. And that is becoming more important as the number of podcasts continues to grow.
Brand recognition is half the battle, thus having your own dedicated platform is just as important as being on any major podcast service. It even opens the door for letting Patreon supporters listen to your podcast first.
Doing so could help incentivize more subscribers. In any case, let me know what your favorite podcast theme is down below.
Has creating your own website for your podcast helped increase viewership? Do you post podcasts first on your website?