In today's fast-paced world, staying ahead of the game in online journalism is essential. And what better way to do that than by choosing the best newspaper WordPress theme for your website?
In this article, we'll look at the best newspaper themes for WordPress of 2023 and help you find the perfect match.
Let's start!
The Must-Haves: Building a Successful News Website from the Ground Up
What exactly goes into creating a website that readers can't get enough of? Well, we've got you covered! Here are the essential elements that every news website should have:
Readability: A news website must be easy to read, with legible fonts and a clear information hierarchy. Using too many colors or fonts can make the site look cluttered and difficult to navigate.Navigation: The site should have a straightforward menu and logical content categorization. Readers should be able to find what they're looking for quickly and easily.Search Engine Optimization (SEO): Your news website must be optimized for search engines, with clear headlines, meta descriptions, and keyword-rich content. It ensures readers can find your site when searching for relevant news content.Up-to-Date Content: Readers want the latest news, so keeping your site with the most relevant and timely information is essential. It helps establish your site as a reliable source of information and creates a loyal readership.Easy Ad Support: This feature can strategically position advertisements for optimal visibility and revenue generation.
1. Newspaper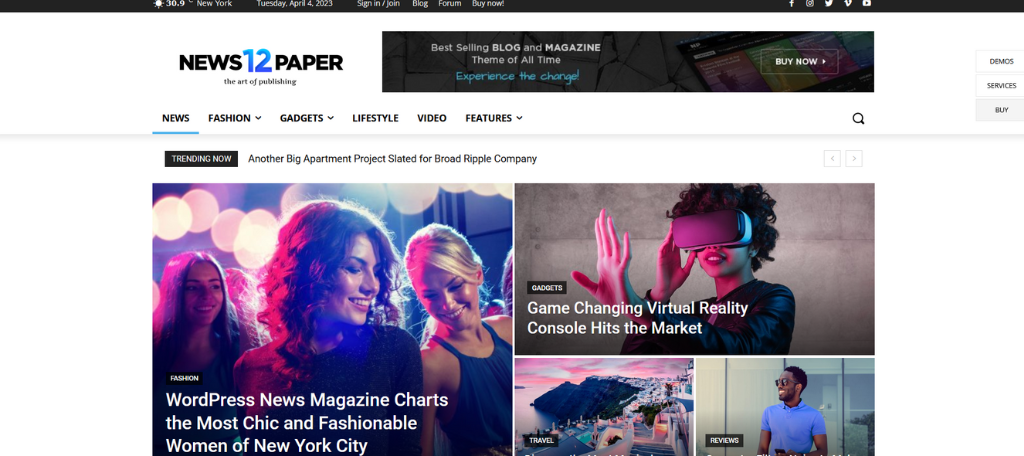 Listen, it already has the word "news" in its name. Of course, we're going to start this list with this theme. Enter Newspaper.
One of the best things about Newspaper is its news-oriented widgets. These include options for weather, social media, and exchange markets.
You can customize these widgets and place them anywhere on your website, which gives you complete control over how your content is displayed.
This theme has a built-in system that automatically detects ads, making them responsive on any device. And the best part? AdSense ads blend seamlessly with your content, so your readers won't be distracted by annoying ads while trying to read your articles.
Benefits of Using Newspaper:
Offers a unique shortcode feature that allows you to create custom pop-up windows.With over 150 pre-built website designs, finding the perfect layout for your site is easy and convenient.Customize your website's footer with the built-in footer manager.Create unique layouts using the tagDiv Composer or WPBakery and make real-time changes with the front-end CSS editor.Fully optimized for mobile devices.The regular license is priced at a reasonable $59.
2. The Gem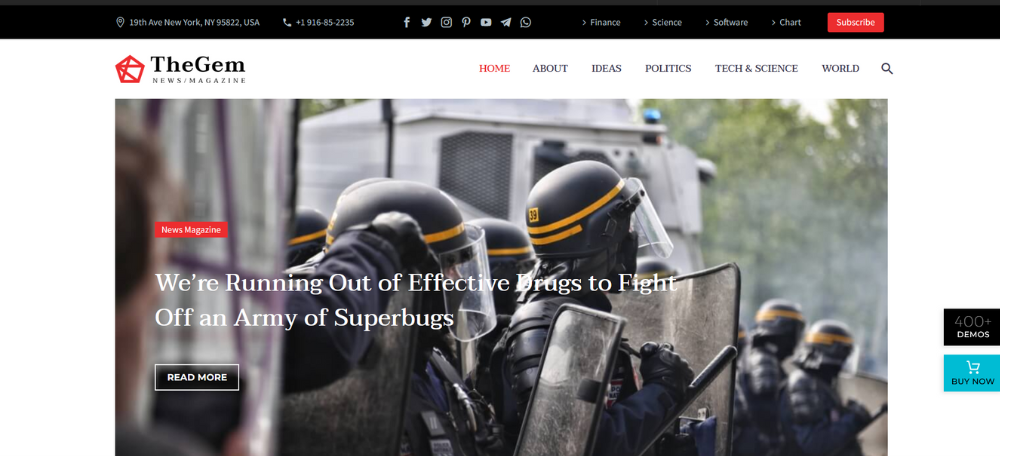 A fast and responsive website should be a priority when looking for a newspaper theme for WordPress. And The Gem offers this and more.
The speed and lightweight nature of this theme are praiseworthy. In addition, it has SEO-friendly code that can help improve your site's search engine rankings.
But what sets The Gem apart from other themes is its unique take on UI/UX design. Unlike other themes that tend to follow mainstream design approaches, The Gem allows for unlimited creativity.
With this approach, you can create a website that truly reflects your brand and ensures that your website will stand out from the crowd.
Benefits of Using The Gem:
Works well with WooCommerce, so you can easily build an online store.Has two great animation tools, Slider Revolution and LayerSlider to create awesome image and video animations.The theme has special video and parallax sections to make the content more interesting.There are online guides and videos to help set up and customize the theme.Has a built-in mega menu with two beautiful designs For only $59, you can get the regular license at a pocket-friendly price.
3. The Issue
The Issue's sleek and modern design is perfect for showcasing various news topics such as food, travel, music, lifestyle, personal stories, and fashion.
The bread and butter of this newspaper theme is its ability to showcase reviews in WordPress using two different review styles. This feature makes it easy for users to review products or services and present them in a visually appealing manner.
Another great feature of this theme is its social media integration. With The Issue, you can easily add social media buttons to your website, making it convenient for your readers to share your content on their social media channels.
This can increase your social media presence and drive more traffic to your website.
Benefits of Using The Issue:
There are 9 article layouts you can choose from.Utilize smart lists for images to organize and display compelling visual content.Access a collection of 106 SVG icons to add stylish and attractive graphics to your articles.Implement an AJAX live search feature to enable users to quickly find the content they are searching for on your website.Make use of video monetization to increase revenue.
4. Jannah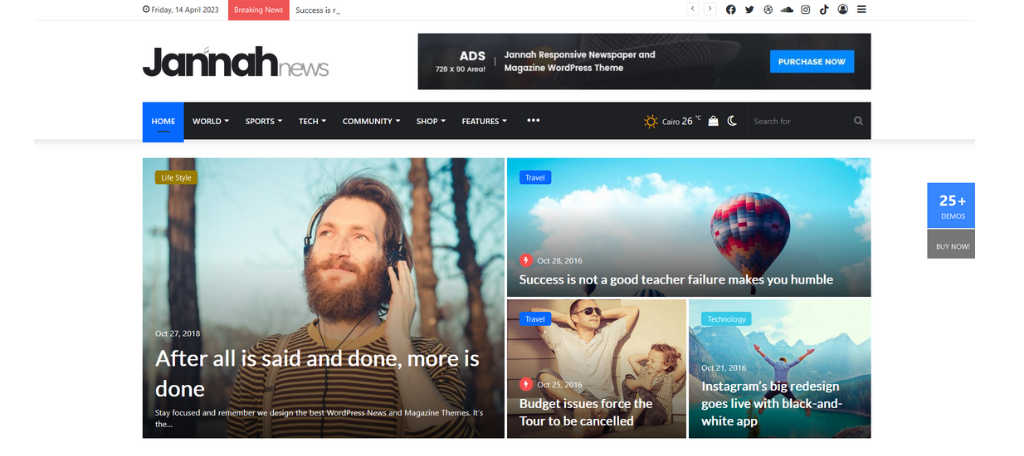 If you want to take your SEO performance a notch higher, you must look out if your website has duplicate content. Luckily, Jannah is here to simplify the process.
This WordPress newspaper theme automatically identifies and removes multiple pages or posts with similar content. This feature significantly improves your website's SEO and ensures your content is unique and original.
For the affordable price of $59, you can acquire its regular license which includes an advanced AdBlock detector. This feature is especially beneficial for websites that rely on advertising as a source of income, as it can maximize revenue.
Benefits of Using Jannah:
Offers a wide range of demo templates that can be installed with just one click. Designed to help reduce the bounce rate on your website. With its auto-loading posts feature, new content is automatically loaded as users scroll down your website. Has desktop notification functionality, which allows you to send notifications to users even when they're not on your website. You can create a community on your website using the BuddyPress integration. Also, you can create a social network or forum for your users, allowing them to interact and share content.The theme has complete integration with MailChimp and Feedburner. This makes managing your email lists and sending newsletters to your subscribers effortless.
5. NewsMag
NewsMag is a WordPress theme designed with the needs of bloggers and news publishers in mind.
One of the standout features of NewsMag is its custom-made lightbox, which allows you to display stunning images and videos. You can also create YouTube and Vimeo video playlists to showcase your video content and keep readers engaged.
Another great feature of NewsMag is its ability to highlight popular posts from the last seven days. This feature lets you showcase your best content and grab your readers' attention with your website.
You can also use the theme's nine post styles to balance aesthetics and functionality, creating a professional and polished look for your articles.
Benefits of Using NewsMag:
Includes ten unique header styles that allow you to build a distinctive identity for your website. Premium widgets, such as weather, exchange, and author box widgets, are included with the theme. Has a sticky menu for small-screen devices. This feature can make it easier for users to navigate your website on mobile devices, improving the overall user experience.NewsMag supports various font options, including Typekit, Font Stacks, and Google fonts. At just $49, the regular license is a budget-friendly option.
6. Prime News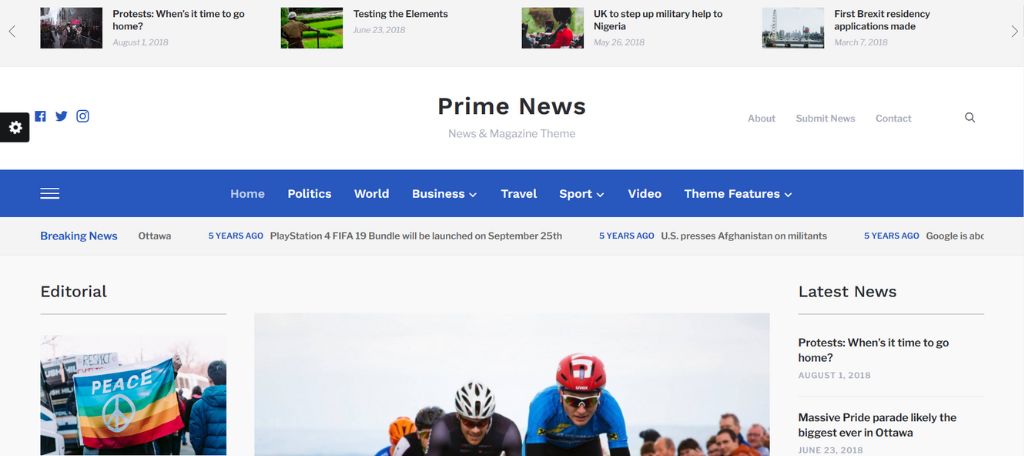 Prime News is a newspaper WordPress theme that comes with a breaking news ticker. It's prominently displayed on the homepage and can highlight essential news items or stories.
At first glance, Prime News may look like it has only one style, but it's customizable. You can change how it looks by using the different options available.
This means you can transform the theme into something that looks unique.
These options include slide-in and traditional navigation menus, videos, ad space, and more. Even with all these features, the home page avoids being cluttered.
It's effortless to arrange and organize your content to fit your needs.
Benefits of Using Prime News:
You can easily add text and images to the theme's multi-column layout.There's an option to hide recent posts.You can choose from 5 pre-built color schemes or customize your colors.Establish your brand identity by uploading your logo to your website.The theme offers affordable packages starting at $69 per year, with a lifetime bundle available for a one-time payment of $159.
7. Soledad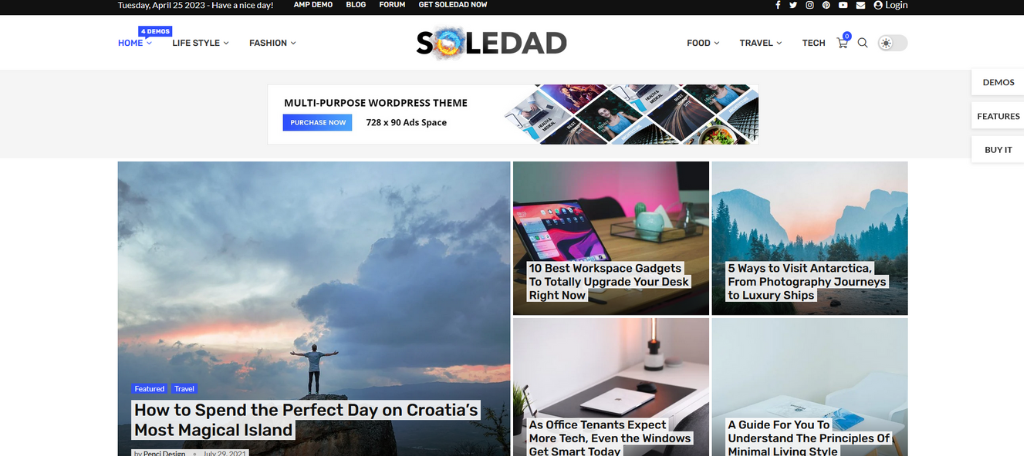 Soledad is a WordPress theme with a regular license starting at $59 for your newspaper website. It offers an impressive 1,000 slider and blog/magazine layout combinations, allowing endless possibilities.
Additionally, it has four body styles. It includes body full width, body boxed color, body boxed image, and body boxed pattern.
What sets Soledad apart is its vibrant and bold design that is visually appealing, high-performing, and versatile. Whether you're a blogger, magazine, or news site, Soledad has a wide range of features and options.
So, if you're looking for a theme that offers style and functionality, Soledad may be the perfect choice.
Benefits of Using Soledad:
Soledad has 7,000 unique homepage designs.Create an online store easily because it works well with WooCommerce.Lets you reach more people with its translation-ready feature.Allows you to add excellent videos to your site background to make it more interesting.Customize Soledad using WordPress Customizer, Elementor, or WPBakery page builder.
8. ColorMag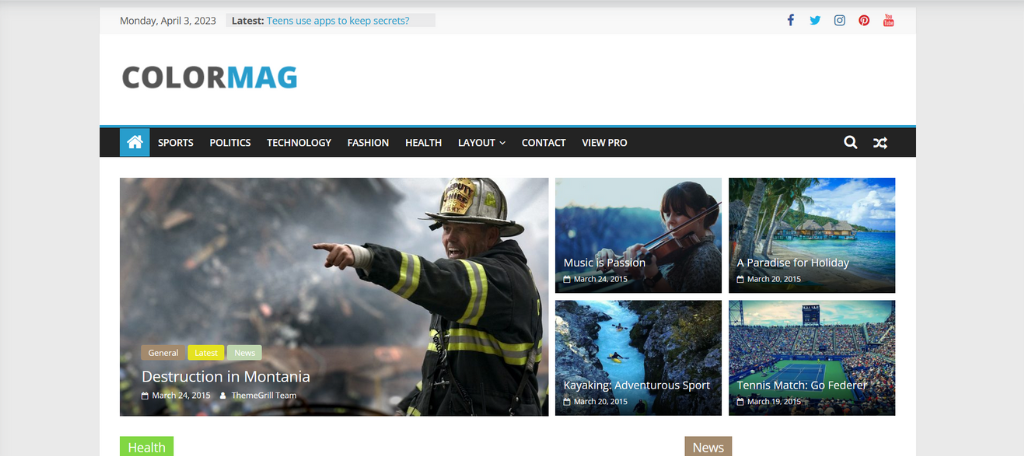 ColorMag is a free WordPress theme perfect for those looking to start a news website.
With its sleek and modern design, this magazine-style WordPress theme comes packed with premium-like features.
It includes three different header layouts. The news ticker is also handy for displaying breaking news or important announcements.
The free version of ColorMag allows you to feature related posts, ensuring your audience can easily navigate your website and discover more content.
But if you're looking for more advanced features, the theme's pro version is available for an annual fee of $59. This version offers even more customization options, including additional color schemes and layout options.
Benefits of Using ColorMag:
It has multiple widget-ready areas, so you can easily add widgets to your website.The mobile-friendly theme has a responsive menu that adapts to any screen size.Offers four different sidebar layouts to choose from.You can add social media buttons to your site without installing a separate plugin.Works well with Gutenberg, which is the latest editor for WordPress that simplifies content upload.
9. The Voux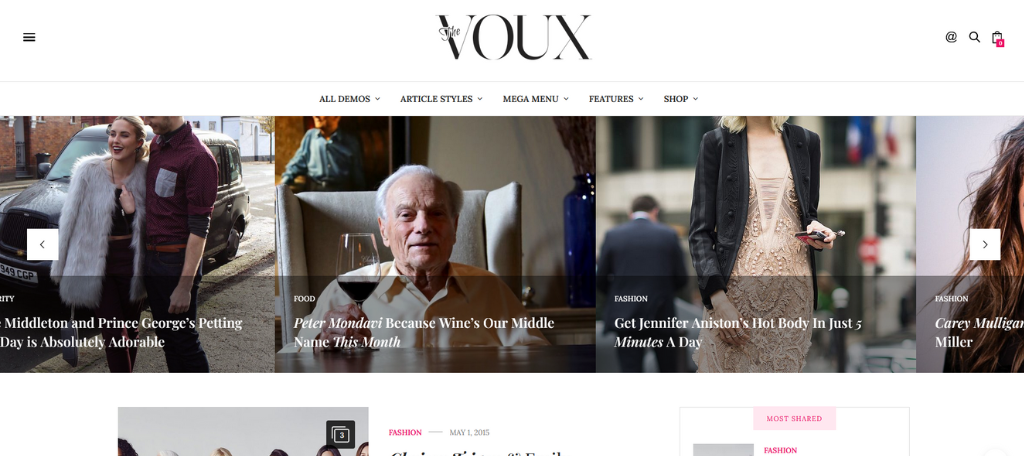 The Voux is a premium WordPress theme for a newspaper with a sophisticated design. With this theme, you can showcase your content using stunning full-screen galleries.
The Voux is an ideal choice for news websites because it offers a lot of backend functionality.
You'll love its ability to customize your share counter. You can set it so that the counter resets after a specific period. This feature ensures that your content always looks fresh and relevant and helps encourage more shares.
Overall, The Voux is a fantastic choice for anyone who wants to create a professional-looking website with a strong focus on news and content.
Whether you're a blogger, journalist, or online magazine publisher, The Voux has everything you need to make your site look and perform beautifully.
Benefits of Using The Voux:
Supports infinite scroll, allowing readers to browse your content without hassle.You can use the drag & drop interface of Visual Composer to create and customize any content layout you want.With the "shop the post" feature, you can easily set up affiliate marketing on your website.Optimized for high-resolution, retina-ready screens, making your website look crisp and clear on any device.The mega menu is elegant and user-friendly, allowing you to create complex navigation without overwhelming your readers.
10. Astra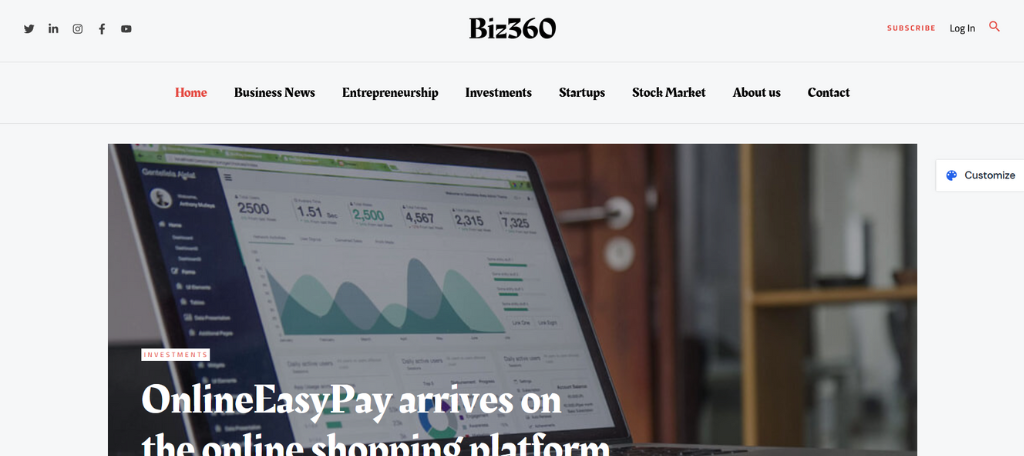 Astra is a WordPress theme that loads incredibly fast, taking less than half a second. This feature is crucial for news websites because visitors expect quick access to the latest news stories.
Astra offers the most extensive library of pre-built websites, making it convenient to create a website that suits your specific needs.
The theme comes with easy-to-use full-width page templates and a simple theme options panel. You can quickly set up your news website without the hassle of coding.
With Astra, you can create a sleek and polished website in a snap.
Benefits of Using Astra:
Offers a free version, but the pro version starts at $47 and provides even more valuable features.Optimized for WordPress SEO.Custom hooks are available for developers who want to add code to the theme.Provides different site layout options, including boxed, fluid, and padded.You can control spacing in the theme, allowing you to adjust the distance between other elements on your website.
11. SmartMag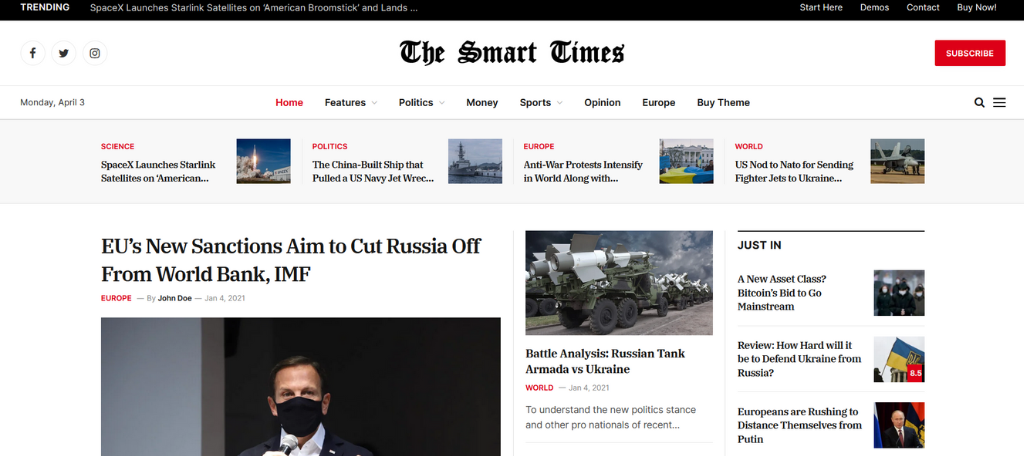 SmartMag is a newspaper theme for WordPress that stands out due to its over 27 different demos you can import with just one click.
These demos cover a wide range of news sites, making it a theme that should appeal to a broad audience.
You can choose from designs for sites that cover gadgets, the latest tech news, financial updates, sports, and more. The best part is that each demo looks unique, with its layout and design, rather than just slight variations on a core appearance.
Of course, SmartMag also has some great built-in features that are useful for news websites.
For instance, it has a custom post views count plugin that allows you to sort popular posts. Additionally, you can add newsletter widgets anywhere on your site, and it also has MailChimp integration.
Benefits of Using SmartMag:
Offers featured grids and styles to showcase your top posts attractively.Multi-page navigation helps you increase your ad revenue by displaying ads on multiple pages.You can create captivating slideshows and carousels to grab your visitors' attention.Image ratios can be easily controlled for a more customized look.The regular license is $59, including future updates and 6-month support from the developers.
12. ZoxPress
ZoxPress is a modern and stylish WordPress theme with various features to engage your readers and create an immersive experience.
One of the key features is the extensive library of over 900 Google fonts to choose from, allowing you to customize the look and feel of your website to suit your branding and audience.
This theme also has an optional video shrink feature that keeps your featured videos constantly visible. This feature lets the video stick to the bottom of the screen even as your readers scroll through your posts.
The in-line parallax ads are another standout feature of this theme, which allows you to place ads that appear as the user scrolls down the page. This is an effective way to monetize your website and maximize ad revenue without disrupting the user experience.
Benefits of Using ZoxPress:
Fully compatible with SportsPress and SportsPress Pro, allowing you to create a complete sports news site with teams, schedules, standings, and scores.Easily add a forum to your site using the bbPress plugin.With over 100 different layouts and style combinations, you can find the perfect design for any niche or topic.Features a night mode option that makes it easier on your readers' eyes when reading at night or in low light conditions.Choose from over 50 header options to create a unique look for your site.
13. MagPlus
MagPlus has a dedicated WordPress newspaper theme that deserves a spot on your list.
For starters, it has more than 40 ready-made website designs for a wide range of subjects and interests. The theme was created with various blogging, magazine, and newspaper niches and professions in mind, such as personal, professional, bloggers, editorial, and others.
It boasts features such as Mega Menu and Menu Icons. You also have the option to add advertisements anywhere on your website using Visual Composer and built-in advertisement locations.
Last but not least, this theme includes a social sharing template that allows your readers to share your content with their friends through social media.
Benefits of Using MagPlus:
Translation-ready.Works well on mobile devices so that you can browse the site easily from your phone or tablet.Add extra features to your website using shortcodes, which help you solve problems and make things easier.Allows you to add as many sidebars as you want to your website, and you can place them wherever you wish for more flexibility in designing your site.The regular license is available for a modest fee of $59.
14. Ceris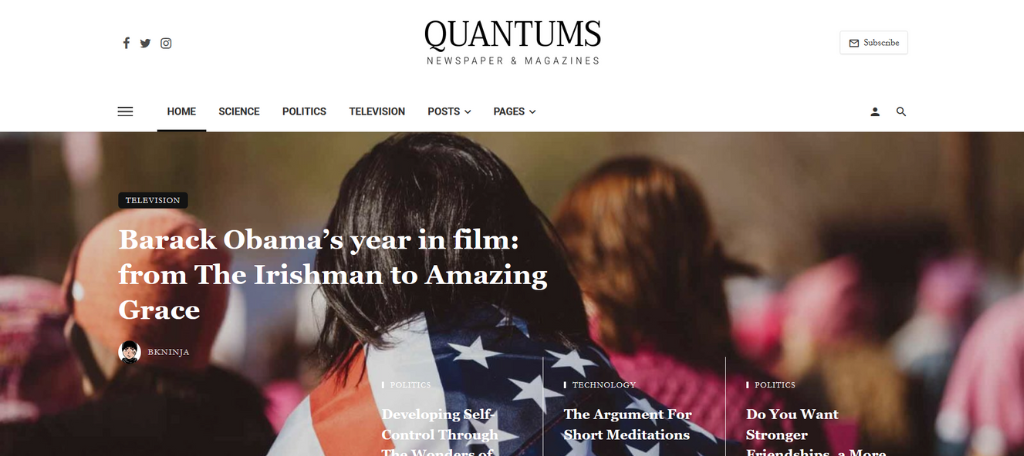 With Ceris, convenience takes center stage. It offers a Progress Circular Bar allowing users to save any blog post to their account and read it at their leisure.
This feature is incredibly handy for visitors who want to keep up with the latest news but don't have the time to read everything in one sitting.
But that's not all – Ceris also takes pride in its Ultimate Search Page feature. The search page comes with smooth animations and enhances the user experience.
And thanks to the AJAX search panel feature, visitors can quickly and easily search your site's content without reloading the page. This not only makes the search process faster and more efficient, but it also fosters reader engagement with your content.
With an attractive price of $59 for the regular license, Ceris is worthy of a spot on your list considerations.
Benefits of Using Ceris:
Readers can use emoji reactions to respond quickly to articles.Offers over 110+ ready-to-use modules.GDPR compliance ensures that your website follows EU regulations.Gutenberg-ready, making it accessible to users of all skill levels.Visitors can instantly leave article ratings using the Author/Reader Review feature.
15. PenNews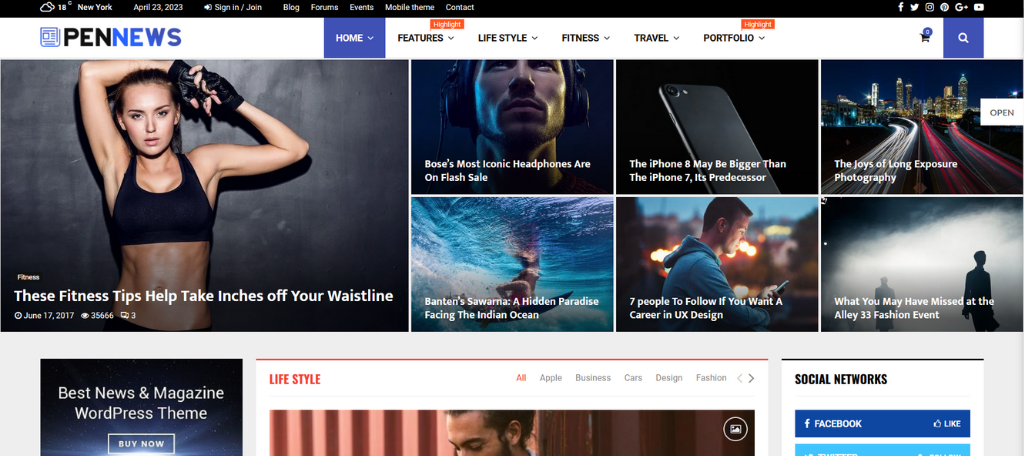 If you're looking to increase your readers' involvement, Consider PenNews.
PenNews allow users to submit content directly to your site. This feature can help you build a thriving community around your website while providing a steady stream of high-quality content.
This newspaper WordPress theme also includes the Convert Plug plugin. With Convert Plug, you can generate popups, slide-ins, and other opt-in content to capture your visitors' email addresses.
You can then manage your subscribers and launch email campaigns from your WordPress dashboard.
And, of course, PenNews didn't forget your customization needs. It comes with WPBakery Page Builder, an efficient plugin that lets you easily arrange your website's elements using a drag-and-drop interface.
Benefits of Using PenNews:
Offers an auto video thumbnail downloader to improve the visual appeal of your content.Multiple header styles are available, each featuring a different container to suit your needs.There are advanced social counters and sharing buttons Allows for the effortless integration of stunning galleries and portfolios to enhance your website.Supports unlimited ad spaces, in-feed ads, and affiliate programs.
16. GoodLife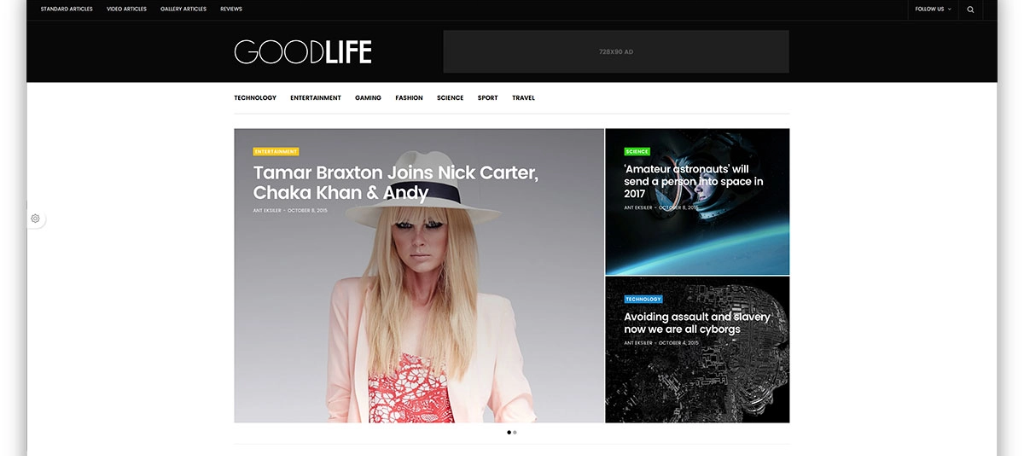 GoodLife recognizes that articles are the backbone of any news website. And that's why it offers five article styles to help you highlight your content.
This theme is all about simplicity and ease of use. Its clean design ensures that your content remains the focus.
GoodLife also offers seamless integration with Essential Grid. It lets you display different types of content in a customizable grid format. With this incredible tool, you can transform your website into a stunning and intuitive platform.
Benefits of Using GoodLife:
Works smoothly with WooCommerce, making it an excellent option for those looking to earn more income by selling products or services.Pick any color to make your website look just how you like it.Use an Events Calendar plugin to inform people about events on your website.Customize your website easily with PSD files included.Provides regular updates for the theme and plugins.
17. Public Opinion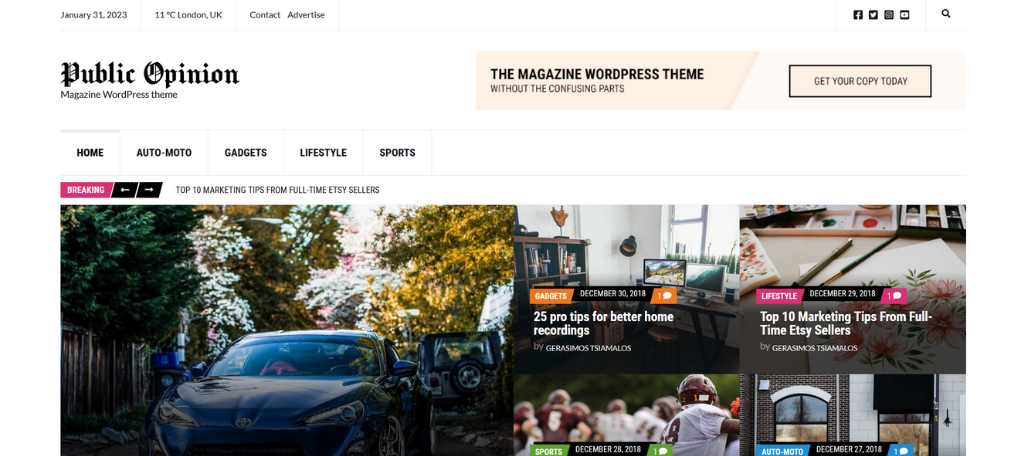 Designed to cater to the modern-day journalist, Public Opinion offers a solution for your newspaper website needs without bells and whistles.
Its custom typography provides a variety of fonts to choose from. You can choose a traditional serif font for classic publications or a modern sans-serif font for contemporary magazines to match your content perfectly.
This theme also provides a variety of color options in addition to typography. Whether you like bright and bold colors or soft and muted shades, you can use them to match your brand or style.
With Public Opinion, you can create attractive archive pages for your post categories and tags. These pages help you promote your content better, making it easier for readers to find topics that interest them.
Benefits of Using Public Opinion:
HubSpot integration allows tracking and analyzing website performance (traffic, engagement, conversion rates) to make data-driven decisions and improve performance.The breaking news section is located below the menu.Use block editor or Elementor to design and reuse sections with the Global Sections system.Easily customize and integrate with WPForms.Public Opinion costs $49 and includes a year of premium support and updates, lifetime usage, and unlimited website use for versatility and value.
18. Neuton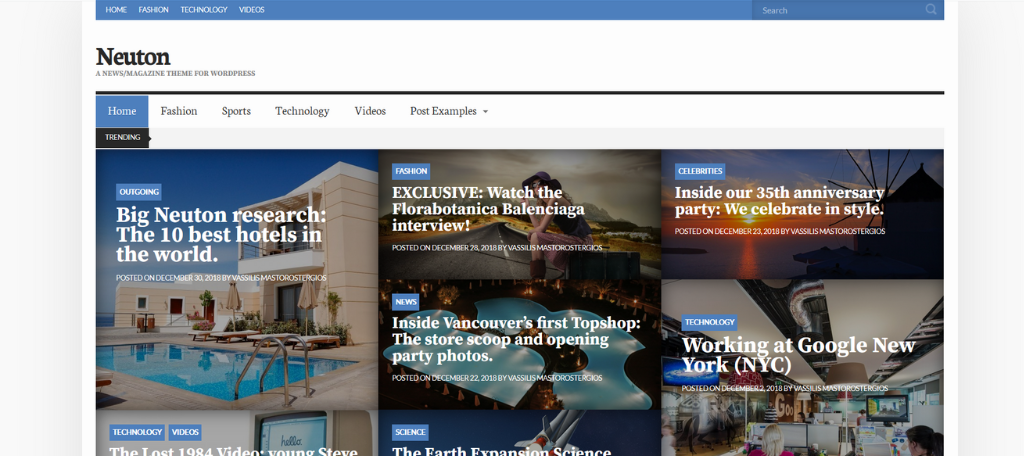 Neuton offers an affordable option for aspiring online journalists. For just $49, you can access valuable features that meet your publishing needs.
It can highlight trending topics, which can help drive user engagement and keep your readers coming back for more.
Additionally, the Neuton theme offers seven different category layouts in WordPress, including slideshows for your newspaper, so that you can create a dynamic experience for your readers.
This newspaper theme for WordPress is fully compatible with the block editor and Elementor. You can choose your preferred page builder to create the perfect look for your website.
Regardless of your level of expertise, Neuton's user-friendly interface and intuitive design make it effortless to customize and use.
Benefits of Using Neuton:
Create websites in multiple languages and manage them easily with WPML compatibility.Add extra features to your website with custom widgets for content, social media, Twitter, Instagram, and more.Get better search engine visibility with SEO optimization.Set up your website quickly with the one-click demo import integration, making copying our demo site a breeze.Choose from various color schemes to make your website look unique, or assign a different color scheme to each page.
19. NewsBlock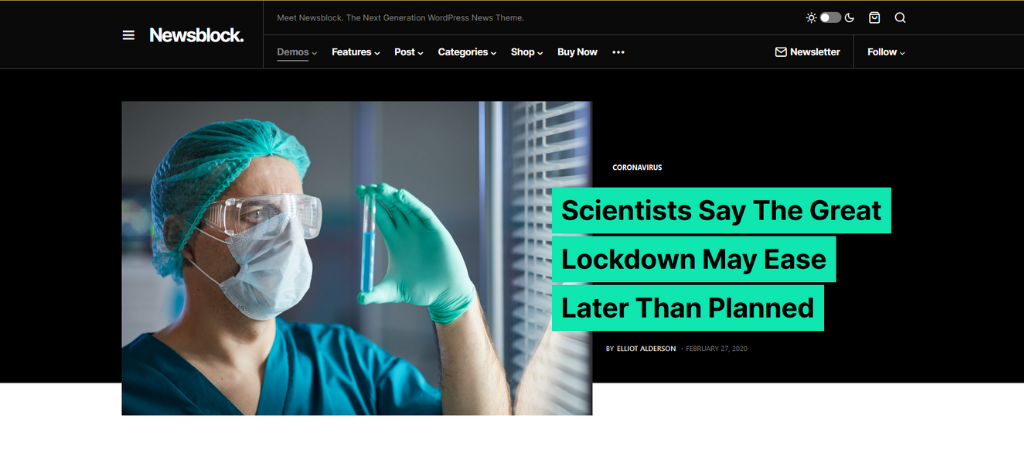 At first look, Newsblock screams clean and modern. The minimalist style is paired with invaluable features to build an exceptional news website.
The tailor-made newspaper WordPress theme has a dark mode toggle, enabling users to switch effortlessly between night and day mode. It's convenient for those who prefer reading articles in low-light settings.
Newsblock also comes with an automatic reading time calculation feature that estimates the time it takes to read an article based on the average reading speed of an adult. It can be helpful for readers who want to gauge the time they need to read an article.
Finally, it comes with a lazy load module that helps to improve website speed and performance. This feature loads images only when visible on the user's screen rather than loading them all at once.
Benefits of Using NewsBlock:
Easily exclude featured posts from the main archive to avoid repetition of content.Choose from 9 different demo options, which can be further customized.The signature feature of this theme lets you add content to different parts of the design without having to change the code or create a new design from scratch. Utilize the sticky sidebar for important information that stays visible while scrolling.Display the number of post views with integrated post views support.
20. Indigo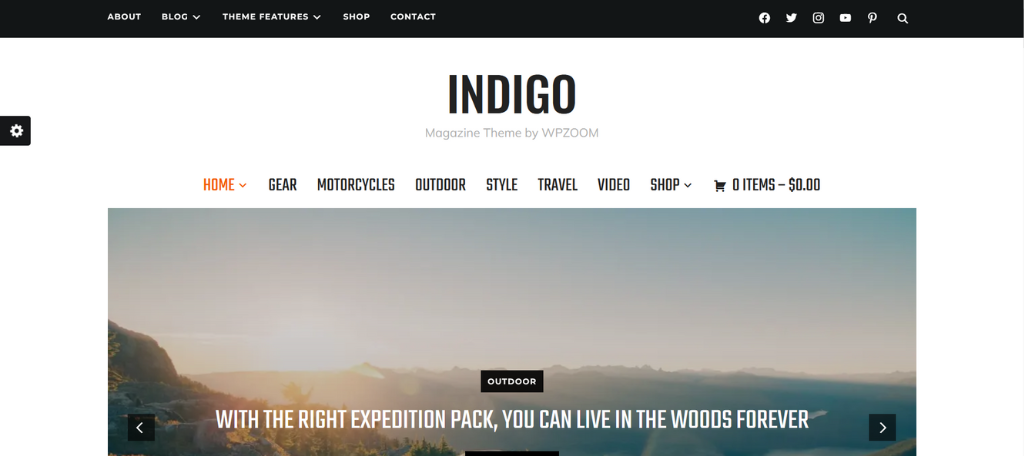 Finally, let's talk about Indigo as a newspaper theme for WordPress. This theme looks simple. But as they say, don't judge a book by its cover. Despite the straightforward appearance, Indigo has many helpful features to get you started. And that's what matters the most.
One of its key features is the floating sharing buttons that make it easy for readers to share articles on social media. And the theme's homepage features a customizable slideshow and a grid promoting your recent articles.
The sticky header ensures that your readers can always access your navigation menu regardless of where they are on your website. With Indigo, you can create a professional-looking news website without advanced coding skills.
Benefits of Using Indigo:
Sell products directly from your website by installing the WooCommerce plugin.Choose from 2 homepage templates and mix and match them to create a personalized design that suits your needs.Make your mark by uploading your logo at the click of a button.Keep your readers engaged with beautiful and user-friendly Next/Previous post navigation at the end of each post.Enjoy the flexibility of a one-time payment of $159 for the theme with a 14-day money-back guarantee.
Wrap-Up
Many great newspaper WordPress themes are available for 2023, each with unique features and benefits. Whether you're a seasoned journalist or a new blogger, these themes can help you deliver high-quality content and engage your audience in new and exciting ways.
So, choose the one that suits your needs and start building your news website today!