For 25 years, Liquid Web has strived to help small businesses make money online. Join us in recognizing some of the Most Helpful Humans in Hosting® who have helped us get to where we are today.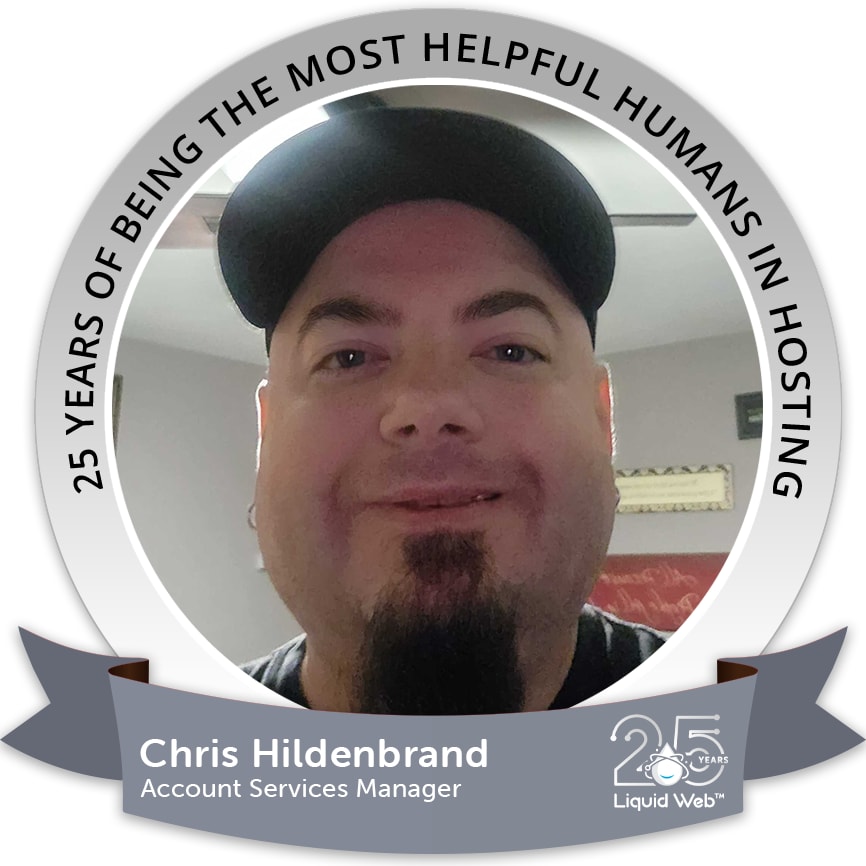 Chris Hildenbrand says the world of tech was a very different place 15 years ago when he got his start. "The industry has expanded in incredible ways, which is evident simply by looking at the products we offer now versus what we were offering then. For example, when I started at Liquid Web, we offered three kinds of shared hosting: two VPS options and three dedicated. That has changed substantially, as have the specs on the servers we now offer," he says. "Another easy-to-see difference was that when I started, everyone in the office had one CRT monitor to work with, and now most people have 2-3 or more LED monitors, which makes things much easier."
Originally from Grand Ledge, Michigan, Hildenbrand's first job was working for a sports card store in high school as part of an internship for a marketing class. He has lived in the Lansing area and Miami, Florida, but currently lives in Portland, Michigan.
Hildenbrand remembers his first day at Liquid Web in 2006 as overwhelming and exciting. "There was a lot to take in and learn, but it was a great environment." He remembers an unexpected perk of the early days—"There used to be electric scooters that people would ride when they needed to go from DC2 to DC1. They lasted a few years and were fun to ride, but it was easier and just as fast to walk."
He began his tenure at Liquid Web as a support tech. "That was really the only job at the time aside from security and the people that handled networking," he says. "Back then, being in support meant you would handle whatever the call or ticket needed, whether it was support for a dedicated, VPS, or shared customer, going back to the data center to restart a server, or answering questions about sales."
After a few years of working as a support tech, Hildenbrand started doing support chats. "At the time, I was the only one who did them for a few months while it was being tested," he says. "I then spent a few years as a Support Supervisor before moving to be the Billing Supervisor. More teams were eventually added, and then I became the Account Services Manager, which is my current role."
What Hildenbrand loves most about working in tech is the ever-changing landscape. "I love the constant changes and improvements that happen over time," he says. "It can be surprising when something new comes out and makes improvements you didn't even think about that make using that product much easier."
It's this innovation and also the people that have kept him at Liquid Web for so many years. "I like the constant changes and improvements to our products. And I have always liked the people I work with, whether I interact with them daily or only see them in passing. The people I work with here have always been a drawing point."
If his colleagues and their commitment to excellence have kept Hildenbrand at Liquid Web, what keeps him motivated year after year are the customers. "I always want to provide the best means of support for them whether in the Support department or assisting them with billing issues in Account Services."
Hildenbrand says that the leadership team at Liquid Web has significantly influenced his career journey. "Clinton Hansen and Brad Doutree, in particular, have always been very helpful in the roles I was in and in moving to new roles." He is also proud of growing the Account Services department from two employees who worked Monday through Friday from 8 am to 4 pm to the 18-person department it is now, with employees working 24/7 across both Liquid Web and Nexcess.
Thanks to his numerous years at Liquid Web, Hildenbrand has many great memories of his time with the company. "The boat parties that we used to have every summer were always memorable," he says. "The funniest office memory was probably when maintenance walled off someone's office door while he was on vacation. He came back, and the door was just gone and covered with drywall."
Aside from his work with Liquid Web, Hildenbrand has spent the last two decades as a DJ working in clubs in Lansing and Detroit. He enjoys spending time with his wife and working around the house or in his garden. And though he is primarily a remote worker, Hildenbrand says he's enjoying spending his days with his new coworkers: two dogs, two cats, and, on occasion, his granddaughter.
Hildenbrand is excited about the future of Liquid Web. "I look forward to the continued growth and to the new products and services we will have to offer."
The Liquid Web Family of Brands has delivered software, solutions, and managed services for mission-critical sites, stores, and applications to SMBs and the designers, developers, and agencies who create for them for the last 25 years. Our world-class team of industry experts provides outstanding support and assistance 24/7/365.
Join us in celebrating 25 years of helping businesses grow with many more years to come!