For 25 years, Liquid Web has strived to help small businesses make money online. Join us in recognizing some of the Most Helpful Humans in Hosting® who have helped us get to where we are today.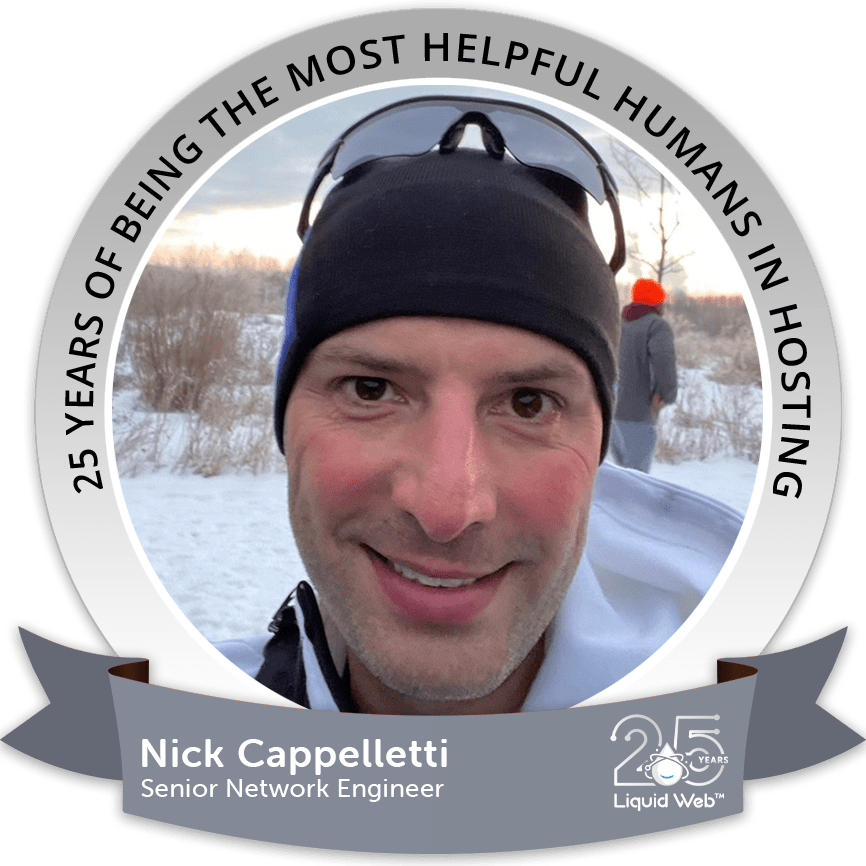 Nick Cappelletti's first job, mowing lawns, remains one of his favorite jobs he's ever had. "I spent the summers outside," he says, "and worked with friends I knew from school." Cappelletti grew up in DeWitt, Michigan, where he still lives, staying close to home except for the year he spent overseas as a Marine.
Cappelletti started at Liquid Web in November 2006. He began in Support and was there for about eight months before moving to Security, where he worked for about a year. As Liquid Web grew, the company needed more people in Networking. He has been working for Liquid Web as a Network Engineer and Software Developer ever since.
The early days of Liquid Web were often stressful, Cappelletti recalls. "At the time, there were only about 15 people who worked here, and they were all very technical," he says. "I came to Liquid Web with development and sysadmin experience, but I didn't know the systems at Liquid Web, so the knowledge gap between me and the others was intimidating."
Though those early days could be trying, Cappelletti remembers fondly the after-work outings the then-small team would take. "We would bar hop in a limo. All of us — well, most of us… someone had to work — would pile into a limo and go from bar to bar. And our Friday meetings we would have with food provided from the company was always enjoyable," he says.
"The scope of tech that I'm familiar with hasn't changed all that much over the years," Cappelletti says. "I started at Liquid Web as a tech, working on servers, moved to Networking, working on routers and switches, but now develop mostly on servers to automate the network gear. The biggest change I've noticed is the size of connections we have to the Internet. We started with a few 1G connections, moved to an OC-48 (about 2.5G), then to 10G, and now we're deploying 100G connections."
What keeps Cappelletti going are the daily challenges—especially with developing and coding. "I enjoy the challenge that working at Liquid Web offers," he says. "I usually have a laundry list of things I want or need to work on. Occasionally there's the 'fire' that requires me to put everything aside, which is stressful, but so rewarding—especially when the problem can be identified and fixed quickly." Cappelletti also loves the stability that his career at Liquid Web has provided. "My family motivates me. Providing a comfortable, secure home is important to me."
Cappelletti primarily works remotely but occasionally heads into the office to connect with people. "I enjoy, immensely, working from home," he says. "Working 7 – 3, I would have to wake up my kids early and take them somewhere so they could then wait to get on the bus. Now, they can sleep in, take their time, and I can see them off to school. As much as I enjoy seeing people at work, I found people coming to my desk distracting, especially when I was in the middle of coding. Now, it's just my dog and me."
For Cappelletti, a favorite office memory is the first holiday season he worked at Liquid Web. "We were all given gifts. One person was given a small remote-controlled helicopter that he decided to fly right above my head while I was on a call with a customer. It was so loud the customer asked if I was mowing the lawn. I ended up grabbing the helicopter mid-air."
Outside of work, Cappelletti enjoys exercising—specifically lifting weights, Taekwondo, running, or biking. "I've done dozens of half marathons. I'm a black belt in Taekwondo and help teach," he says. "A date for my wife and me usually means we're going for a 4- to 6-mile run without the kids." He also enjoys home automation and programming at home. "Yes," he says, "my hobby is my job."
The Liquid Web Family of Brands has delivered software, solutions, and managed services for mission-critical sites, stores, and applications to SMBs and the designers, developers, and agencies who create for them for the last 25 years. Our world-class team of industry experts provide outstanding support and assistance 24/7/365.
Join us in celebrating 25 years of helping businesses grow with many more years to come!