If you're an artist and want to showcase your portfolio online, WordPress is the perfect platform. To help you get started, we've created a list of the best WordPress themes for artists you can use in 2023.
Each theme has been carefully selected to ensure they meet the highest web design and performance standards. They'll help you create a modern, professional-looking website and showcase your work in style.
Have you ever wondered what powers nearly 50% of the websites on the internet? You guessed it right – it's WordPress! This content management system has become the go-to platform for building and managing websites.
In fact, it's even used by big names like BBC America, Sony Music, and The Walt Disney Company.
So, what's the secret behind WordPress's success? It is incredibly user-friendly and customizable – from blogs to e-commerce, there's no limit to what you can achieve with WordPress.
Without further ado, let's jump right into the list of the best artist portfolio website themes.
OceanWP is one of the most popular options for building sites in WordPress and it is definitely one of the best themes for artists to build with. It offers a number of amazing pre-built sites that focus on different types of art.
Of course, you don't need to rely on the demo content. OceanWP provides a great selection of customization options to choose from that give you the creative freedom to build any kind of website.
It's also worth pointing out its seamless WooCommerce integration. This makes it extremely easy to sell your art or accept commissions for your next projects, especially with a contact form plugin.
Here are a few key benefits of OceanWP:
OceanWP supports all major page builder pluginsBuild beautiful art galleries utilizing a grid viewCreate reusable page sections to speed up web designControl color and typography on a global levelChoose from three mobile menu designs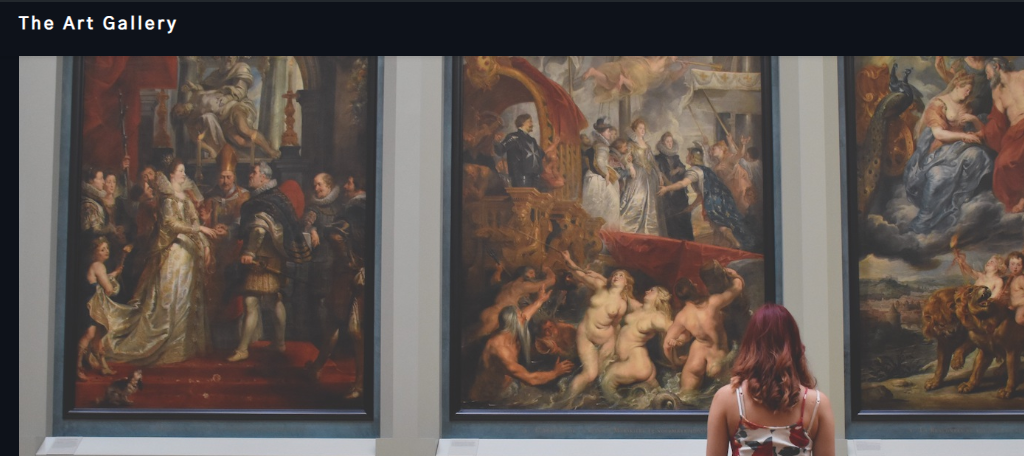 Art Gallery is another of the top themes for artists in WordPress. It has a contemporary design that showcases art pieces in an organized grid format.
The homepage features a large carousel slider that can be used to display featured works of art. Customizable portfolio pages are also available to help you feature your artwork in beautiful layouts.
The built-in contact form makes it easy for visitors to get in touch or make inquiries. The theme also offers social media integration, allowing you to link directly to your social profiles.
Here are a few key benefits of this Art Gallery:
Animation EffectsIntegration of a personal logoCustomized backgroundFooter copyright text customizationsWidget Areas: Sidebar3 Variations for Footers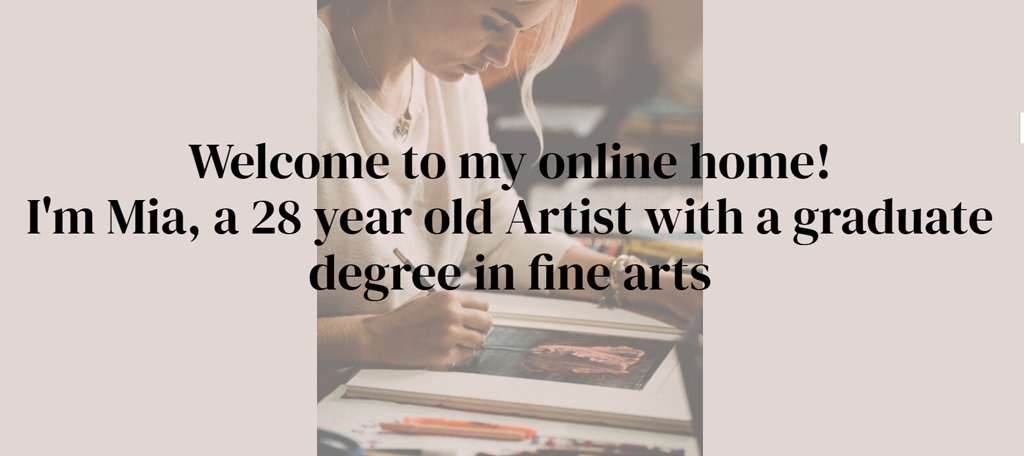 Astra is a one of the most popular WordPress themes with over a million active users that is perfect for artists to build with. It's fast-loading and incredibly easy to use, making it the ideal choice for individuals with varying levels of technical expertise.
Plus, the selection of image effects, attractive portfolios, contact pages, and engagement options means that you have everything you need to create a stunning artist website.
If you're unsure where to start, Astra's beautiful premade templates are just a click away.
Here are a few key points that make Astra a unique choice:
Astra is one of the most lightweight WordPress themes available, weighing in at only 37 KB with 7 HTTP requests.With Astra, you can build lightning-fast websites that load quickly and perform well in terms of speed and performance.Astra is more than just a theme; it includes several in-built features, such as ready-to-use starter sites, pre-built page layouts, advanced customization options, and more.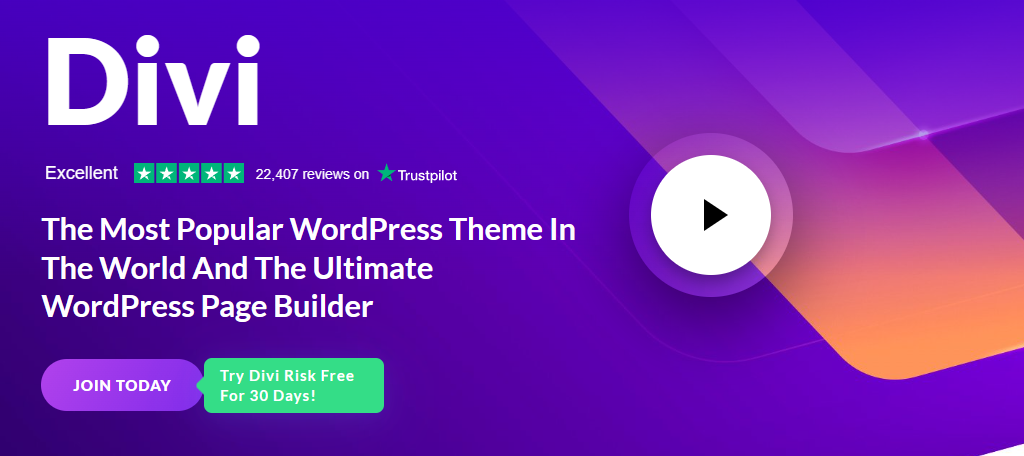 Divi is among the best themes for artists is WordPress. It offers a multitude of options specifically tailored to the needs of artists. With an impressive range of crisp, clean, and modern designs, it's easy to make your website stand out.
It includes a built-in page builder that makes customization a breeze.
Additionally, its SEO-friendly features make ranking on search engines easier for your content. More impressively, Divi can be customized to suit almost any genre or purpose, thanks to its robust range of features, tools, and widgets.
Anyone can make the most of Divi without knowing how to code, making it an accessible and popular choice for websites of all shapes and sizes.
Here are a few key features that make Divi standout:
Divi offers a range of visually-enhancing features, such as adding special effects and changing image settings.With Divi, users can easily personalize their content to create a unique look and feel that fits their branding.Bulk editing simplifies the process of customizing multiple items at once, making it easy to update multiple sections of a website in a single step.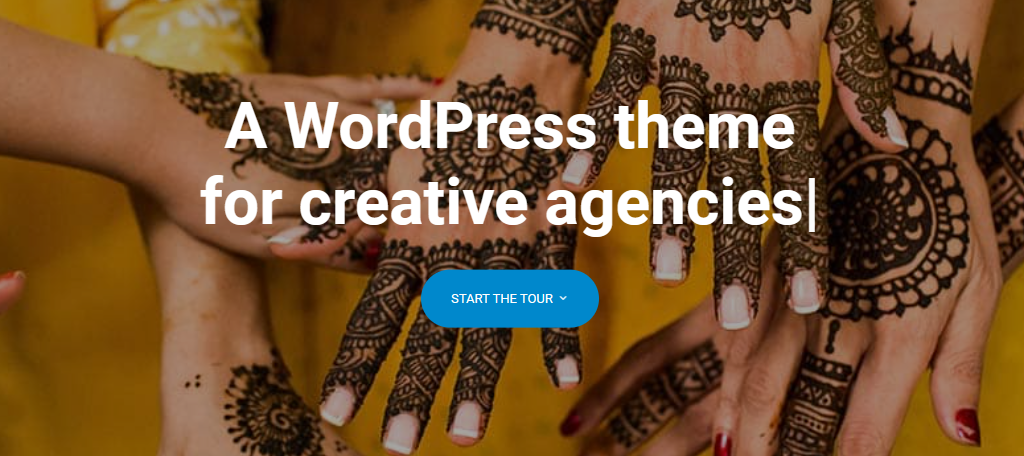 Indigo is among the most versatile WordPress themes for art. It can cater to various website niches, making it an ideal choice for anyone looking for a multipurpose theme.
It's a modern and stylish theme that ticks all the boxes for contemporary design. It's perfect for businesses and individuals who want their website to reflect a sleek layout.
But Indigo isn't just styled over substance. With an impressive range of portfolio and image options, this theme is highly customizable and flexible, meaning that you can truly make your website your own.
Here are a few reasons you must consider Indigo when deciding on a WordPress theme:
Compatible with WooCommerceWell-suited for most WordPress pluginsExcellent image handlingMassive portfolio selection typesIntegrated blog pagination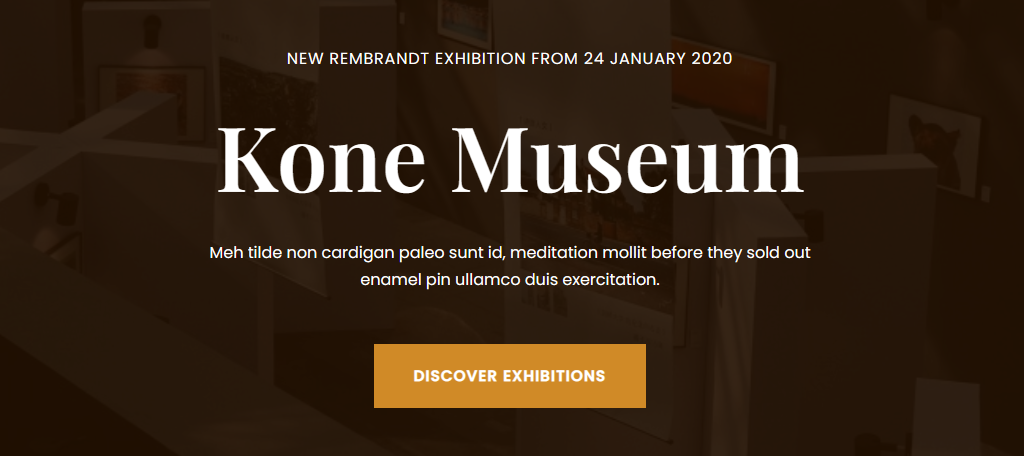 If you're looking for a multipurpose and reliable WordPress theme, Neve should be on your list of options to consider. With a selection of designs tailored to suit various niches, there's something for everyone with this theme.
One standout design is the Art Exhibition theme.
The classical gallery style is the perfect way to showcase your work elegantly. But don't worry if this layout doesn't suit your needs – there are plenty of other options.
Boasting clean code, lightning-fast page loading times, and impeccable performance, Neve sets the standard for website design. And let's not forget about its stunning appearance.
A sleek and modern design ensures that your visitors will be captivated from the moment they land on your site.
Here are a few key features Neve has to offer:
SEO Optimized CodeRTL and Translation ReadyCompatible with WoocommerceSeamless Integration With Page BuildersMinimalist Design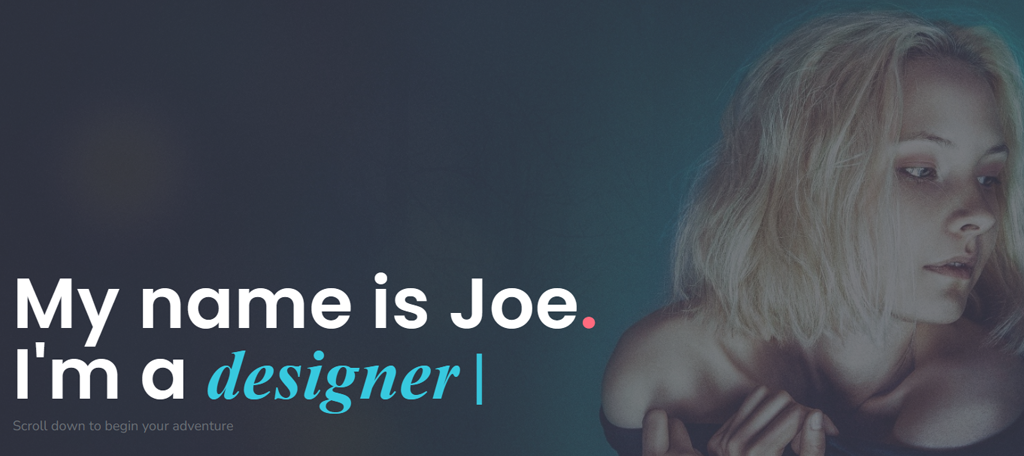 Ignis is one of the best free WordPress themes for artists that delivers on both style and functionality. The atmospheric design immediately catches the eye with its striking use of large images and subtle effects that give the site a refined, professional look.
And the best part? Users can scroll down and find a portfolio section that perfectly exhibits your work.
With its minimalist approach, this design lets your images shine and lets you showcase your products or services. Its simple design highlights your work, leaving a lasting impression on the audience.
Here are some of the highlights of Ignis:
Compatible with most WordPress pluginsCDN optimized for faster loading speedsMultiple portfolio style optionsCustom widgets and shortcodesOne-click demo import for quick setup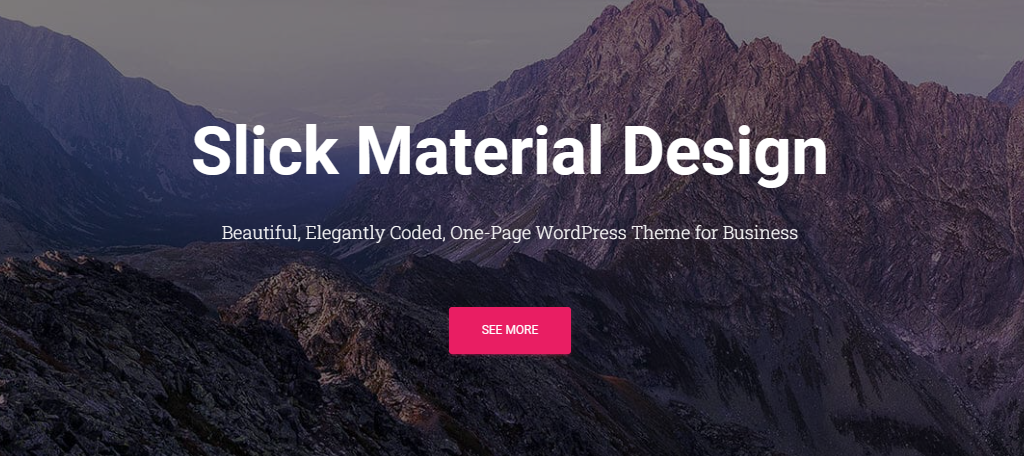 Hestia is another of the best multi-purpose WordPress themes that is perfect for artists and creatives. Its modern and minimalistic design is ideal for showcasing artwork.
But Hestia doesn't just look good – it also includes a range of features and tools to make sure your website runs smoothly. It has a responsive design, meaning it looks great on any device.
Plus, with its powerful page builder and ready-to-use templates, you can create a unique online space that truly reflects your style and art.
Here are some of the features that make Hestia stand out from other WordPress themes:
Easy to customize and useSEO-friendly designOne-click demo installationExcellent support for pluginsA range of shortcodes and widget areas
Euphony is a demo that many musicians are flocking to, but it's not just limited to them.
For artists, this demo is a great option. Upon first glance, Euphony boasts a mature design, complete with a large image header that instantly commands attention.
However, it's the image elements peppered throughout the page that truly make this theme stand out.
The dark design has always been a bit of a trendsetter in the creative world and with good reason. It exudes a certain kind of sophistication that can't be achieved with other themes.
When done right, it draws in audiences, piques their interest, and keeps them hooked. The beauty of the dark color story is that it works well for almost any kind of creative endeavor, be it a music site, an art portfolio, or a fashion blog.
Here are a few features that make Euphony a great option:
Simple, stylish designMultiple portfolio layouts and styling optionsCompatible with popular WordPress pluginsFully responsive design for optimal viewing on any deviceIntegrated blog pagination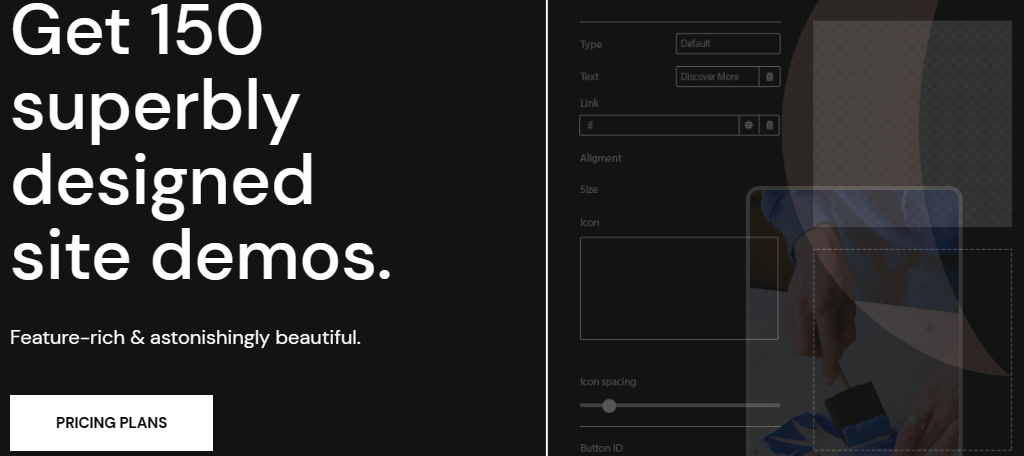 This powerful theme boasts an impressive selection of 150 demos, including several artists' portfolios.
With its bold design, full-page layout, and stunning imagery throughout the home page, these designs are perfect for those looking to showcase their artistic prowess to the world.
Its smart structure provides a fantastic user experience that anyone can appreciate. And when it comes to showcasing your projects, QI has you covered with its vast collection of gorgeous portfolio elements.
Whether you're displaying paintings, photography, or any other art form, QI has everything you need to present your work impressively and professionally.
Some key features of the QI WordPress theme include:
Compatible with WooCommercededicated themes for portfoliosSix-footer widget areas and three available header widget regionsAJAX paginationFlexible options for customization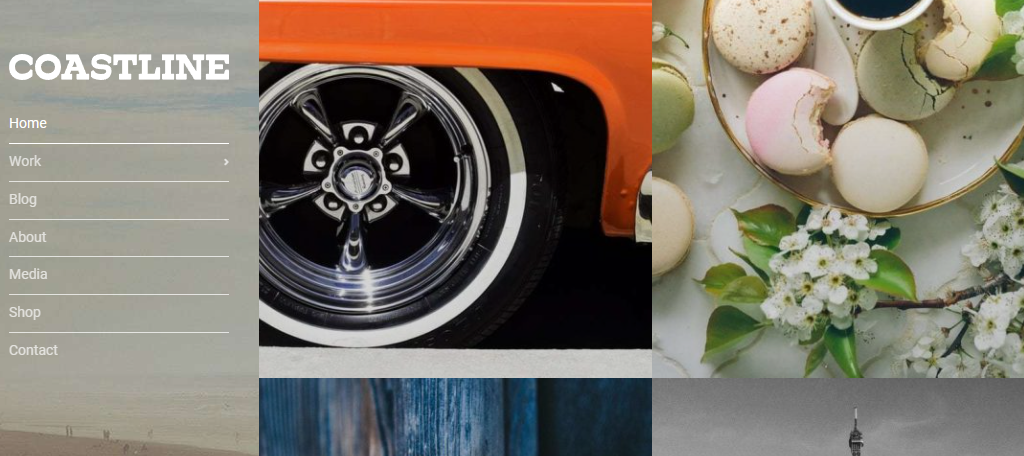 Coastline is one of the best WordPress themes for artists. Although it may not be the easiest to use, it's certainly a close second to Astra in terms of functionality and flexibility.
The theme boasts a visually appealing design with strong elements that perfectly complement artistic content. What sets Coastline apart is its unique size navigation that catches the eye and helps your website stand out.
If you want a beautiful, unique website that showcases your artwork, Coastline should be on your list of options to consider.
With its beautifully crafted image effects and responsive design, visitors can experience a seamless browsing experience no matter their device.
So, whether you're a photographer, an artist, or a business owner, this website is perfect for showcasing your work and making that important first impression.
Here are a few of the most impressive features that Coastline offers:
A full-page layout with an image slider and customizable backgroundsMultiple portfolio layouts, including masonry and grid viewsResponsive design for optimal viewing on any deviceMultiple custom widgets to display your work in an elegant mannerIntegrated blog pagination and social media support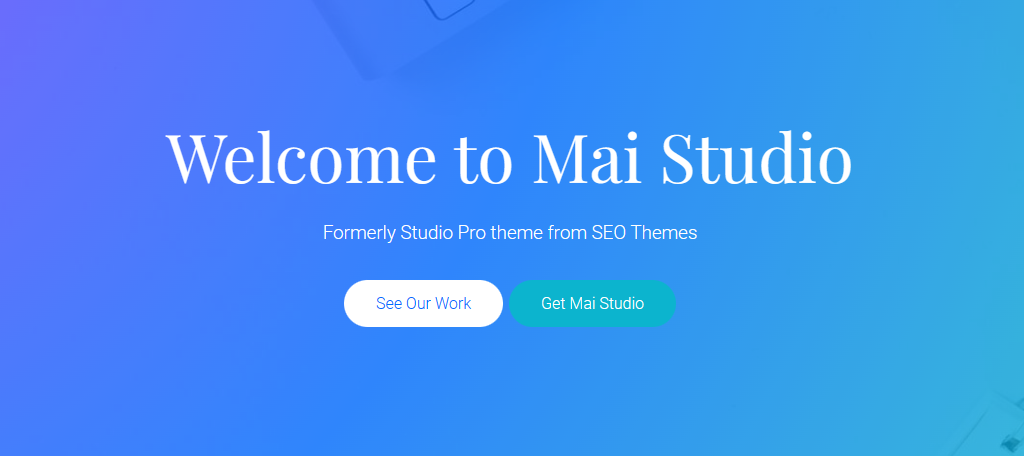 Mai Studio is the perfect platform for artists who want to showcase their work in a minimalistic manner. With its clean and simple design, this website allows artists to focus on what matters – their art.
The use of white space highlights each piece and gives the website a modern and contemporary feel.
Unlike other websites that can feel cluttered with unnecessary elements, Mai Studio's simplistic design puts the artist's work at the forefront.
Whether you're a painter, illustrator, or graphic designer, Mai Studio is a great option for those who want a portfolio and a corporate website in one place.
Its main page is a visual delight with its striking and colorful header that sets the tone for the rest of the website.
One of the most exciting aspects of Mai Studio's website theme is its flexibility in displaying portfolios. You can showcase your art directly on the main page or create separate portfolio pages that delve deep into your creative process.
Here are a few features that make Mai Studio a good consideration:
Clean flat design with few distractionsPlenty of white space and color is availablePages loads quicklyCustomization scopeUtilizes the Genesis Framework
Filtered is one of the best themes for artists in WordPress with its shaded background. The slider header is attention-grabbing, drawing the visitor's eye to its bold colors and smooth animations.
Whether you're starting a blog, setting up an online store, or establishing a professional portfolio, Filtered is an excellent choice.
Moreover, the theme has a smooth design and user-friendly interface, making it ideal for artists and businesses.
Here are a few of the most impressive features that Filtered offers:
An eye-catching slider header and customizable backgroundMultiple portfolio display options for showcasing your workInstagram integration and social media supportA built-in drag-and-drop page builder for easy customizationPowerful SEO tools to help boost your visibility online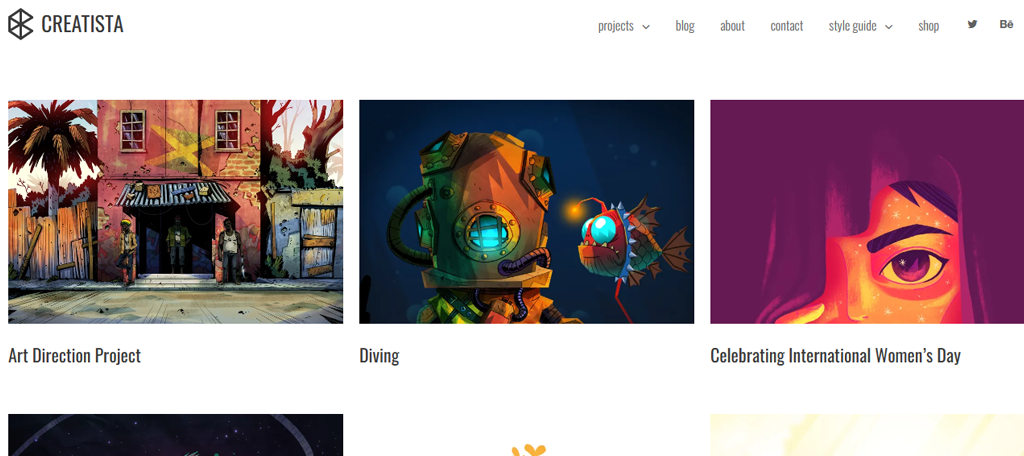 Creatista is perfect for any illustrator, animator, architect, or designer looking to showcase their creative side.
The responsive design ensures that your portfolio will be displayed perfectly on any device, and the customizable options allow you to truly make it your own.
With Creatista, your creativity will be on full display and you'll impress potential clients with your unique style.
With an emphasis on performance and SEO, your website will look stunning and be optimized to reach the top of search engine rankings.
Whether you're an experienced developer or just starting out, this theme is perfect for anyone looking for a professional and polished website. So why settle for a generic theme when you can stand out with Creatista?
Here are a few of the most impressive features that Creatista offers:
Unique design with customizable background and optionsFully responsive layout and retina-ready graphicsWooCommerce integration for selling products or servicesCustomizable portfolio display options to showcase your workBuilt-in drag-and-drop page builder for easy customization.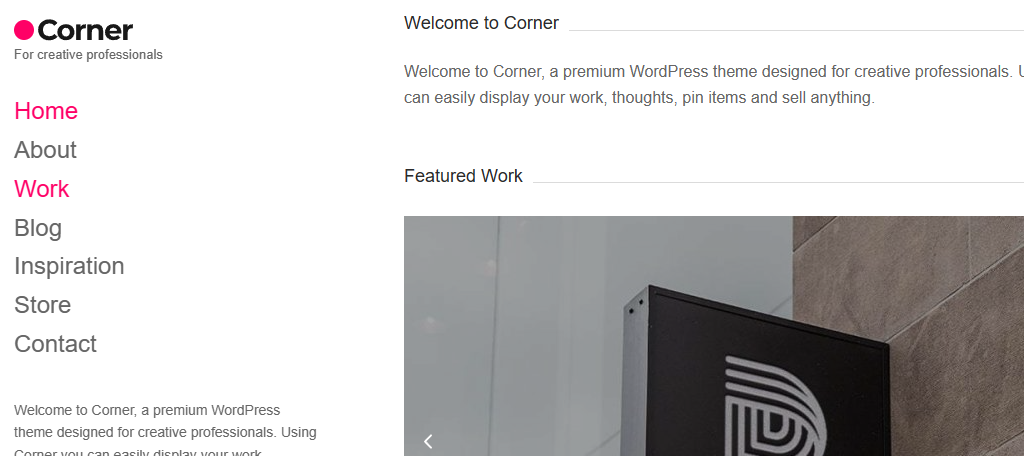 Corner is the epitome of minimal design. With a boxed layout similar to Filtered, it differs by utilizing borderless elements that add simplicity to its aesthetic.
This theme is the perfect canvas to showcase your work.
What stands out the most about Corner is its ability to adapt to any situation. Whether you're setting up a portfolio, launching an online store, or creating a blog, this theme can easily accommodate them all.
Plus, it's fully responsive and optimized for SEO, so your website will look great on any device and be easy to find.
Here are a few of the most impressive features that Corner offers:
Fully responsive layout and retina-ready graphicsWooCommerce integration for selling products or servicesMultiple display options to feature your workUse of a white color scheme for a clean and modern lookA built-in drag-and-drop page builder for easy customization.
River is an eye-catching theme that's perfect for photographers, illustrators, artists, or any other creative who wants to make a lasting impression on their audience.
It has all the features you need and more to create a stunning portfolio website.
This modern design is built on HTML5 & CSS3, which means it's fast and responsive on every device. Plus, it comes with plenty of customization options, so you can tailor the look and feel of your site to reflect your personal style.
River also comes with powerful SEO tools to help you get your website noticed by the right people, and it has a built-in drag-and-drop page builder, allowing easy customization without any coding experience.
Here are a few of the most impressive features that River offers:
Fully responsive layout and retina-ready graphicsMultiple display options to display your artBuilt-in drag-and-drop page builder for easy customization.Offers advanced page optionsOne-click installation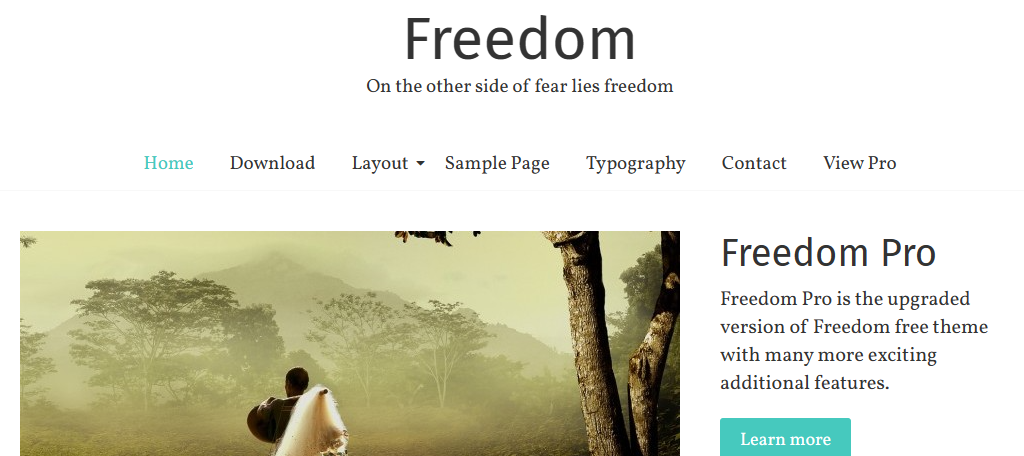 The theme puts your artwork front and center with its clean, boxed layout and striking image slider at the top of the page. Its minimalistic design also makes navigation a breeze.
The subtle colors and background image tie everything together seamlessly.
This theme was designed with simplicity in mind. With a clean, minimalist layout, your work is front and center, free from any distractions that might draw attention away.
Whether you're a professional artist or just starting out, Freedom offers a platform to showcase your creativity without breaking the bank.
Here are a few of the features that Freedom offers:
Several options for the displayParallax scrolling for an immersive user experienceUse of subtle colors and background images to tie everything togetherFully responsive layout and retina-ready graphicsOptimized for SEO so your website can rank on SERPs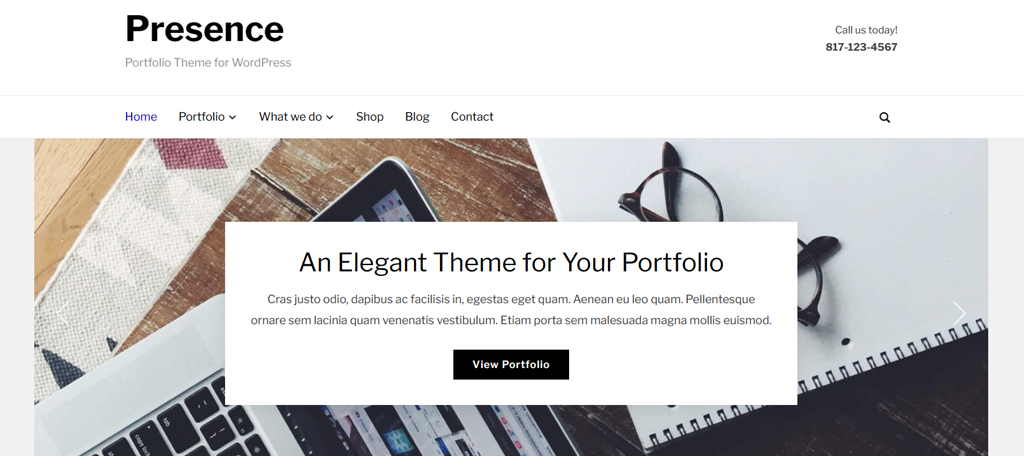 Presence blends the best of both worlds – art, and business. Although it leans towards an agency theme with its portfolio elements, its appeal goes far beyond just a few icons and selected fonts.
Its immersive design features a fluid layout, featuring transitions and clean lines to emphasize your work. The theme includes an image slider under the header to engage the user from the minute they visit the website.
Here are a few of the features that Presence offers:
Effective yet simple designUsable by businesses, artists, and agenciesWide variety of demo templatesHighly customizableOffers image effects
Weston is the ultimate solution for those who want flexibility and simplicity when designing their website. The theme has several demo options to choose from.
The portfolio designs are also stunning, expertly balancing typography and imagery to create a visually appealing display.
The theme's typography provides an extra layer of sophistication and elegance. With Weston, you can be sure that your website will look professional and modern without being too overt about your artistry.
With its diverse portfolio options, including WooCommerce integration for easy e-commerce, you'll have all the tools you need to profit from your work. Plus, the interesting hover effects and layout options will impress even the most discerning eye.
Some of the top features it has to offer include:
Clean, modern designMultiple portfolio demosQuick Page Load SpeedEffective yet simple portfolio layoutsFeatures for SEO optimization
Parallax is a stunning single-page theme that's sure to catch your eye. Designed with a monochromatic color scheme, this theme creates a unique atmosphere that sets it apart from the others.
The beauty of Parallax lies in its simplicity; there are no unnecessary distractions and the focus is on the content.
Additionally, the smooth scrolling feature ensures that your visitors won't lose interest as they navigate through the site.
The portfolio sections lower down the demo page of this particular theme showcase just how capable it really is. From stunning typography to sleek designs, this theme is really in a league of its own.
It's clear that every detail has been meticulously crafted to ensure a smooth user experience for visitors.
Here are some of the features that you'll find with Parallax:
The monochrome design makes an impressionPage scrolls smoothlyAesthetic portfolio optionsBest for mobile usersQuick Load Speed
Binder Pro is a magazine-style WordPress theme that boasts a modern design with ample white space to let your artwork take center stage. The font choices are spot-on, adding an extra flair of professionalism to your website.
Plus, the subtle flourishes throughout the theme add a touch of elegance to your online portfolio. Whether you're a painter, graphic designer, or photographer, Binder Pro can help you present your work effectively.
The image handling on this platform is top-notch and allows for plenty of opportunities to exhibit your talent. The theme's flexibility also allows for infinite customization possibilities.
Here are a few of the features that you'll find with Binder Pro:
Appealing modern designWooCommerce compatibleFully responsiveEasily customizableIdeal for prolific artists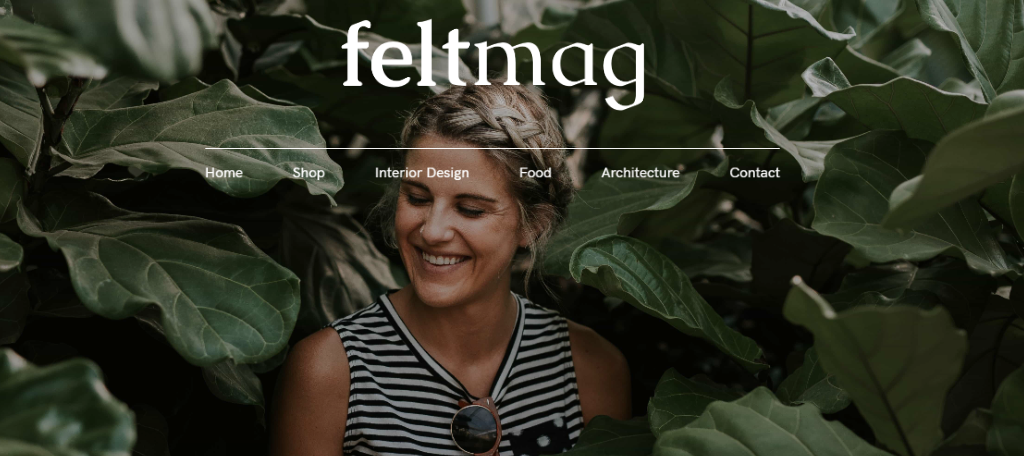 Felt certainly takes a unique approach to its layout design, which makes it one of the best themes for artists in WordPress. The first thing you'll notice when you land on the website, you will see the stunning full-screen image header that immediately captures attention.
The theme has an easy-to-navigate layout with multiple sections to provide flexibility for segmenting different collections. It also has a wide layout format.
The borderless design of the layout is a minimalist's dream. It allows the content to truly shine without any unnecessary distractions. The alternating colored backgrounds add a level of interest, while the simple complementing colors tie everything together.
What's great about this theme is its versatility. It can easily be personalized and tweaked to fit any type of art or artist.
Some key features of Felt include:
Unique Magazine LayoutGood choices in terms of designOptions for images and copySimple hover effectsCompatible with WooCommerce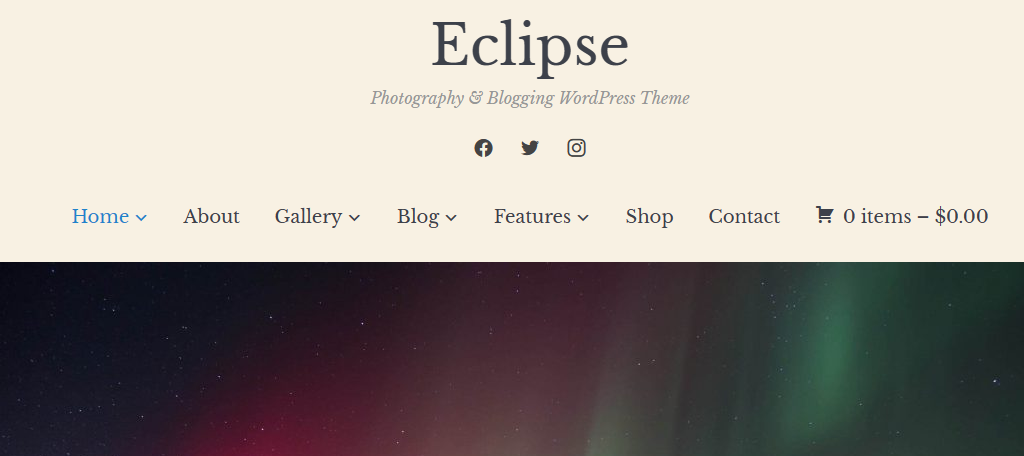 If you are a photographer, artist, or someone who simply loves beautiful imagery, Eclipse is the perfect choice for your portfolio website. This theme is designed to highlight your work, with its uncomplicated layout, soft pastel colors, and borderless content sections.
You won't have to worry about distracting elements taking away from your stunning visuals, as everything is kept clean and minimalistic.
Navigation is also made easy with the simple menu, so potential clients can effortlessly browse through your work.
The images are the stars of the show, with a design that provides a perfect backdrop for the artwork on display.
Every aspect of the theme has been crafted with the artist in mind, with intuitive navigation that makes it easy for visitors to explore different galleries or portfolios.
A few key features of Eclipse are:
Variety of fonts and colorsUnfussy layoutBorderless elementsWooCommerce CompatabilityPages load quickly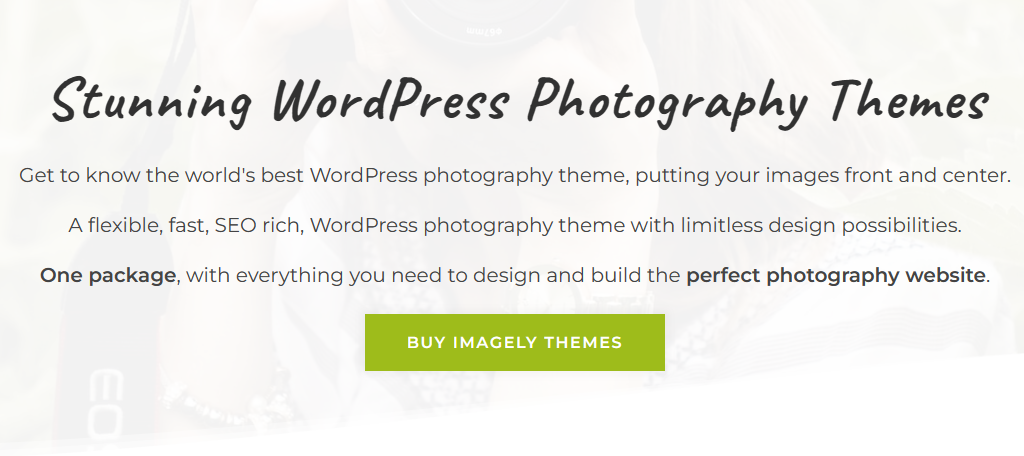 Imagely is a powerful portfolio theme that is perfect for all types of artists. Not only does it have over 15 different gallery demos, from minimal to magazine-style, the theme includes all sorts of features ideal for creatives showcasing their best art and photography.
There's advanced performance optimization and custom CSS capabilities, so you can tailor the page's design and easily create photo albums or product catalogs.
Imagely also makes it easy to add image watermarks to communicate copyright and ownership status.
It is highly recommended for any artist looking to showcase their work in a polished and professional manner. It is fully responsive on both desktop and mobile devices and offers cool Lightbox effects for maximum visual impact.
Additionally, Imagely provides top-notch security measures to ensure your images remain safe and sound.
Here are a few key features Imagely offers:
Top-class artist demos are availableGood eye for design across all themesPages loads quicklyFully responsiveOption for image protection
Mozzy is an understated design theme greeting users with nice colors and attractive fonts. Blending a subtle Scandinavian influence with creative finesse, the main page provides intuitive use for the modern user, making it easy to fill in the information and get online quickly.
With its bright shades, stylish icons, unique typography, and a tidy background that isn't too overwhelming or distracting, Mozzy has been carefully crafted to create an inviting atmosphere perfect for your website.
If you're on the hunt for a simple yet attractive website template, then look no further than this theme. Its clean design utilizes a lot of white space to create a well-balanced design that's sure to please.
Even better, its portfolio page is simple to navigate but still allows items to stand out independently with an individual image page that loads fast and looks great. To top it all off, it offers gorgeous imagery.
Here are some of the key features Mozzy offers:
Unassuming and uncluttered designNumerous opportunities to highlight workAbility to add content elementsQuick loading pagesFeatures for SEO optimization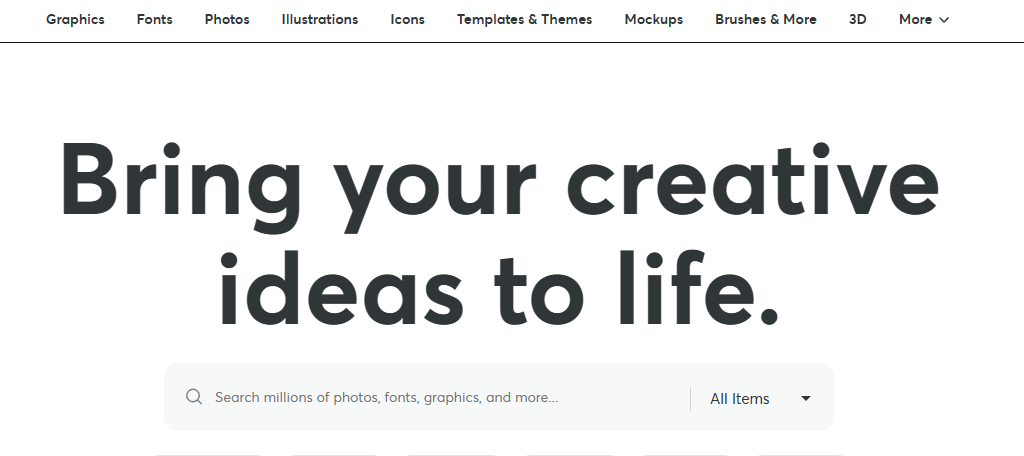 Creative Market's Portfolio Theme is a unique answer for an excellent WordPress theme for artists. The theme boasts a Scandinavian aesthetic, with muted colors, an uncluttered layout, and sleek fonts that fit flawlessly together to present your work.
With so many features, it hasn't sacrificed ease of use; every control is easy to find and configured just as you would have designed it.
You can concentrate on displaying the creativity of your artwork without getting distracted by bulky and time-consuming options.
With tremendous staying power amid lightning-quick trends, this theme is a timeless showcase for any website. The modern touches offer flexibility and versatility to accommodate any portfolio with an eye-catching background.
You can choose from the wide selection of pre-designed layouts for your customized web presence or design one yourself to tailor it to your exact specifications.
Some key features of Portfolio by Creative Market include:
Elegant yet simple designAlluring page layoutWorks well with Scandinavian influenceLots of options for image displayCompatibility with most WordPress plugins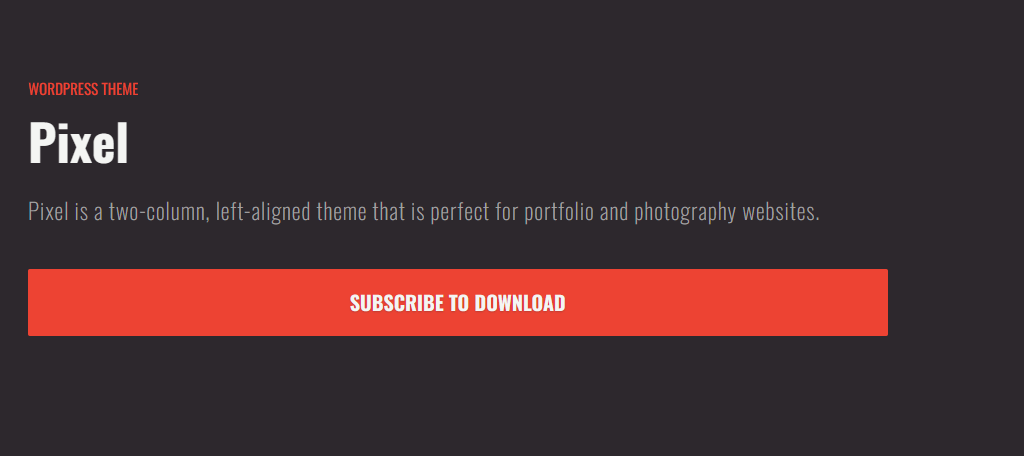 Pixel is an exquisitely designed website that stands out from the rest. Its modern aesthetic, crisp font design, and laid-back layout captures the eye.
It offers unbeatable minimalism with a clean edge, making it perfect for any modern business that wants to make its mark on the web.
The layout showcases each image in its own right while simultaneously creating a captivating visual experience. With Pixel, you can easily combine and display images of different sizes in a harmonious blend.
Viewers can also enjoy a beautiful display of images that seamlessly tell a story together, while still allowing every one of them to stand out on its own.
Here are a few key features of Pixel:
Beautifully crafted visualsFlexible and intuitive designSimple to understand layoutEasy to customize backgroundUser-friendly interface.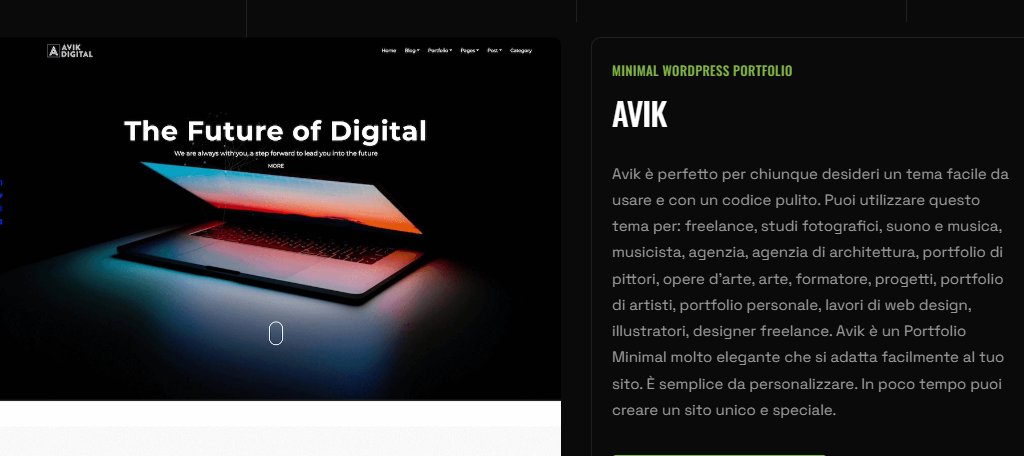 Avik is an amazing WordPress theme to display your work. No matter what type of freelancer or artist you may be, this theme offers an eye-catching design to make sure your personal portfolio stands out.
Its customizable layout ensures that everything you have worked on will be properly highlighted and presented professionally.
Kick off your portfolio website in no time with this clean and minimalist theme.
Gone are the days of worrying about responsiveness across devices, as this theme works seamlessly on any device. Skip the endless bells and whistles for a simple and elegant design that presents your content in an organized manner.
With its compatibility with popular third-party plugins, such as Contact Form 7, custom CSS code, and WPBakery Page Builder – Avik makes building engaging websites with attractive visuals easy and enjoyable.
Here are a few key features of Avik:
Modern and minimalist designMobile friendly layoutIntegrated with popular pluginsFully customizable layoutSEO optimized.Powerful options panel.
The Draft Portfolio theme is a great choice for artists. It offers a clean and minimalistic design aesthetic while enabling users to create a portfolio website in a few clicks. No coding experience is required.
It's perfect for putting together the perfect online showcase of your work, featuring easy uploads and customizations, so you can make sure it reflects the right image.
With full compatibility with all WordPress plugins, there are endless opportunities to truly make the website yours. Furthermore, regular updates are available so you can stay ahead of the curve on design trends.
If you're looking for a one-stop solution to transforming your website, then you should definitely consider investing in the Pro version. It packs in an incredible array of features that will put the wow factor into any site.
Here are a few key features of Draft Portfolio:
Unlimited Colors and 600+ Google fontsDrag & drop page builderFully customizable layoutResponsive design across multiple devicesRegular updates with new features
Creating a great website is made easy with Oscillator, which makes it one of the best themes for artists in WordPress. The platform isn't just restricted to musicians; it's multi-functional to suit many different website design needs.
There are various audio features, such as playlists and audio metadata but, what's most exciting is the ability to craft visually stunning works with its image elements.
The designs have been carefully crafted to be bold and impactful, ensuring that any images or fonts used are full of personality.
Adding a bright contrast color helps catch the eye and adds additional interest while alternating between dark and light elements adds depth and character to the design.
This creative approach produces memorably dynamic visuals that are bound to make an impression.
Here are a few key benefits of Oscillator:
A lot of optional page featuresEasy to customize layoutDrag-and-drop page builderPowerful audio tools for musiciansSEO friendly.
Tatoo is the perfect WordPress theme for a "dark and moody" website.
While its aesthetic relies heavily on images, using carefully selected photographs, artwork, or illustrations can easily transform it into something that reflects the feel of another era or trend without impacting its modern and mysterious look.
It is an excellent example of how well-executed typography on the web can create a great overall design. The use of well-spaced font, with each part of the page balanced according to its visual importance, results in an aesthetic that is both simple and effective.
Some key features of Tatoo include:
Fully responsive, retina-ready designRobust portfolio template with multiple layoutsAdvanced typography optionsSEO optimized for search enginesCustomizable widgets.
Radiate is one of the best WordPress themes for artists seeking a relaxed atmosphere. With its full-width header and range of images, it's easy to create a warm and inviting look on your website.
The subtle use of grey as a background, along with the great options that come included, means you can add character and individual style to your space.
This theme has everything an artist needs to set themselves apart from the competition and get their message across.
With simple content areas that can be used for any purpose and a traditional blog layout with a sidebar, you can instantly recognize and understand where everything fits within the overall structure.
Some key features of Radiate include:
Fully responsive designEasy-to-use options panelCustomizable backgrounds, headers, and menusSEO optimized for search enginesTranslation ready.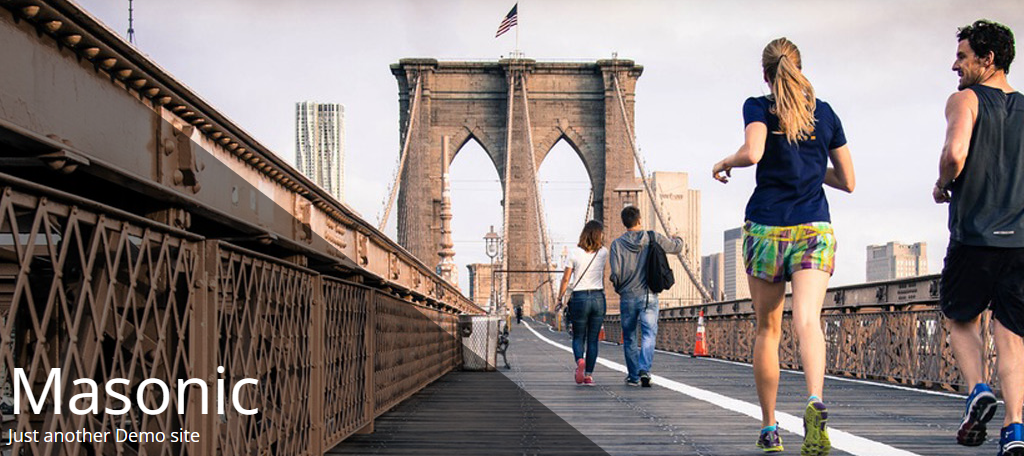 Closing out this list of the best WordPress themes for artists is Masonic. It is an incredibly effective and stylish blog design. Its tiled layout creates an orderly, yet mystical aesthetic that is sure to draw in visitors.
It also helps readers easily find the information they are looking for. The simple header adds to the charm of the design by providing a neat structure to the whole page.
Furthermore, it includes lots of white space, which keeps its aesthetic from becoming too overwhelming or "busy."
Best of all, Masonic offers gorgeous typography that creates a smooth flow of information for maximum engagement and readability.
It is a majestic free WordPress theme for artists who want to make an impact. Despite its simple design, the site still looks professional and stands out with its eye-catching layout.
Featuring a clean backdrop and stunning color palette, it creates a powerful visual statement that commands attention.
Here are a few key features of Masonic:
Simple designIt can serve as either a blog or portfolioTiled image layoutBalance PageEasy to navigate
Build Your WordPress Site With These Themes For Artists
In conclusion, WordPress has a tone of themes for artists that can be invaluable for showcasing your creative talent and abilities, no matter what medium you use.
Thanks to their features like custom color schemes, Portfolio Builder, Bootstrap responsive design, and rich media support, these themes allow artists to get discovered by potential customers while making them look more professional and impressive.
Moreover, they offer cost-effective solutions that would fit your budget and set you apart from other artists in the same niche.
As an artist, picking the right theme is important – choose one that complements your art style, showcases your skills, and puts you in a better position to succeed.
What are some of your favorite themes for artists in WordPress?