Users are constantly seeking quick and precise answers, and this is what your website's FAQ section is made for. With that, choosing from robust WordPress FAQ plugins is a must.
A cluttered FAQ section or a tedious search for answers can frustrate visitors. In effect, this leads them to abandon a site in favor of a more user-friendly competitor.
But here's the silver lining: the right WordPress FAQ plugin can seamlessly address these pain points, transforming your site's user experience.
In this article, we'll dive deep into the best FAQ plugins that not only engage visitors but also give your website the edge it deserves.
Our Picks for the Best WordPress FAQ Plugins
Choosing from the vast array of WordPress FAQ plugins can be overwhelming, especially when determining which one best suits your needs. As you sift into these options, certain features and functionalities stand out, elevating a plugin from good to great.
Here are the key features that we've taken into consideration for our list of FAQ plugins.
Easy Integration:The best plugins blend smoothly with any WordPress theme.User-friendly Design:An intuitive interface is crucial. Users should navigate FAQ sections easily.Search Functionality:Users appreciate fast answers. A built-in search bar helps them find relevant answers quickly.Responsiveness:With varied devices accessing websites, a top FAQ plugin adapts to all screen sizes.Customizability:A versatile FAQ plugin offers design options. Customization ensures the FAQ section matches the site's aesthetics.Support & Updates:Regular updates ensure compatibility with the latest WordPress versions.
With these features and more, here are the best WordPress FAQ plugins for you to choose from.
1. Ultimate FAQ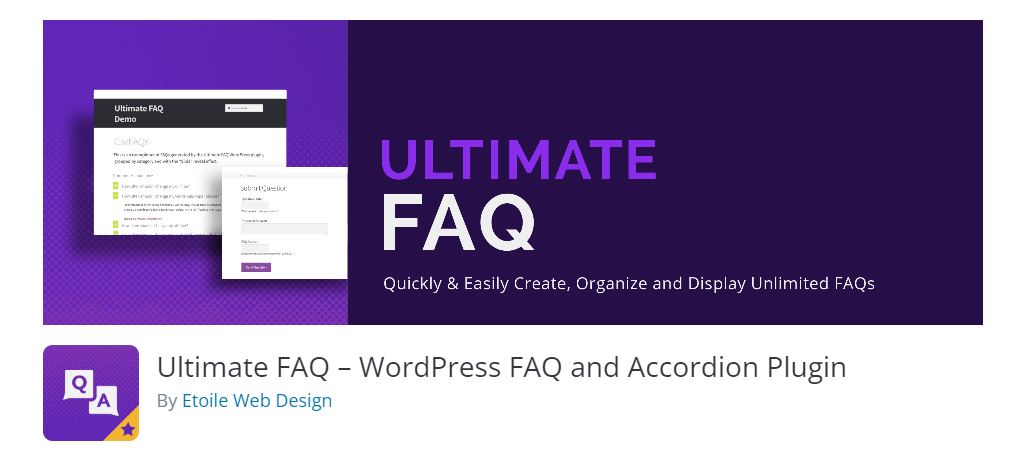 Searching for a free WordPress FAQ plugin? Consider Ultimate FAQ. This tool simplifies the setup for your website.
There's no need to worry about compatibility. For users of Gutenberg blocks or shortcodes, this plugin suits you with its varied designs. Through this plugin, adding FAQs to your theme is very easy.
Diving into its key features, this FAQ plugin doesn't skimp on offerings. Dive into creating endless FAQs, categories, and tags, and play around with those super user-friendly Gutenberg blocks. And let's not forget those FAQ group options, all designed to give your site that personal touch.
Ultimate FAQ is also highly flexible. Its accordion layout ensures seamless adaptability to any site and device. It pairs with FAQ structured data and diverse layout choices. Plus, it's translation-ready for your audience globally.
But there's more! This plugin allows custom CSS tweaks. Style your FAQ section any way you desire. It's perfect for businesses seeking a distinct look.
Benefits of Ultimate FAQ
Uses LD+JSON for search engine recognitionWidgets highlight specific or trending FAQsCustomizable FAQ display. Choose elements like categories, tags, author, and dateFAQ statistics help gauge content successUsers can comment on FAQs
Drawbacks of Ultimate FAQ
Cannot remove permalinks to FAQsToo many customization options may feel overwhelmingLimited functions in the free version
2. Easy Accordion
Say goodbye to codes with the Easy Accordion plugin. Designed for simplicity, this drag-and-drop FAQ builder offers many customization options.
With its 2.0 version, users witness a revamped experience. This iteration, enriched with a default theme, showcases countless developmental hours and innovation.
What sets Easy Accordion apart is its distinct flavor of themes. Even in its free version, users get a taste of its uniqueness with a dedicated theme for styling FAQs.
But for those wanting to elevate their site aesthetics, there's the pro version. This premium leap not only grants access to a collection of 16 meticulously crafted themes but also paves the way for diverse styling avenues.
Benefits of Easy Accordion
It's lightweight for quick website loadsThe admin dashboard is user-friendlyYou can make many accordions on one pageDesign elements, like icons, are adjustableDrag-and-drop functionality
Drawbacks of Easy Accordion
Might have issues with some translation pluginsSlight learning curve neededMost of its features are available only in premium
3. Quick and Easy FAQs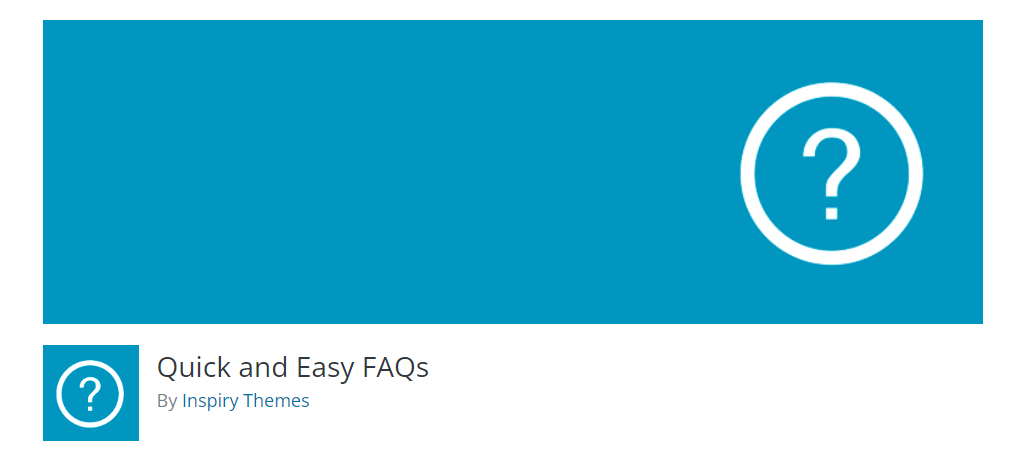 Streamline your FAQ section with the Quick and Easy FAQs plugin.
This nifty plugin offers a streamlined approach to embedding FAQs on your website. By harnessing its unique shortcode, placing FAQs on any page or post becomes a breeze. As the name suggests, it's designed for simplicity and speed.
Though the customization options are somewhat limited compared to other plugins, it compensates with its ease of use. You can tweak colors and fonts, ensuring your FAQs mesh with your website's aesthetic. It's not about overwhelming features; it's about delivering the basics flawlessly.
Another highlight of the plugin is its shortcode. It's the key that unlocks effortless FAQ integration wherever you see fit. This feature, combined with customization options, guarantees your FAQ section blends with your site's overall look.
When determining the best FAQ plugin WordPress offers, Quick and Easy FAQs ranks high for those prioritizing simplicity.
Benefits of Quick and Easy FAQs
Three FAQ display options: list, accordion, or toggle styleGroup your FAQs for structured viewingOption for filterable FAQ groups for easier navigationSort FAQs by title or date as per your preferenceCustomize your FAQ section through a dedicated settings page
Drawbacks of Quick and Easy FAQs
Limited customization features for FAQ sectionsDocumentation is somewhat lacking
4. Heroic FAQs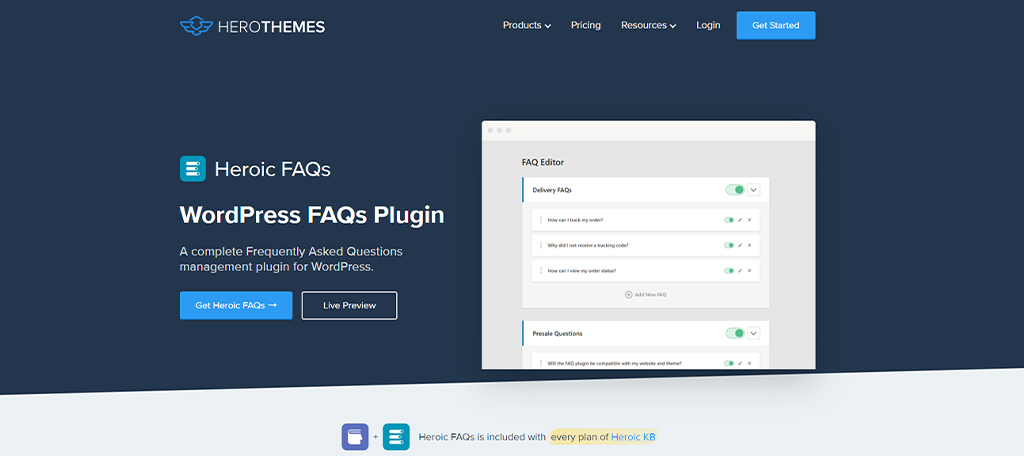 Transform your site's FAQ section into a masterpiece with Heroic FAQs.
With its beautiful and well-structured backend interface, this plugin is a prime choice. Its drag-and-drop feature makes FAQ creation done in minutes. Plus, editing all your FAQs on a single page eliminates tedious back-and-forth navigation.
One of Heroic FAQ's strengths is its comprehensive approach. They've captured the best features from other WordPress FAQ plugins but removed common pitfalls. The FAQ editor lets you craft your content, adding lists, images, or even videos to enhance user interactions.
This plugin also integrates smoothly with your theme. But if you're tech-savvy, it welcomes advanced tweaks. Offering mobile-responsive designs, it boasts five distinct FAQ styles. Lastly, choose between a toggle or the favored accordion-style expansions.
Your FAQs don't have to look generic. Heroic FAQs ensures that with multiple icon choices and dynamic animations. Plus, premium support is just a click away.
Benefits of Heroic FAQs
Add videos and images to answers easilyFAQs are sorted for easy navigationQuickly build unique FAQ pagesEnjoy Hero Themes' sleek designsDrag-and-drop to rearrange questions
Drawbacks of Heroic FAQs
No free version is availableLimited to five design stylesBest for FAQs, not broad Q&A
5. Accordion FAQ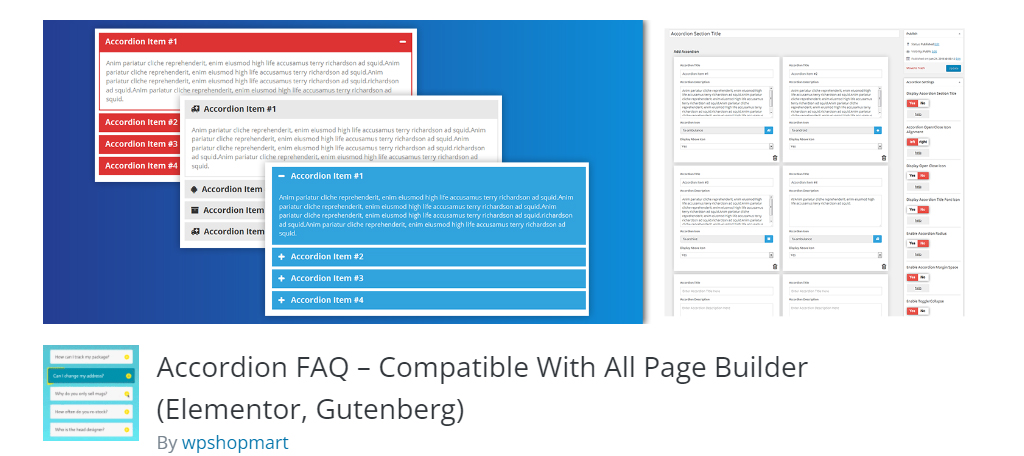 With Accordion FAQ, building an FAQ section for your site becomes simple. This WordPress plugin lets users create various FAQ pages effortlessly.
Want accordion, list, or block displays? This plugin offers them all. Plus, there are custom templates for quick FAQ setups.
You don't need all FAQs to be on one page with this plugin. Instead, spread out your FAQs across multiple pages to enhance the overall user experience. This flexibility ensures that visitors can navigate individual pages effortlessly.
Accordion FAQ also gives users full reign over customization. From tweaking icons and adjusting colors to modifying the border radius and font sizes, everything is at your fingertips.
Of course, even with such powerful features, questions and issues can arise. That's where Accordion FAQ's dedicated customer support steps in. The support team ensures a smooth experience from start to finish.
Benefits of Accordion FAQ
Responsive design fits all devicesAdd accordion features anywhere on your siteDrag-and-drop makes sorting FAQs simpleEnhanced accordion content with advanced input fieldsWide color customization
Drawbacks of Accordion FAQ
Beginners might find the initial setup trickyLacks FAQs schema feature
6. WP Responsive FAQ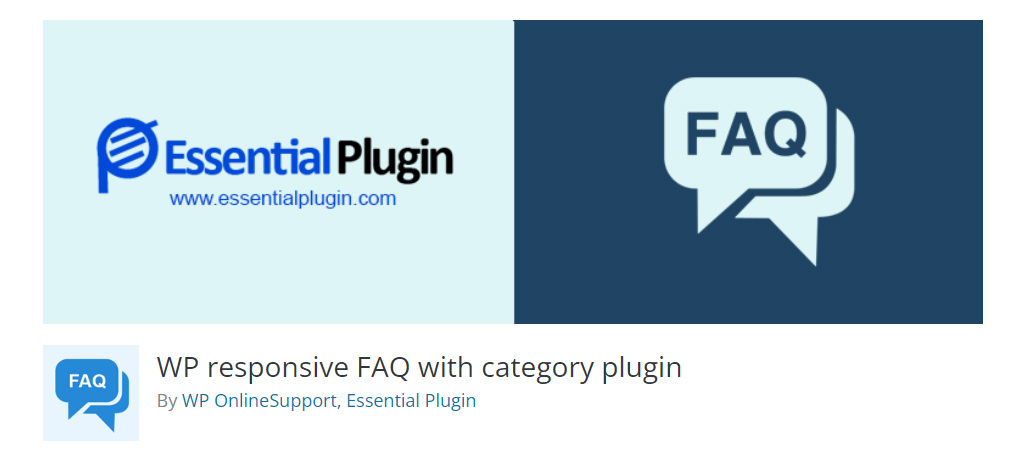 FAQs have evolved in the digital age. With that, WP Responsive FAQ is the modern answer to your needs.
With mobile devices on the rise, WP Responsive FAQ prioritizes a collapsible design. It ensures that FAQs adapt beautifully on any device. Furthermore, its unique shortcode system precisely positions the right questions where needed.
Creating FAQs is very easy with this plugin. Like making WordPress posts, you can craft individual FAQs. Plus, with categories, you can organize and display them effortlessly.
Customization gets easier with shortcode parameters. Tailor displays to your liking, making the FAQ search WordPress experience even smoother. For WooCommerce users, the plugin offers a premium feature to integrate product FAQs.
And if you're craving more flexibility, go premium. With it, you'll get 15 extra shortcodes for tweaking. Clearly, WP Responsive FAQ is a top choice among WordPress FAQ plugins due to its features.
Benefits of WP Responsive FAQ
Provides a convenient shortcode systemOffers control over the number of items displayedAdjustable transition speedIntuitive drag-and-drop feature for reorderingResponsive design
Drawbacks of WP Responsive FAQ
Limited customization in the free versionGrid view layout only available in the premium version
7. Knowledge Base for Documentation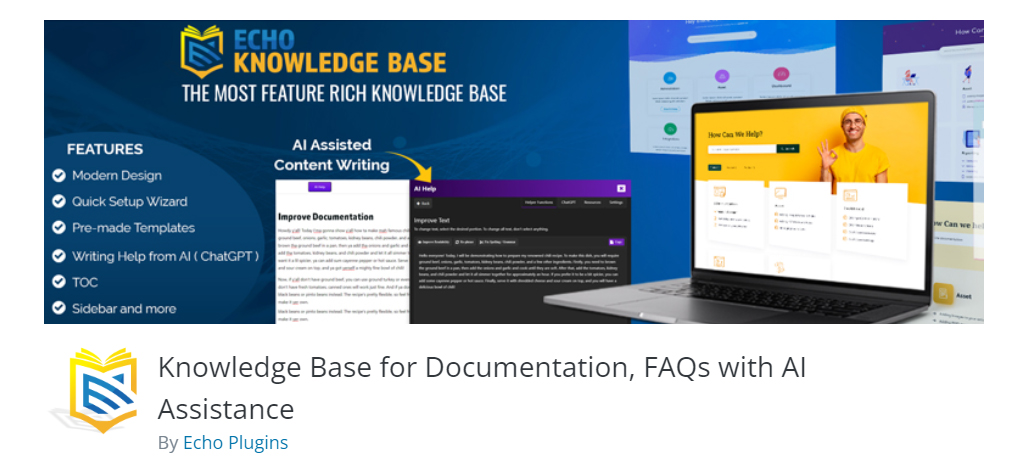 Knowledge Base for Documentation is more than just a WordPress FAQ plugin. It's designed for broad knowledge sharing.
With it, you don't need any coding skills. It already provides ready-to-use designs and a visual editor. This makes sure your content aligns perfectly with your theme.
And for those seeking customization, the plugin boasts 26 pre-set designs. Adapting to different content presentation styles is just a click away.
Lastly, the plugin works seamlessly with builders like Elementor. For user engagement, it also integrates the Help Dialog Chat. This chatbot boosts customer support and lead generation.
Benefits of Knowledge Base for Documentation
Frontend editor for easy useQuick search bar aids user queriesDiverse customization options are availableSEO-optimized for better search rankingsConsistent and friendly customer support
Drawbacks of Knowledge Base for Documentation
Premium add-ons needed for more featuresCan be overwhelming at first
FAQs About WordPress FAQ Plugins
How do I add an FAQ to WordPress?
For those new to WordPress, adding an FAQ section can seem daunting. However, WordPress FAQ search plugins make this task hassle-free.
Simply choose a plugin, install and activate it. Once done, follow its intuitive setup steps. You can then start adding your questions and answers to provide valuable information to your users.
How do I create a searchable FAQ?
Making your FAQ is searchable enhances user experience. Most WordPress FAQ plugins come equipped with a search bar feature. After installing your chosen plugin, activate the search function.
Where do I put FAQ on my website?
Placement matters for FAQs. Typically, websites feature their FAQ section either in the main navigation menu or in the footer. This strategic positioning ensures that visitors can easily locate and access the FAQs, no matter where they are on your site.
When it comes to presentation, it can vary based on user needs and website design. Some websites opt for a dropdown format for each question, while others dedicate an entire page.
Leveraging WordPress FAQ plugins can offer multiple customizable display options. These plugins fit your FAQ section to your site's aesthetics and functionality.
What are FAQ snippets?
FAQ snippets are concise previews of your FAQ content. They surface in search engine results, offering users quick insights into the provided answers. This means users can get immediate answers without having to visit the page.
What is FAQ schema in WordPress?
In WordPress, FAQ schema is a type of structured data markup. It signals to search engines that your page contains FAQ content. This ensures clarity and relevance in search results. Many WordPress FAQ plugins support and streamline the application of this feature.
Integrating FAQ schema offers several perks. Primarily, it increases the chance of your website appearing in rich snippets on search results. These rich results can grab a user's attention, providing them with a snapshot of your content. Overall, this leads to higher click-through rates.
Are FAQ pages good for SEO?
Absolutely! FAQ pages, when well-constructed, can significantly boost your SEO efforts. They present relevant content that directly addresses user queries. This relevance can improve your website's authority and potentially elevate its position in search rankings, driving more organic traffic.
How do I make an SEO-friendly FAQ page?
Creating an SEO-friendly FAQ page involves a blend of strategy and content. Incorporate relevant keywords without overstuffing. Structure the content for readability.
Lastly, many opt for WordPress plugins with FAQ schema support, optimizing the page for better search engine visibility.
How do I add FAQ to WordPress without plugins?
If you're keen on a plugin-free approach, adding FAQs is still manageable. First, create a new page titled "FAQs". Manually input your questions and answers. Use headings for better structure and clarity. Style according to your website's theme for a better look.
Make Your FAQ Section Stand Out
Addressing user queries effectively can be your edge in a competitive digital landscape. WordPress FAQ plugins don't just answer questions; they enhance user engagement and keep visitors glued to your site.
Whether you're in the market for straightforward answers or in-depth documentation platforms, there's an FAQ plugin tailored for you. Equipped with insights from our discussion, you're now poised to make an informed choice.
After all, a well-informed visitor often turns into a loyal customer. Harness the power of your content, captivate your audience, and watch your results soar.