Membership sites are growing in popularity and most sites have probably considered going this route as it doesn't rely on advertisement. Luckily, WordPress has a great selection of membership themes to choose from.
Choosing the right theme helps you set the tone and experience for visitors. However, any kind of site can be a membership site, thus the ideal candidates are all multipurpose themes that can work for any niche.
That said, some themes do have built-in membership functionality, but these features can be added in with the right plugins. And some more niche-specific sites have great theme options available like online learning, dating, and so on.
Let's take a look at the best membership themes WordPress has to offer.
Our Picks for the Best Membership Themes in WordPress
Since there are many types of membership sites, the goal of this list is to cover themes for different niches that give you creative freedom, access to different templates, and excellent support.
Not all plugins will natively have membership functionality, but they can easily be added by installing a plugin. As such, any theme can be used as a membership site.
1. Astra
When it comes to multipurpose themes that are great for any occasion, Astra is easily the best and most popular option in WordPress. Its major selling point would be a huge library of templates that can accommodate any niche.
As a result, it is one of the best membership themes to use in WordPress because it works for any topic.
With this said, Astra, itself does not have any built-in membership tools for you to use. Instead, you'll need to install a membership plugin, which won't be an issue since it is so popular. This theme is full of customization options to explore.
For instance, you can build your own header and footer from scratch with a drag-and-drop builder. Essentially, when it comes to customization, you have complete control over every aspect of your site, which makes it a standout theme no matter the situation.
Benefits of Using Astra
Optimized for speed with load times in just half a secondCompatible with your favorite page builder plugins for even more optionsThis theme is translation-ready with RTL supportClean code with plenty of hooks and filter options availableEasily customize the layout, colors, fonts, and everything else in this theme
Drawbacks of Astra
Many of the most popular site templates are locked behind the Pro versionLacks any dedicated membership features
2. Vayvo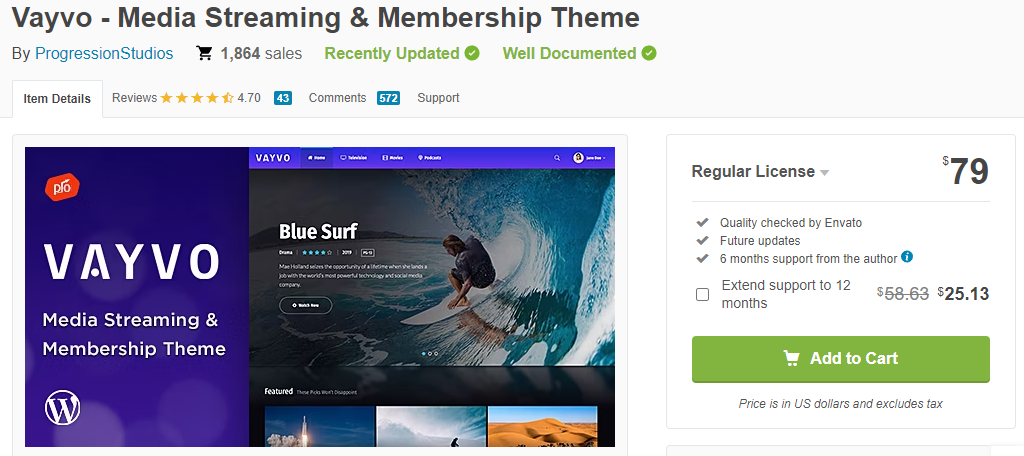 It has become very common for YouTube content creators to create a site for their Patreons and other supporters to get first access to the content. If that is your intention or anything to do with video content, then Vayvo is the perfect theme for you.
As a premium theme for membership sites, it comes bundled with the ARMember plugin.
This plugin allows you to create a membership subscription, lock content behind that subscription, and accept payments. It even gives you the power to create free trials for your subscriptions to help let customers see what they are paying for.
In terms of design, you'll have a drag-and-drop page builder at your disposal to make any kind of page. There are also subscription page templates to help you create sales pages. The overall design is for video content, thus if that is your niche, this theme is for you.
Benefits of Using Vayvo
Has a variety of templates for different site nichesIncludes a video player for self-hosted videos, but also has support for YouTube and VimeoBoosted Elements Add-on plugin is included to help make maps, popups, and other types of contentSell posts separately instead of forcing into a subscriptionUsers can add ratings to your video content
Drawbacks of Vayvo
There is no free version availableThe theme is focused on video content
3. Aardvark
Aardvark is a membership theme that includes all of the tools you'll need to build a strong and active community in WordPress. It comes bundled with a variety of premium plugins that allow you to create membership subscriptions, allow users to rate content, and more.
As such, it is easily among the best membership themes for WordPress. It also has a great selection of subscription templates.
Each template is built for a particular niche and will serve a membership website well. For instance, if you want to build a dating membership site, there is a template for that. The real power of this theme comes from included plugins.
You'll have a full-page builder with WPBakery to build pages from scratch or edit existing templates with. If you are offering online courses, you can use Sensei Certificates to create certificates for course completion.
Benefits of Using Aardvark
This theme is translation-ready with RTL supportIncludes access to some of the best support available for a themeGain access to a variety of social network functionality like social logins and share buttonsChoose from a great selection of menu styles like mega menusIncludes a great selection of layout options for blog content like grid view, masonry, lists, and more
Drawbacks of Aardvark
No free version is availablePage speeds are slightly behind others on this list
4. LMS WordPress Theme
One of the most popular forms of membership sites is for online courses. There are a variety of platforms that offer users courses to gain certain skills like learning how to program or learning about how to invest their money responsibly.
In any case, when it comes to building a membership site like this, the LMS WordPress theme is one of the best options.
The theme includes a lot of tools to help you build course material. You can build courses and pages with a drag-and-drop editor where you just need to drag the specific element to the desired location and add content to it. Thus, no coding is required.
The theme allows you to build paid and free courses for your students, which is a great way to entice users to sign up for paid courses after they get a feel for them. There's also a variety of pre-made pages and templates to help save you time.
Benefits of Using LMS WordPress Theme
Includes a contact form builder to help you construct sign-up forms for studentsGain access to over 700 Google Fonts to give instructors more options when creating coursesOffers excellent performance with a 96 on GTMetrixOffer courses in several languages with WPML integrationFully compatible with WooCommerce to help you sell course materials to students
Drawbacks of LMS WordPress Theme
No free version is availableFocuses exclusively on online courses, but does excel at them
5. Sweet Date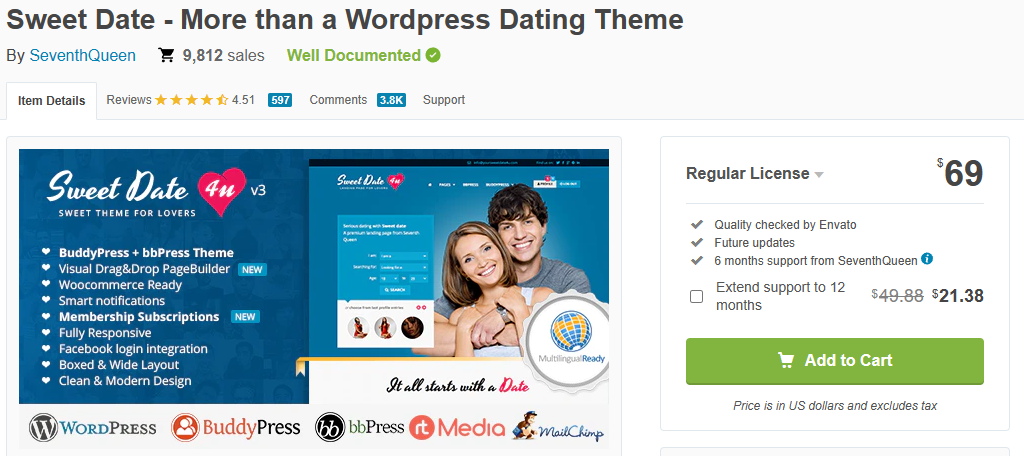 Perhaps one of the most popular forms of membership sites would be those focused on dating. Not only have these types of sites gained significant popularity, but they can be quite a lucrative business model when done right.
And when it comes to building a member-only dating site, the Sweet Date theme is one of the best options.
First and foremost, let's talk about memberships. This theme includes a plugin that allows you to build multiple membership tiers, including a free option. As such you can lock certain content behind different membership tiers.
When it comes to design, the theme has a good initial layout with lots of options for customization including a full drag-and-drop page builder. It also has the Slider Revolution plugin included so you can build stylish sliders on your site effortlessly.
Benefits of Using Sweet Date
Includes an excellent mobile version that streamlines communications between profilesIntegrates with BuddyPress to allow users to build robust dating profilesEasily swap the color pallet of your site to better match the tone or seasonIncludes access to a child theme to help with developmentGain access to icon fonts and Font Awesome for more design options
Drawbacks of Sweet Date
Lacks a free version to test it outDoesn't have a lot of templates to choose from
6. Ultra
Ultra is one of the most well-known themes in the WordPress ecosystem due to its extensive customization options and compatibility with nearly every plugin. Combine this with a huge library of templates and it's no wonder it is so popular.
While the theme itself lacks any membership functionality, it is easily remedied by installing a membership plugin.
As such, it can fit the needs of any membership niche thanks to its huge selection of site templates of customization options. Fitness, finance, and music are just some of the options at your disposal. There are also 60 pre-made layout options available.
This theme also supports section scrolling and even horizontal scrolling for more unique options. You can also allow for filters to be applied to images on the site like Sepia, Blur, or Grayscale. If you're looking for creative freedom, Ultra is the perfect choice.
Benefits of Using Ultra
Come with a variety of add-ons like progress bars, timelines, countdowns, and moreIncludes a Map Pro add-on to help users find addresses listed on your siteChoose From 17 header styles, 5 post layouts, 6 header backgrounds, and much moreBuild mega menus to improve navigation on larger websitesCreate animated color backgrounds on any page
Drawbacks of Ultra
While the theme isn't hard to use, there is a learning curve for beginnersThere could be more site templates
7. Woffice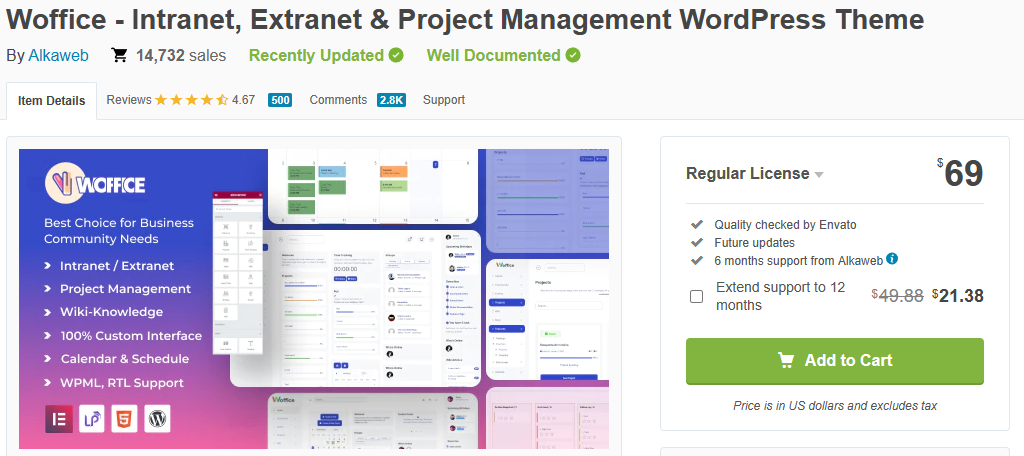 Woffice brings a unique twist to the idea of a membership site as it is business focused. This is a community-driven office setting that works great for project collaboration for school and business use. As such, it can reach quite a large audience.
For example, imagine a small business that needs an online work environment they can use. This theme creates one.
You can create a membership for users to access these tools as part of the membership. Some of the tools include calendar add-ons, Line Ajax Chat, File Manager, Directories, and much more. You can even create full forums for your organization.
Many organizations pay for similar features per member, this can help provide a cheaper alternative for smaller businesses. It's also compatible with other common business tools. For instance, you can see Slack notifications.
Benefits of Using Woffice
Create different membership tiers with functionality locked behind each oneCreate badges that can be awarded to users when they complete certain tasksAlso compatible with LMS software like LearnDashAllow users to log in with their Facebook credentialsThis theme is translation-ready with RTL support
Drawbacks of Woffice
Only includes 6 months of supportThe options can be a bit overwhelming at first
8. BuddyApp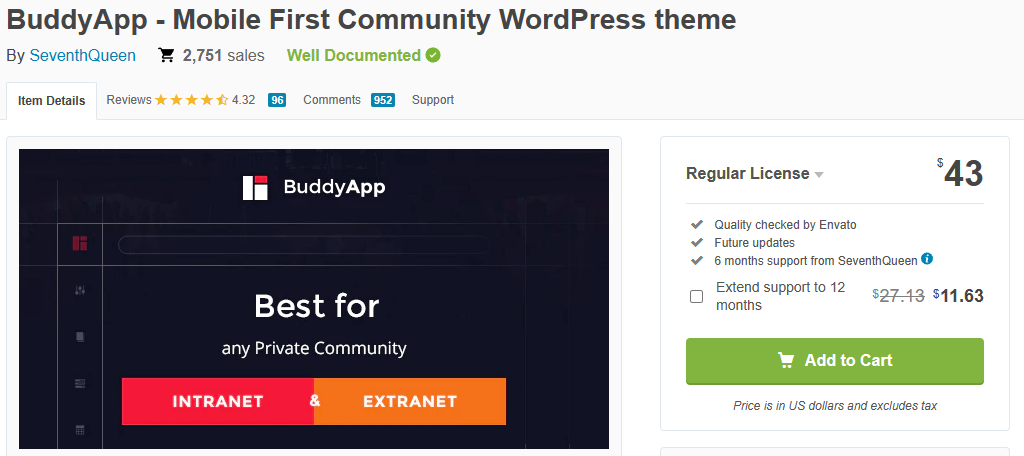 When it comes to great membership themes for WordPress, BuffyApp is great for building a tight community-driven site. It places a huge focus on the mobile experience, which can help keep users connected even when they are not home.
Essentially, this is a theme for building a membership site around specific topics that like-minded individuals can talk about together.
It has a lot of features with the most important ones being centered around the chat. Users can chat with each other in real time and receive notifications when a new message is received on mobile devices.
In terms of customization, this theme brings a lot to the table. You can choose where your menus appear, change site colors, and even includes a pre-made landing page. This theme can be used to create a great environment for your users.
Benefits of Using BuddyApp
Build full forums with bbPress integrationThis theme is translation ready with WPML supportIncludes a drag-and-drop page builder to build site contentGain access to a dedicated support team that can help answer any of your inquiriesAllow users to build their own profiles with BuddyPress integration
Drawbacks of BuddyApp
No free version is availableThere are not many site templates to use
9. JNews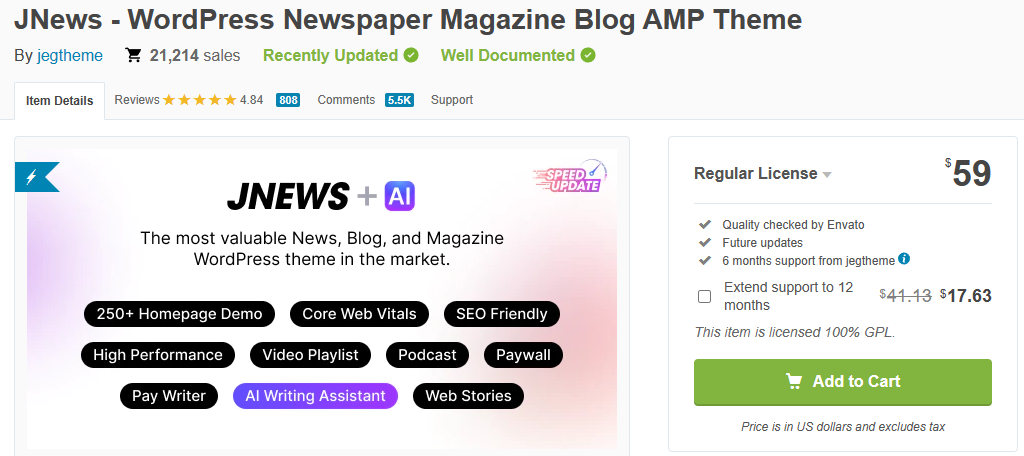 Closing out our list of the best membership themes in WordPress is JNews.
It might seem like a foreign concept today, but many people were happy to pay for newspapers delivered to their front step years ago. And there is still a healthy market for news and magazine sites to deliver that experience with membership sites online.
In fact, there are several major news outlets like the New York Times and Washington Post that have a subscription plan in place.
If you want to do the same, the JNews theme is one of the best membership themes for news and magazine sites for WordPress. It comes with an AI writing assistant that can not only help you come up with ideas, but even generate content for you.
When it comes to design, the theme has over 250 homepage demo sites that you can install. You can also switch seamlessly between dark and light modes. It's also worth pointing out it has a membership plugin included, so you'll have everything you'll need.
Benefits of Using JNews
Allows you to keep track of payments to your writers and contributorsProvides a donation button to ask users to donate to their favorite writersWorks well with video and audio content with dedicated players for both (perfect for podcasts)This theme is translation ready with RTL supportDisplay the reader's current progress when going through long blog content
Drawbacks of JNews
The weather forecast system is a bit buggyThere is no free version availableSome of the demo content uses a lot of DOM Elements which can slow down sites
FAQs About Membership Themes in WordPress
Is There a Difference Between a Membership and an Online Course Site?
These terms are sometimes used interchangeably, but simply put, a membership site is one in which users pay for access to the content. The content can be anything as long as users are willing to pay for it.
On the other hand, online courses are typically sites where users pay to access course material. All online courses are a form of membership site, but not all membership sites are centered around education.
Is It Important for a Theme to Come with Membership Functionality?
Not really. You can easily install a membership plugin to gain the same tools. In fact, you have far more freedom if your theme is not bundled with such a plugin because you may find a better tool that suits your needs.
As a reminder this plugin is what limits a user's access to your content, creates subscriptions, accepts payments, and sometimes includes templates for your content (like most LMS tools). It is the backbone of your membership site.
Should I Include Free Content on My Website?
While the point of a membership site is to charge users for access to your content, you also need to give them a reason to want to do so. If they can't see any of your content, they probably won't take the risk to subscribe.
As such, you should consider building a section of your website to show off what subscribers get access to and even consider running a free trial or granting some form of limited access to content.
Do Ads Belong on a Membership Site?
Advertisements are an integral part of most websites to make money, however, that isn't the case for membership sites. Most of these do not include ads because the users are already paying, and ads negatively impact the user experience.
With that said, there are some sites that still include them. There's no right or wrong choice but remember that users expect better experiences from premium content and advertisements can ruin that expectation. Some websites simply provide an ad-free membership which just removes ads from the site. Many users are willing to pay for that experience.
Is WordPress a Good Platform for Membership Sites?
WordPress is easily one of the best options for a membership site. All of your content is stored on its server, which means your paywall can't be bypassed easily.
Other platforms can run into problems where the content is accessible without paying. Thus, it completely undermines the purpose of creating a membership site.
As you can see from the list of themes, WordPress has a diverse offering of themes and plugins that can really help your website shine. As such, WordPress is the best option.
Are Premium Themes Worth Using for Membership Sites?
Yes. WordPress has a huge selection of themes that can be broken down into free and premium counterparts. The main difference is that premium themes usually have premium plugins included, more customization options, and more support.
In short, they offer the user more. Premium themes are also pretty cheap with most of them only being a one-time payment. Since you get more options, they may be more desirable for membership sites because of the high-quality expectations.
How Can I Market My Membership Site?
Building a community for your membership site is the hardest part. First and foremost, you need to make sure users know what your site is about, why you are an authority on the subject, and that there is content worth paying for on your site.
Once you have this, you can market your website in several ways such as on social media, providing free trials, offering an affiliate program to entice influencers to advertise your site, and so on.
Remember you want long-term members, so ensuring your website has a content stream that can keep users coming back is extremely important than just getting an initial sign-up.
Can I Transition an Established Website into a Membership Site?
Many content creators can struggle to build a large audience, thus they look for alternative revenue options. One way is by transitioning to a membership site. If you produce great content and have a loyal following, a membership model can work.
All it takes is installing a membership plugin to get started. While it is easy to do, it can be a challenge to ask users who were enjoying the content for free to suddenly start paying for it. Thus, it's important to make your intention clear.
Explaining your financial difficulties or how it can help you cover the costs of content can help convince users to become members.
Build Your Membership Site Today
As you can see, WordPress has a lot of amazing themes that either have membership tools baked in or are compatible with membership plugins. In either case, you'll have no issue creating a membership site in WordPress.
Multipurpose themes typically are the best choice because they have a lot of templates you can use to build any type of site, after all, a membership site is really more of a website model than a design.
You can have a membership site about sports, finance, video games, music, or anything at all. Thus, making sure you have a theme that is designed to meet your niche is infinitely more important than one that has membership tools baked in.
In any case, I hope this list has helped you find a great theme to start building a membership site today.
What types of marketing strategies did you use to promote your website? Do you run ads on your membership site?