A dedicated server for resellers will help you stand out from your competition and potentially grow your reseller hosting business. More control, better technical support for your clients, and better security are just the beginning of how using a dedicated server for reselling hosting can help your business. 
Let's dig into what dedicated servers are and how they can help you as a reseller.
Shared vs Dedicated Servers: What's the Difference? 
On a shared server, multiple tenants share the resources. They share the server's processing power, bandwidth, and storage. So if one website experiences a traffic spike, it can commandeer the resources of other tenants and potentially create lag or even complete outages for everyone.
In contrast, a dedicated server is a hosting solution used by a single hosting tenant, and its resources are dedicated to that single tenant. That means you aren't competing with other clients for server resources or risking being affected by their security breaches.
Benefits of Using a Dedicated Server for Reselling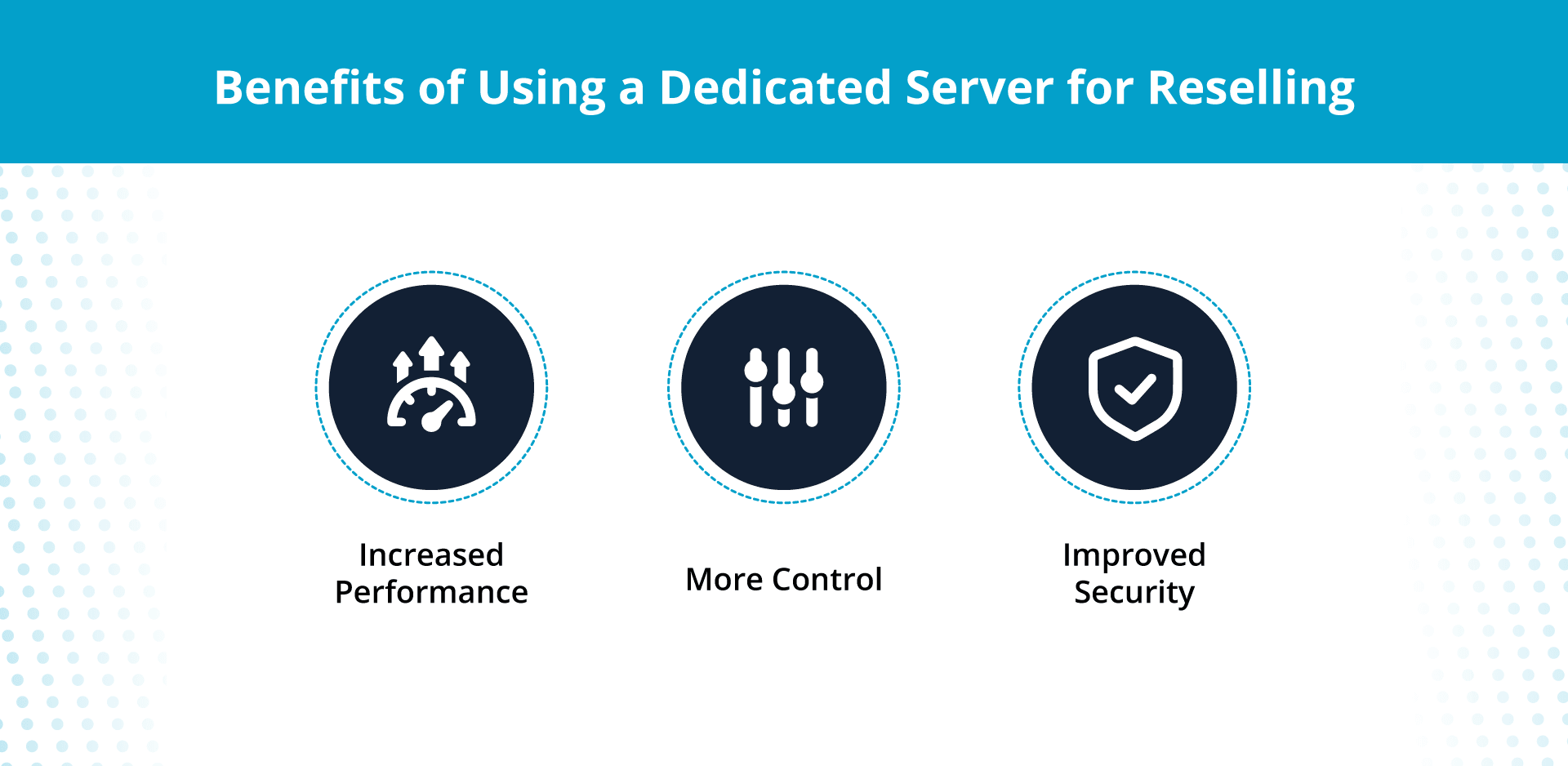 You want to offer the best hosting solution experience possible for your customers, whether they are small or large businesses or even just an individual with a simple WordPress website. Let's explore how a dedicated server will strengthen your reseller program.
Increased Performance
A dedicated server lets you offer your hosting clients great website performance. How fast a website loads and interacts with users are crucial factors that determine performance. 
A dedicated server gives you exclusive access to resources like processing power, bandwidth, and storage. You have complete control over all resources in a dedicated server and can provision them to various clients based on their requirements. You may offer your clients a virtual private server hosting plan (VPS hosting) or sell a shared server experience using the dedicated server.
For example, as a dedicated server reseller, your hosting company can allocate more resources to a high-traffic website, enabling them to achieve page load speed benchmarks. In contrast, if you use a shared server to host your clients, your resource quota might prevent you from supporting websites with high resource needs.
You can also install performance-enhancing utilities on your dedicated server, like page caching software. So, dedicated server hosting gives you the confidence to resell to high-traffic websites like eCommerce or media websites.
More Control
With a dedicated server, you can choose every feature of your server, such as the following:
Processor.Operating system.Random Access Memory (RAM) size.Storage size and backup quota.Control panel with command line, or a graphical user interface like cPanel, Plesk, or InterWorx.
A dedicated server also lets you use an encrypted drive to secure your client's data. For example, Liquid Web offers self-encrypting drives to secure sensitive data. You can also install almost any software on your dedicated server to control and optimize it, which generally isn't possible on a shared server. 
Improved security
When reselling web hosting services to clients, you must keep the client's data secure. Some reasons a shared server makes that problematic include the following: 
Since shared hosting puts your clients on the same physical server as others, malware might be able to corrupt or leak your client's confidential data, like personal information or passwords. When reselling, a dedicated server helps you offer much better security to your clients. They come with multiple layers of security so that you can potentially accept clients with HIPAA  or PCI-DSS compliance requirements. 
Physical Security: A dedicated server can allow security equipment to be connected as add-ons. It could be hardware firewalls or intrusion detection/prevention systems(IDS/IPS). 
Security on server: Having a dedicated server with physical access controls, such as a locked cabinet like Liquid Web provides, helps prevent accidental reboots or network cable damage. Server security is crucial to honor your server network uptime guarantee to your clients. 
Root access: With root-level access, you have administrator-level control and can decide what is and is not allowed on your server.
Install security utilities: A dedicated server allows you the freedom to install utilities to enhance your server's security. For example, Liquid Web offers many services as add-ons for dedicated servers, such as:
ServerSecure.DDoS protection.Antivirus.Threat Stack Oversight intrusion detection system.
You may also set the security protocols on your dedicated server, like website firewalls, malware protection, botnet protection, vulnerability assessments, and security audits. 
Factors To Consider When Choosing a Dedicated Server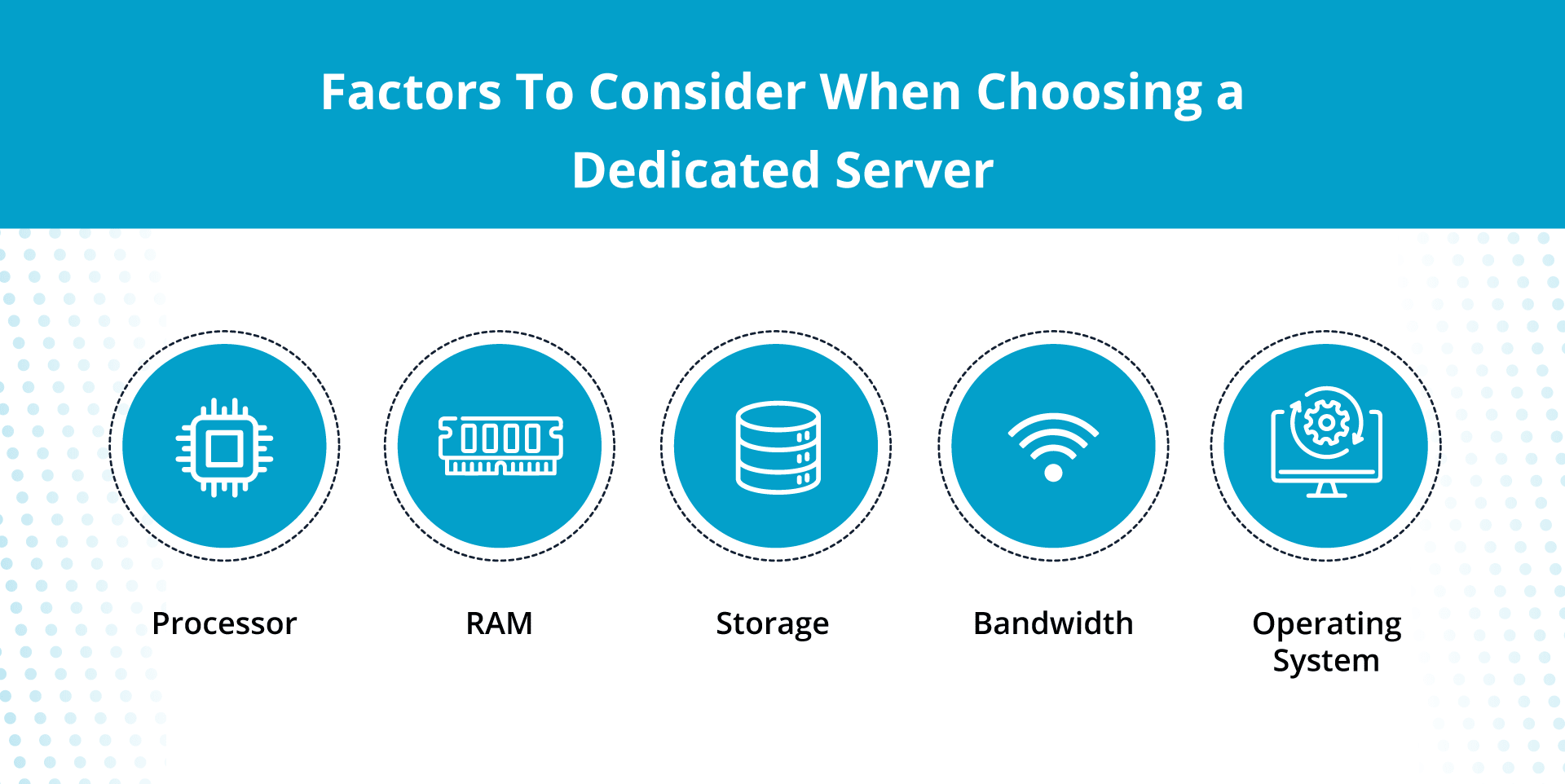 A dedicated server has many configurable features, so you can select a configuration that is best suited for your hosting business. You'll also need to look into specific details such as processor, RAM, storage, bandwidth, and operating system to ensure the dedicated server matches your needs. 
Processor
A server's central processing unit (CPU) has many configurable features that influence its performance: 
The number of cores — High-performance CPUs often have multiple cores that can perform instructions independently. The number of cores determines the speed of the processor. Liquid Web offers Intel Xeon processors with 4 cores, 16 cores, and 32 cores.Cache — The cache stores frequently used instructions so the processor can access it quickly. The amount of cache memory influences the speed of the processor. Clock Speed — Clock speed determines how many instruction cycles a processor can run in a second. In general, the higher the clock speed, the faster the processor. Liquid Web offers processors with 3.2 GHz and 2.9 GHz clock speeds. 
RAM 
RAM is the server's temporary memory. It stores data of all the applications currently running on your web server. The CPU accesses data from RAM to perform instructions. 
The RAM size influences the speed of your web server and impacts how many processes can run on your web server without performance degradation. RAM options vary for dedicated servers. For example, Liquid Web offers 32 GB, 64 GB, and 128 GB RAM options for dedicated server hosting plans.
You may choose a RAM size based on your requirements and growth projection. Here are a few questions to think about:
How many websites do you want to host on the dedicated server?What are the requirements of these websites?Do you plan to host resource-heavy websites like eCommerce or gaming websites? 
Storage
Your dedicated hard drive is the heart of your server and stores all the data for all your clients' websites and the applications you are running. Plus, you need room for frequent data backup storage so that in case of a failure, you'll be able to recover the data quickly. 
Liquid Web offers 240 GB and 480 GB solid-state devices (SSDs) as primary storage. Data backup options with 1 TB or 2 TB SATA backup disks and an offsite Acronis cyber backup of 250 GB, 500 GB, or 1000 GB are also available, depending on your dedicated server reseller hosting plan.
Bandwidth
The performance of a dedicated server isn't just dependent on its configuration. Server performance also depends on the bandwidth — the amount of data that can be uploaded to or downloaded from your server.
Your needs will vary by your clients. For example, hosting providers catering to heavy websites, like video-sharing or gaming sites, will need servers with high bandwidth. Liquid Web offers different bandwidth plans for dedicated server resellers with 5 TB, 8 TB, 10 TB, and 15 TB options.
Operating System
Windows and Linux are two popular choices of operating systems for web servers. So how do you decide which is best for your dedicated server? Linux is a more popular operating system, compared to Windows. W3Tech data shows that 81.6% of web servers use Linux, whereas only 18.7% use Windows.
Linux is generally more cost-effective, offers a more diverse choice of distributions, and is open-source code, so deep customization is possible.
However, for those using Microsoft-specific applications like .NET or MySQL, Windows is needed.
Final Thoughts: The Benefits of Dedicated Server Reseller Hosting
The web hosting market is fast growing, and upgrading your hosting reseller options will help you compete in a crowded market. Using a shared web server has limitations that can result in bad customer experiences.
Dedicated server reselling is a much better option that helps you provide your clients with premium website performance and security. You can fully control the server's resources and configuration with a dedicated server.
Are you all set to explore the dedicated server reselling? Check out Liquid Web's managed dedicated server plans today. We don't just give you the options you need as a reseller; we back it up with outstanding technical support and uptime guarantees.