When you run an online business, it's absolutely essential that you keep your data and your clients' data safe and available. It doesn't matter if you sell Software-as-a-Service (SaaS) or run an eCommerce shop. Data safety matters.
That said, the concept of "safe data" can take on many forms, such as:
Is your data accessible and online? Is it stored somewhere you can back it up or retrieve it easily?Have you restricted access to your data for protection?
The business decisions you make can significantly impact the safety of your data from all these angles, especially when choosing your hosting environment. As a business owner, you have many hosting setup options, and you need to balance budget, performance, and safety.
However, one thing is certain: dedicated servers offer the most secure data protection.
Server Security: Importance
Server security touches all parts of your business, from operations to customer experience and brand value. In other words, failing to protect your data can have serious repercussions.
According to the 2021 Ponemon Institute's report on cloud compromise and shadow IT, the top consequences of account compromise experienced by respondents were theft of sensitive data (59%), business disruption (56%), and reputational damage (48%).
Keeping your data (and your customers' data) safe is essential. You can't run a business for long if you don't have the trust of your customers.
Let's take a closer look at how your server environment impacts data security.
Dedicated vs. Shared Hosting
Shared hosting is the cheapest type of cloud hosting. When you purchase shared hosting services, you are effectively renting space on a shared hosting server. In other words, other websites and data can be hosted on the same server, which can mean you get lower performance, less security, and fewer customization options.
In the case of a dedicated server, the name explains itself. You have a server entirely dedicated to you and your company's data. Specifically, you hold all control over the server's hardware. This configuration is more expensive than shared hosting but offers the highest security, performance, and customization options.
In short, shared hosting plans are more like operating your business in a shared office space, whereas dedicated hosting is like owning your office building. When you have your facility, you can control how it's set up and secured.
How Dedicated Servers Improve Security
For the continuity of your business in the event of a catastrophe or even the legal requirements put in place by HIPAA or PCI compliance, dedicated server hosting features give you the protection you need to keep data safe and ensure your business runs smoothly. This is accomplished through two primary methods: physical security and security on the server itself.
Physical Security
When you have a dedicated server, you don't share your physical hardware with other clients. This means you can place additional security devices inline with your connection to secure your server. Such devices include hardware firewalls or Intrusion Detection/Intrusion Prevention Systems (IDS/IPS) and are not typically allowed for users on any type of shared hosting environment like true shared hosting or VPS hosting.
A dedicated server lets you use these security devices without having to worry about impacting other users. So, you can benefit from improved scrutiny of traffic and more robust security for your server and the data you serve your clients.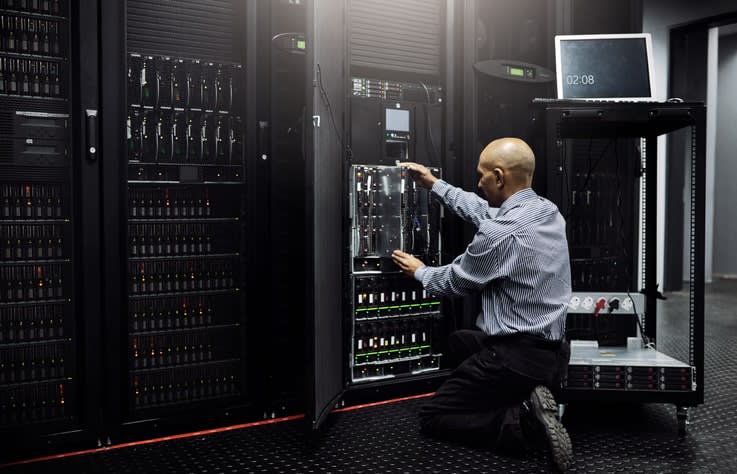 Security on the Server
Shared environments are usually made up of web clusters, which restricts you from using a locked cabinet for your host, even with virtual private servers (VPS).
A dedicated server, on the other hand, lets you block physical access to your hardware to avoid any chance of accidents with power or even other network cables. If your business needs to adhere to rules such as HIPAA Compliant Hosting or PCI-DSS Compliance, this may even be a requirement for you.
At Liquid Web, all our data centers restrict physical access to a subset of employees. Still, having the added protection of a locked cabinet for your dedicated server gives you peace of mind. It's this layer that protects you from unplanned service interruptions that can prevent clients from accessing your website, negatively impacting your business.
Benefits of Secure Dedicated Server Hosting
Dedicated servers can keep your data secure while also improving performance and letting you configure the server environment for your business.
Here's a closer look at the benefits of choosing dedicated hosting services:
Avoid Costly Outages
According to the ITIC 12th Annual Global Reliability Poll, 99% of small- and medium-sized businesses and large enterprises say that financial losses from server downtime are more than $100,000. For small business owners, a $100,000 loss can easily become catastrophic.
The report also lists security breaches as the top cause of unplanned downtime, affecting 73% of respondents. ​Interruption or loss of your data can easily be prevented with dedicated servers by using multiple servers in multiple physical locations.
Often the similar products are kept in the same area within a data center (so if you have multiple virtual private servers, they may all be on the same parent or multiple parents very close to each other). This can create an issue if an outage occurs.
Dedicated servers enable multiple servers to be located not only within different sections of a data center but also within completely different data centers, giving you better uptime. This provides the maximum protection for your data against unplanned outages and accidents.
With Liquid Web hosting services, you also get our uptime guarantee, which means your dedicated server will always have power and network access.
Custom Server Configurations
When you choose a dedicated server, you have access to more customization options, especially when it comes to your data. You can opt for the most simple RAID 1 hard drive configuration, which should not be confused with a backup. However, you're not limited to that one option. Rather, you can elect to use RAID 5 or RAID 6 if you want more options for distributed data parity. Both of these customizations would not be available to you in a virtual server setup.
No More "Noisy Neighbors"
Physical hardware isn't the only advantage of using dedicated hosting solutions; your isolation is another one. Since you're the only business using the server, you don't have to worry about the "noisy neighbor" issue inherent in shared hosting plans, where someone else uses up too much of the shared resources.
In other words, a dedicated server ensures that the server's disk space, CPU, and memory serve only your website. When you're the only tenant on a server, you can tweak your website and apps to optimize your hardware usage without worrying that another user could be "stealing" your resources and lowering your performance.
Fewer Attack Vectors
Performance and peace of mind from not having to share resources are not the only way your website is protected by having a dedicated server. The benefits of isolation also apply to security protection.
Both shared and virtual servers have a hypervisor layer that runs on top of the infrastructure, which increases your security risk due to its vulnerability to escalation attacks. With shared hosting, the risk is higher since you can't be sure that other users are following best practices for security.
When you share your server with another business, it's just one more way that viruses and malware could have access to your data. In contrast, using dedicated hardware gives you the power to lock down your server and prevent access to your data.
More Control With Root Access
Lastly, since a dedicated server is completely yours, you can have access to the machine at the root level. While some virtual servers also allow this, a dedicated server provides you with outright control over access protocols that let you decide what can access your machine through the network interface.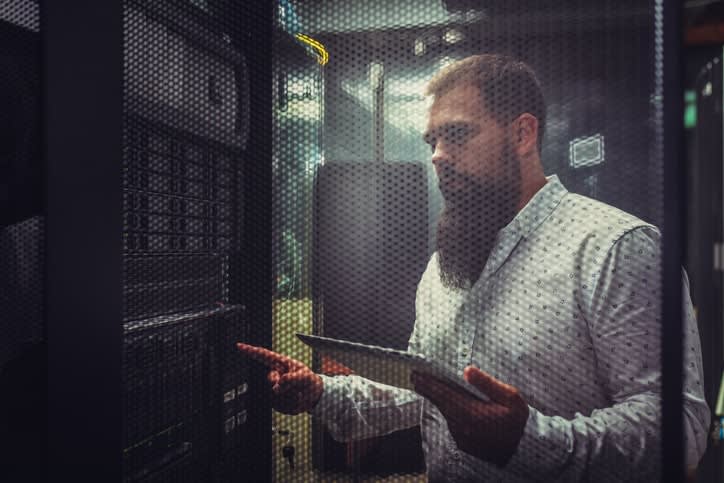 Tips for Ensuring Dedicated Server Security
Choosing a dedicated secure server hosting plan is an excellent first step in securing your website, apps, and data. However, no server is completely immune to the threat of data breaches or other malicious web attacks. Learning how to secure a dedicated hosting server can further reduce your risk of a costly outage and help you improve overall performance.
Here are a few steps to ensure the best dedicated server setup and safekeeping of your data.
Protect Server Access
According to the 2021 Ponemon report, 68% of organizations say that cloud account takeovers are a significant security risk. Your dedicated security features can't completely protect your data if hackers have the key to the door. In other words, you still need to secure your login process.
You can do this by opting for complex passwords, leveraging two-factor authentication (2FA), and setting up robust access restriction policies.
Monitor Threats Proactively
Install an intrusion detection system on your server to detect vulnerabilities and secure your server before you lose significant network uptime or valuable data.
When you choose Liquid Web as your web hosting provider, you get multi-level DDoS protection with real-time monitoring to help shield your website from sudden attacks.
Secure Your Site With SSL
You can secure your website by using the HTTPS protocol that keeps data (such as passwords, messages, and credit card numbers) confidential when it's in transit by using SSL. An SSL certificate provides three layers of protection to keep your data communications safe, including encryption, data integrity, and authentication.
Use a Virtual Private Network (VPN)
Virtual private networks (more commonly known as VPNs) encrypt your data while using the internet. VPNs protect your data by letting you establish secure connections, even if you're accessing company data from a public connection. VPNs are especially beneficial if you have remote team members who may be logging in from home offices.
Explore Fully Managed Hosting Options
Manually securing your dedicated server can seem overwhelming. If this is the case for your team, you might benefit from choosing a managed dedicated server hosting provider with a team of experts ready to secure your server. This option can be especially beneficial if you have a small IT team.
Control Your Data With Dedicated Server Hosting
Choosing the proper hosting setup for your business is a crucial step in protecting your website, data, and customer information.
Dedicated server hosting offers you the best security, performance, and configurability. And when you pair that with the right hosting company, you can protect your data and maintain high-performance service for your customers.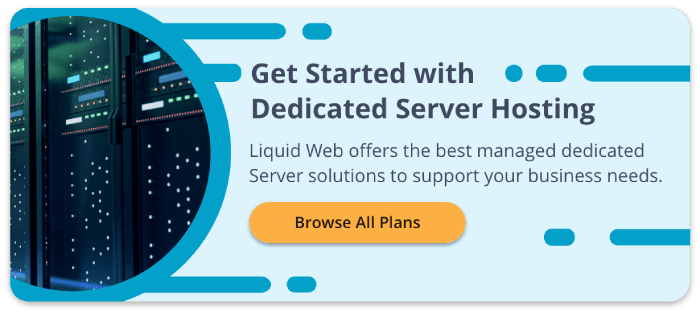 Dedicated Server Hosting FAQs
Why is a dedicated server more secure?
+
Is running a dedicated server safe?
+
Are dedicated servers more secure?
+
How do I secure my dedicated server?
+
Can I get a fully managed dedicated server?
+