The power of virtualization technology is available to every business. Virtualization is common for the companies themselves and through the applications and services they have. But not all virtualization solutions are created equal, and what's a great solution for one business may not be a good fit for another.
Virtualization uses software to replicate what was previously only available through hardware. A dedicated server can run many applications or host many websites. If any of those apps or websites experience increased traffic or need additional storage, those needs come at the expense of the other apps.
Virtualization uses hypervisors to create standalone virtual servers on existing physical hardware. Allows you to divide resources so that those that need more storage, such as high-traffic sites or applications, do not affect other tenants. As a result, virtualization is a great way to protect your network, maximize ROI, and get the most out of server resources without always having to buy more hardware.
Two of the most popular virtualization software providers are VMware and Hyper-V. Both hypervisors provide the necessary tools to virtualize and manage the infrastructure. While their core virtualization products are very similar, vital add-ons like Hyper-V System Center and VMware ESXi are completely different. This article discovers the difference between VMware and Hyper-V so that you understand which virtualization solution works best for your needs.
What is Hyper V?
Hyper-V is the virtualization system offered by Microsoft. Originally called Windows Server Virtualization, Hyper-V was released in 2008 and was used to create virtual machines (VMs) that run Windows. Hyper-V is a complete hypervisor because it operates directly on the hardware, under the operating system or other virtualized components.
Hyper-V is fast and scalable due to its micro-kernelized architecture, which allows its services to run independently of the hardware layer. Because of this, Hyper-V is flexible and efficient, giving Windows users excellent performance and manageability.
Because Microsoft created Hyper-V, it's tailor-made to work with their products and services. Additionally, Hyper-V can migrate or port virtual servers with zero downtime, even across different environments.
That being said, Hyper-V does have its limitations and drawbacks. For example, Hyper-V was not supported by Linux in the early days, although it is now. As a result, you can configure and deploy Linux virtual machines on Hyper-V. However, Hyper-V maintains some reliance on Microsoft itself for deeper features, such as the advanced management features found in System Center Virtual Machine Manager (SCVMM).
What is VMware ESXi?
Released in 1998, VMware was the first virtualization software on the market. VMware's offering that is comparable to Hyper-V is called ESXi. Like Microsoft's offering, VMware ESXi enables virtualization of desktop machines (Linux and Windows) and servers, giving businesses of all sizes maximum flexibility for their IT infrastructure. In addition, VMware's robust service offering also includes a suite of tools that help maximize the virtualization experience for businesses large and small. Initially built for the mid-market, VMware also serves the enterprise and is one of the most popular virtualization application suites.
VMware is flexible, supporting multiple operating systems and applications, even on the same machine. VMware is designed to help reduce data center costs, improve the efficiency of existing hardware, and help older technologies find a long life through virtualization.
5 key reasons to choose VMware ESXi over Hyper-V
VMware works for most business use cases instead of Hyper-V. While Hyper-V offers users many benefits, certain limitations are unfavorable compared to VMware. Here are five reasons to consider VMware over Hyper-V if your organization is considering any of these virtualization technologies.
1. Templates included
Templates are a great way to perform everyday tasks and activities without starting from scratch. VMware templates help automate the virtual machine creation process. It includes several built-in templates that you can use to create virtual machines. Once created in VMware, it can be reused as needed.
The templates include options for different operating systems, applications, and hardware configurations. These options make it easy to create a virtual machine tailored specifically to your needs. Other templates must be created the first time, but can be used repeatedly.
While VMware includes prebuilt templates, Hyper-V does not. You usually have to create all your virtual machines from scratch, which can be time consuming and difficult for novice users. However, there are manual ways to create automation within Hyper-V. SCVMM offers advanced template solutions that require a full Windows deployment system to trigger actions, unlike VMware's ability to run custom scripts or deploy templates from files.
2. Superior App Management Tools
Comparing application management on VMware and Hyper-V is difficult, as both virtualization platforms offer similar functionality. Plus, both provide centralized management for easy app management, allowing you to manage all your apps from a single location, regardless of where they're running.
However, one advantage of VMware is that it offers a broader range of management tools, including vRealize Operations Manager and vCenter. The additional tools give VMware an advantage when it comes to management versatility.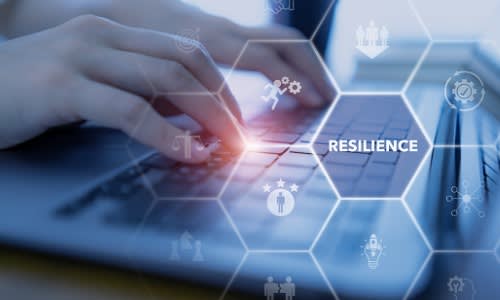 3. Built-in resilience
VMware Fault Tolerance (FT) is a VMware feature that creates a duplicate virtual machine running on a separate host server. This built-in resiliency is the main reason to choose VMware ESXi over Hyper-V as your virtualization technology. If the primary VM fails, the FT VM will take over and continue to run, ensuring your business operations are not interrupted.
Through fault tolerance, systems with up to four cores can hot-replicate or migrate virtual machines with no downtime to a second node in the event of a hardware failure. Unfortunately, Hyper-V doesn't support this functionality, which can be critical for businesses that can't afford even a moment of downtime.
4. More supported operating systems
VMware and Hyper-V are supported on Linux, Windows, and several other operating systems. One significant difference is that VMware ESXi is compatible with macOS, while Hyper-V is not. For organizations using macOS, this is a crucial factor when deciding on your virtualization software.
5. Superior hardware efficiency and scalability
VMware is more efficient with memory usage due to its support for memory mirroring. This feature allows more apps and services to run simultaneously without running out of memory.
While Hyper-V supports more memory on the host server, VMware supports a higher maximum memory allocation per virtual machine. Additionally, VMware offers greater flexibility with CPU usage, allowing you to more efficiently allocate resources for your unique use case.
When thinking about scalability and provisioning, having the most compute power possible is critical because modern applications require more processing power than ever before to function properly. And while Hyper-V wins in how physical memory is addressed and accommodated during provisioning, VMware has an advantage in how many CPUs per host are deployed.
Hyper-V is limited to 512 logical cores on a host, while ESXi is limited to 768 cores, a 50% increase. Scalability requires an environment that offers the necessary performance capabilities to meet all your demands.
Prioritizing what is important to your business
As with most technology, there are some situations where a tool can be a great decision and others where the lack of features or functionality can be a deciding factor. A decision made today will likely impact the business for years to come when it comes to enterprise virtualization. Both ESXi and Hyper-V have advantages and disadvantages. Ultimately, the decision will depend on the infrastructure you use to support your virtualized servers, the applications and operating system you use, and the processing power you need.
Hyper-V works very well in many cases for many companies. However, VMware also provides some advantages that make it a great option. VMware's advantages in provisioning, scalability, and superior file systems make a clear case for VMware ESXi.
Liquid Web works with small and medium businesses, managed service providers, and IT companies to deliver the right virtualization solutions to drive business. Our extensive experience configuring, deploying, and managing VMware Private Cloud and Managed Microsoft Hyper-V makes Liquid Web a leading partner you can trust.
Contact us today to learn more about these apps and how any of them could help your business grow.