Software development is a highly complex and rapidly evolving industry. Even the strongest development teams sometimes have a hard time keeping up with the latest technologies, skills, and trends.
That's why it's no surprise that being a solo software developer is especially challenging. You have to wear a dozen different hats, including brainstorming, concept development, programming, visual design, testing, documentation, hosting, and more.
Developing an entire project yourself is no small feat, so it's good to know your options if you ever need to outsource something. It will help you tackle the solo developer problem effectively.
In this article, you will learn how to outsource the hosting part of software development and all the benefits that come with it.
Introduction to Solo Web Developer Problem
If you're a developer, chances are you've heard of the lonely or lone developer issue. If not, here's the short version.
When an individual programmer builds a complete project by himself, it is difficult for others to maintain or develop it later.
Dozens of reasons contribute to the lone developer problem, including social isolation, increased stress levels, psychological biases, and more. He will learn more about them in the next segment.
Challenges of being a solo developer
Here are some common challenges solo developers struggle with.
No feedback on your ideas from other people. Absence of code reviews carried out by other people. Absence of brainstorming sessions and ideas suggested by other people. Confirmation bias, or the tendency to seek information and make decisions based on your existing knowledge and beliefs. Inefficiency because no one has equal skill in all aspects of creating a software product. Social isolation reduces your ability to create something that others can relate to. Being overwhelmed can cause you to make more significant and frequent irrational decisions. Choose the tools you are familiar with instead of the best ones for the job.
Now let's take a closer look at these challenges.
Limited resources and support
With limited resources and support, you may struggle with your projects as a lone developer. He is limited to using the tools he is familiar with because he cannot spend a lot of time learning new technologies. Furthermore, he lacks the support of a diversified team equipped with different skills and proficiency levels.
Isolation
Social isolation can cause a whole host of problems. First, without proper feedback from others, it is difficult to create effective and identifiable solutions. So when you have to cover a dozen different skills by yourself, you can't produce the same level of quality that a team would. Finally, learning new development technologies without a mentor takes a lot of time.
stress levels
The lack of human interaction during a project can increase your stress levels for many reasons. This is because you have no one to turn to when you run into problems in areas where you have less experience. Also, it's very difficult to fix bugs without getting input from someone else, which is a major stressor for many developers.
Solutions
Fortunately, there are a few things you can do to address the lone developer issue. You can bring in more developers or outsource part of your project to freelancers and agencies.
Bring more developers
If you are a small business owner, you might consider hiring other experienced developers to help you with your projects. This can help you focus on what matters most and what you're good at.
Depending on the complexity of the project and what you need help with, you might consider hiring junior developers to do the work. Doing a cost-benefit analysis can help you make the best decision about the level of experience you can afford.
Subcontract
Another option is to outsource part or parts of your work to freelancers or agencies. For example, you may not enjoy or be very proficient in interface design or software testing. In that case, why not hire a company or person to take care of that aspect of the project?
Leveraging Managed Hosting for Your Web Applications
Managed hosting is especially beneficial if you are a web developer. This is why.
Hosting company support teams are trained to work with server stacks built for websites and web applications. They know how to configure, optimize and suggest the best software and solutions for your web development needs.
Also, hosting support engineers are very effective in recognizing and fixing any server-side issues. They can save you the headache of trying to figure out what's causing a problem, whether it's the application, the server, or the server's software stack.
If the app causes an error, they can still help you by giving you the relevant log messages and pointing you in the right direction.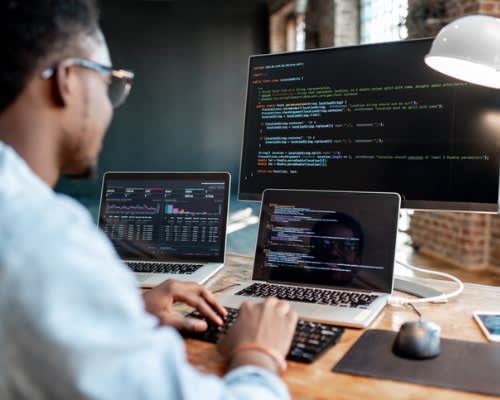 Benefits of Managed Hosting for the Solo Developer
As a lone developer, choosing a web host can be daunting. However, managed hosting provides several benefits that can make this decision much easier for you. A key advantage is the level of technical support provided, allowing you to focus solely on developing your project without worrying about server maintenance or downtime. Additional benefits include:
Support engineers will fix any server-side issues for you, allowing you to focus on what matters most. Automated monitoring eliminates the need to run frequent manual tests and checks to ensure services are working as intended. Support engineers will help you reduce time. necessary to investigate if a problem is on the server or application side. You can avoid configuring the server software stack and keep up with the latest trends in this industry, and instead trust support to do it for you. Network and DNS issues and settings will no longer have to give you a headache as support engineers are well versed in these two areas. You are notified of recommended software updates and any necessary update assistance is provided.
The cost factor when choosing managed hosting
Depending on your budget, a managed support service is a significant addition to the initial price of the server. But consider all its benefits and the huge potential for future time savings.
Being a solo developer is a very time consuming profession. So imagine how much value you get when you outsource the hosting portion of software development to a managed support team.
It can also become quite stressful if you are not an expert in server, network, and server software stack administration. But it doesn't have to be if you have 24/7 access to professional support.
Finding the Right Managed Hosting Provider for Your Needs
There is certainly no shortage of hosting providers today who offer a managed hosting service. But with so many providers to choose from, it can be difficult and time consuming to find the best one for your needs.
There are several factors to consider when choosing a managed hosting provider, including pricing, support levels, support channels, and availability.
Prices
Pricing for managed support plans can vary from provider to provider. In some cases, the managed support service is included in the price of the hosting plan, while in others, it is sold as an add-on with its own price and even multiple plans.
support levels
Some providers or hosting plans only support the maintenance and configuration of the basic software stack of your server. Others provide additional services like cybersecurity, migrations, and even application-level support.
support channels
Managed hosting support can be provided through a number of different channels, including phone, chat, and email (ticket) support. Make sure you get all three, as you may prefer different channels in different situations. For example, calls can be the fastest way to report problems, while chats are convenient if you can't afford to speak loudly in a business setting or during an online meeting.
final thoughts
Being a solo software developer can be challenging due to the many responsibilities and tasks involved in developing a solo project. The lone developer problem is characterized by social isolation, increased stress levels, and lack of feedback.
However, there are several solutions you can consider to address this issue, including bringing in more developers or outsourcing parts of the project to freelancers or agencies. Another effective solution is to take advantage of managed hosting, as hosting support teams can provide expertise, troubleshooting, and optimization for the hosting portion of development.
Managed hosting helps independent developers focus on other critical aspects of their projects and ensure their development process runs smoothly.
Choose Liquid Web for the best managed hosting support
If you're looking for the best managed hosting support provider in the industry, look no further. With over 25 years of managed hosting experience, LiquidWeb is the hosting partner you can trust.