With the arrival of the Easter holidays, all of us at ModulesGarden come together to wish our dearest clients a Happy Easter. Hoping this special holiday brings everyone lots of peace, joy and of course chocolate. We welcomed the Easter Bunny a little earlier this year as he left us a little gift to share with you. Get your reading glasses ready, our Easter Egg Hunt is back!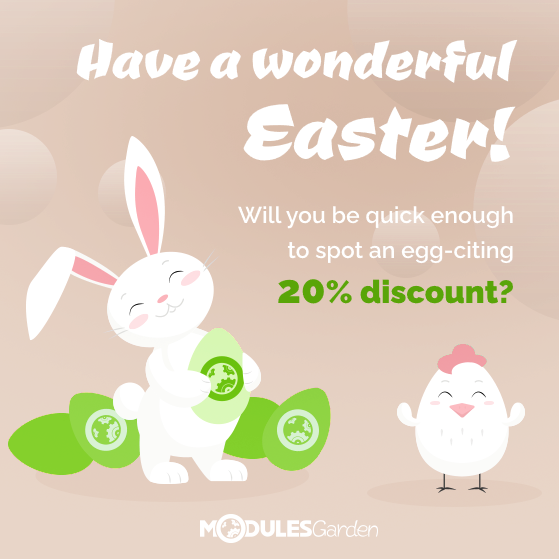 Everyone can participate, here are the main rules:

🐰 The Easter Bunny hid seven egg-themed hashtags like: #EggceptionalModule, #EggclusiveUpdate in our social media posts on Facebook and Twitter.

🐰 The posts have been published in the space of the last few weeks, so be sure to read them carefully.

🐰 Find one of the hashtags and head straight to our comment section below this post. Once you include one of the hashtags, don't worry, it won't count when a different entrant submits the same one as you.

🐰

The grand prize of a 20% discount for any desired WHMCS module at

our market

will be claimed by 7 lucky winners!

🐰 With the hunt ending when all the hashtags are discovered, the winners will be contacted and announced on April 13! You can expect to receive your prize information via email.
Our Easter eggs are slowly cracking so be sure to check them out and drop them in to take home some. Don't waste any more time and start reading if you want to be closer to winning!
Good luck and happy hunting!
Get on Facebook!Join Twitter!
VN:F [1.9.22_1171]
I feel lucky? Our Easter Hunt has begun!, 4.9 outside 5 based on 62 ratings