Web hosting allows individuals or businesses to make their websites and applications available online. Web hosting providers provide the infrastructure and services that make this possible.
Choosing the right web host is vital to the success of any online business. A poor hosting provider can lead to slow website speeds, security vulnerabilities, and frequent downtime, negatively impacting sales and the customer experience. For ecommerce websites, this can make or break your business.
This guide helps you know what to look for when choosing a web host for your ecommerce store.
Key Features of Web Hosting for Ecommerce Websites
To get started, let's explore some of the key features of ecommerce hosting.
uptime guarantee
Uptime is the amount of time that the infrastructure is online, available, and successfully operating, typically expressed as an annual percentage. Most hosting providers offer a service level agreement with guaranteed uptime. This feature means that your environment stays online for a specified amount of time, or you'll be compensated for downtime.
Providers universally report uptime and availability in the amount of 9 (99.999% uptime, for example) that the web host achieves, and businesses look for five or more 9s to ensure uptime and performance. of reliable infrastructure activity. An uptime guarantee gives you peace of mind that web hosting for your eCommerce websites won't fail when you need it most.
Security
Security is critical when choosing a web host for e-commerce websites, as they handle sensitive customer information such as credit card numbers and personal data. Unfortunately, this information makes them an attractive target for cybercriminals.
A security-focused web hosting provider helps prevent data breaches and protects customer information from theft or unauthorized access at the network and hardware level. Look for providers that offer features like SSL certificates, regular security updates, malware scanning, and firewall options to ensure your ecommerce website is secure.
speed and performance
Website speed and performance game are essential to the success of ecommerce websites. Online shoppers expect fast-loading websites and have no patience for slow sites or delayed purchases. Additionally, a slow website leads to higher bounce rates (people leaving your website in favor of another), lower search engine rankings, and decreased customer satisfaction, all of which means lost revenue. .
Your ecommerce sites should load quickly and work well. Therefore, your web host should offer fast server and network speeds with adequate bandwidth and optimization features such as caching and content delivery networks (CDNs). These and other tools can mean the difference between success and failure for your eCommerce business.
scalability
Scalability is an industry term that refers to adding additional resources when you need them. Cloud or dedicated solutions can scale or grow with your business, but perform this task differently. Regardless of your environment, your web host must be able to meet the demands of your website and accommodate growth.
A scalable web host for e-commerce retailers will offer competitive pricing, easy upgrade paths (relative to need and available options), and solutions for spikes in traffic to minimize downtime and performance issues. Ensuring that your sites can handle increased demand and provide a positive customer experience is the responsibility of you and your hosting provider.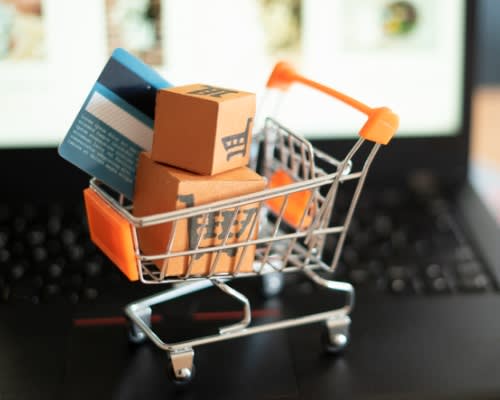 Web Hosting Solutions for Ecommerce Websites
There are many hosting solutions available, depending on your website and architecture. Here are some environment options when choosing a web host for your ecommerce site.
Infrastructure as a Service (IaaS)
Infrastructure as a Service (IaaS) is a cloud computing service model in which a cloud service provider offers computing resources. It takes the pressure off you and your team to source, configure, and maintain your hosting infrastructure. Instead, your chosen hosting provider provides you with a server and components, network connectivity, physical security, and electrical power for your environment.
Many options fall into this category, some mentioned in other solution categories. Here are a couple of those options.
VPS Hosting
VPS hosting is a great option for eCommerce businesses that need more control over their server than shared hosting allows. Most providers offer root-level access and dedicated resources such as RAM, CPU cores, and storage. Additionally, there are customization options, including your choice of operating system (OS), control panel options, and the ability to install third-party software, though management may be limited.
dedicated servers
For eCommerce sites that need more resource setups, dedicated servers provide the necessary upgrade from a VPS. Instead of a virtual server instance with allocated resources, a dedicated server provides full use of the physical server hardware and low-level administrative access. In addition, you receive increased performance and security as you control all aspects of server configuration.
Software as a Service (SaaS)
Software as a Service (SaaS) is a software distribution method in which a cloud provider hosts applications and makes them available to end users over the Internet. The service provider hosts the software on remote servers, maintains and updates the software, and delivers the services through applications, browsers, and application programming interfaces (APIs).
SaaS products are plentiful for all purposes, including eCommerce. Here are two of the most popular options.
Shopify
Shopify is an e-commerce platform for online stores and retail POS systems. The Shopify platform provides a variety of services to online stores, including checkout, marketing, shipping, and customer engagement capabilities.
large trade
BigCommerce is a publicly traded SaaS eCommerce platform for retailers. Their offerings span online store design, search engine optimization (SEO), hosting, marketing, and security for small and large businesses.
managed apps
Managed applications are hosting environments for the best content management systems (CMS) and e-commerce platforms. These environments are typically fully managed and support hardware, network, power, and some parts of the software.
Managed WooCommerce
Nexcess is one of the leading Managed WooCommerce solutions available. Available plans range from Starter to Enterprise and everything in between. The goal is to take hosting off your plate so you can focus on your business.
business e-commerce
A business e-commerce system facilitates a wide range of trade and business operations. Businesses want a solution for inventory and order management, accounting, customer relationship management, resource planning, marketing, reporting and analytics, and other functions.
There are numerous possibilities, but business corporations have a limited number of eCommerce platforms capable of meeting their business needs. A good solution should be broader than business functions and support many quasi-business functionalities on a single platform.
Server clusters
In a server cluster, multiple servers work together, distributing web traffic and providing redundancy in case of server failures. They are a good choice for enterprise e-commerce websites that require high availability and reliability. This functionality ensures that your eCommerce website is always available and handles high volumes of traffic.
Additionally, server clusters offer more customization and scalability options than single-server web hosting, making them a good choice for growing eCommerce and enterprise businesses.
vmware
VMware is a useful virtualization technology for enterprise e-commerce websites. Businesses can create virtual machines (VMs) to test and deploy eCommerce applications. This feature helps reduce downtime and improve website performance by allowing businesses to test new features and updates before rolling them out to production.
final thoughts
Choosing the right web host is crucial to the success of ecommerce websites. With this in mind, this guide explores the vital features to look for, including uptime guarantee, security, speed and performance, and scalability. It also describes various web hosting solutions for e-commerce websites, ranging from IaaS to managed applications to VMware.
When choosing a web host, it is essential to consider the architecture and needs of your website. Selecting the right web host can improve the performance of your ecommerce business, while the wrong one leads to lost revenue and a poor customer experience. Use this post to guide you through finding the right web host for your eCommerce websites.