Responsive, helpful, and dedicated in ways that automation simply can't be. We are your team.
Each month, we recognize one of our Most Helpful Human Beings in Hosting®.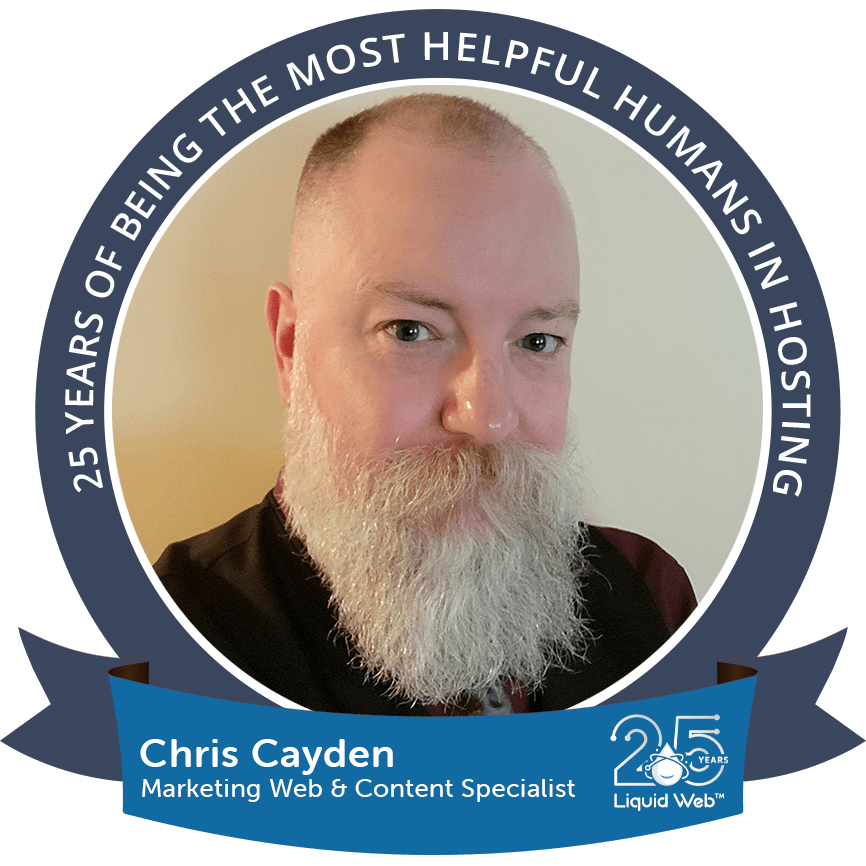 Meet Chris Cayden
Originally from Pennsylvania, Chris Cayden returned after spending several years living and working as a freelance web and graphic designer in New York City. He also spent several years working for the world's largest short film festival as a contributing writer and co-director.
His first job in technology came when he was 21 years old, working for a newspaper as a printer's apprentice. Chris learned how to put together a daily newspaper and began working on the ads that would run in the newspaper – his first real experience with design software. Eventually, he started building websites and learning about design, SEO, and social media marketing. Chris is now a Web Marketing and Content Specialist at Liquid Web.
Why did you join Liquid Web?
I had freelanced for several years before joining Liquid Web and felt it was time for a change. I wanted to use my abilities in a different way. At Liquid Web, I use my creative and technical side every day.
What attracts you to the hospitality industry as a career?
I saw it as a new learning opportunity about hosting and technology. Hosting interested me because I spent a lot of time dealing with other companies for my clients.
I've dealt with many different hosting companies over the years and have had some not-so-great experiences. But Liquid Web has great customer service and goes the extra mile to make customers happy.
Is there something specific about Liquid Web that you love?
I love the dedication to high standards and seeing how everyone is on board to achieve it. The culture at Liquid Web is amazing. I'm on a great team, and it shows with the focus on quality and problem solving. Everyone has a "can do" attitude.
What is your favorite part of the company culture at Liquid Web?
It is fun and very productive. Everyone has a different background and each person brings something unique to the table. I learn a lot just by talking to people.
What is the biggest milestone you have achieved?
In my first year at Liquid Web, I designed over 100 social media graphics and animations and worked on countless web pages, meeting deadline after deadline. It was diving into the deep end of the pool and working on multiple projects at once, and I loved it.
What are you known for on Liquid Web? What specifically do people come to you for?
I'm known for WordPress pages and social media animations. If you see an animation of Star Wars or Harry Potter fighting dementors, chances are he worked on that.
Also, I'm funny and I'm very good at pop culture trivia.
What is something you would like our clients to know about your accommodation?
I wish people understood that good hosting is the difference between success and failure. As a freelancer, I would see that bad hosting companies cost people business. If your site is down, it not only looks bad, but it can cost you money and customers. I wish people knew that good accommodation makes life so much easier and gives you peace of mind.
What is your nickname on Liquid Web and why?
In my best Forrest Gump voice: My name is Chris Cayden. People call me Chris Cayden.
Apart from work, what are some of your hobbies?
I have been training in martial arts for several years, including Jiu-Jitsu, Judo, Boxing, Tang Soo Do Karate, and Jeet Kune Do. I was an instructor of children's classes for about six and a half years, teaching martial arts and self defense classes. In addition, I train with weights, have competed in a powerlifting meet, and have run several 5Ks.
In a weird way, I'm addicted to training and the feeling of exhaustion that comes after class. As my instructor says, "Pain is just weakness leaving the body."
What is your favorite TV series?
Better Call Saul is something I can watch anytime, it's very well written and the acting is excellent.
What's your favorite app?
I like Applebees jalapeños. Oh wait, you mean my favorite phone app. I would have to say TikTok (although I hate to admit it). I learned a few things from the app, like putting a tortilla under your nachos and you'll have a container for all the bits at the end. It's like an extra burrito. Who knows?
If you could have dinner with a famous person [dead or alive]Who could it be?
I would have to say Heath Ledger. I am a fan of his work and would love to share a meal with my favorite Joker.
We hope you enjoyed our series and stay tuned for the next helpful human profile.