Responsive, helpful, and dedicated in ways that automation simply can't be. We are your team.
Each month, we recognize one of our Most Helpful Human Beings in Hosting®.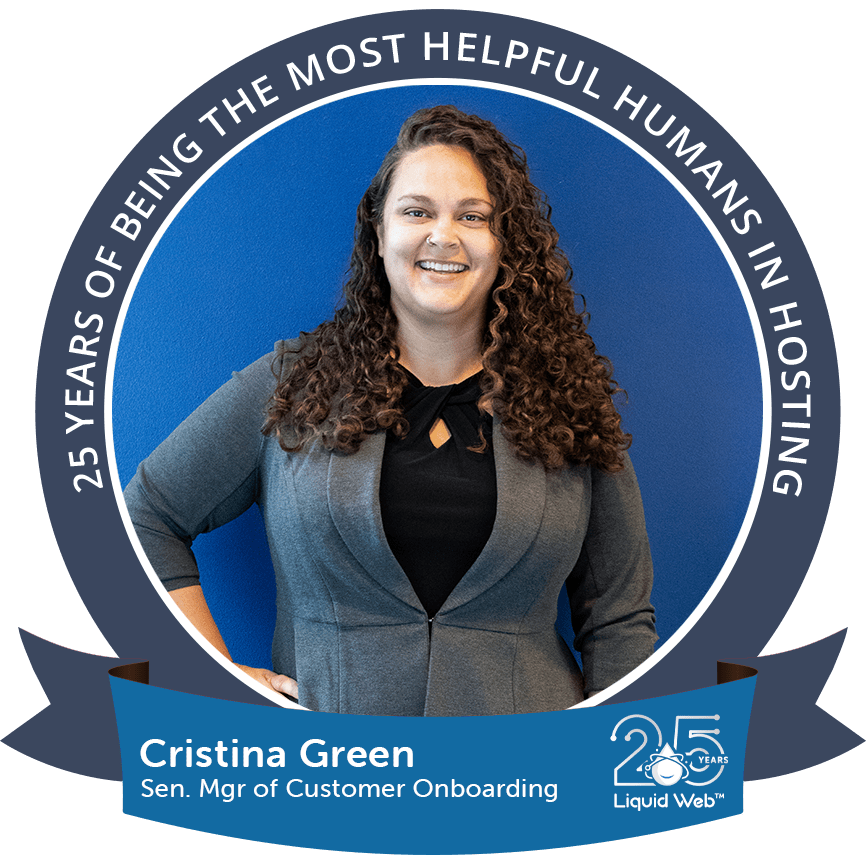 Meet Cristina Green
Cristina Green grew up in Lansing, where she attended Lansing Community College and received an Associate of Arts degree before transferring to Michigan State University. There, she earned a BA in Anthropology with a concentration in Archaeology, Indian and Religious Studies.
While in college, he worked for Elderly Instruments, a musical instrument store that sells vintage and vintage instruments, working in their customer service department and helping global customers. She coordinated with the IT department to create efficiencies in their processes, train team members, and document SOPs in digital format.
Her experience there led her to work in more help desks. Ella Green is currently the Senior Manager of Client Onboarding at Liquid Web, where she manages the Implementation and Migration Teams.
In December 2021, he moved to Michigan's Upper Peninsula, where he lives 100% off the grid in a 40-acre cabin.
Why did you join Liquid Web?
Over the years, growing up in Lansing, I had many friends and acquaintances who worked for LiquidWeb. Everyone described it as a great place to work.
What attracts you to the hospitality industry as a career?
I can be part of something global.
Is there something specific about Liquid Web that you love?
My mentors and leaders encourage work-life balance. I have experienced burnout in previous positions when working 24 hours. We can have balance and still get the job done by being efficient and improving our processes.
What is your favorite part of the company culture at Liquid Web?
We welcome and embrace diversity. I have the opportunity to interact every day with people from all over the world.
What is the biggest milestone you have achieved?
For me, it's rising above my socioeconomic level. I grew up without much and had a difficult childhood. Despite getting straight A's, I barely graduated high school because I worked four jobs to support myself after moving out of my family home at age 16. It took me several years to pay my way through college by working various part-time jobs. Now, I am grateful to have my property and to have a successful career.
Tell us about an amazing customer experience you've had at Liquid Web.
My favorite customer experience is being able to change situations. I love being able to help customers overcome their obstacles and take advantage of our great products and services.
What are you known for on Liquid Web? What specifically do people come to you for?
I'm a fixer. If a process doesn't work or doesn't make sense, people bring it to me and I can improve it. I take ownership of any part of the Liquid Web process and seek to improve it for the client, our teams, and the business.
What is something you would like our clients to know about your accommodation?
We have teams of exceptional people ready to help you with any obstacle you experience.
What is your nickname on Liquid Web and why?
Some people call me "bestie" because they bring me a lot of trouble. Either I fix them or I look for the person who can.
Apart from work, what are some of your hobbies?
I love hiking, making art (mostly journaling and crocheting), growing and preserving food, foraging, living sustainably, being self-sufficient, identifying trees and plants, and chopping wood.
What is your favorite TV series?
Community. My second favorite is Parks and Recreation. Both have great character development.
What's your favorite app?
Whisk! You know how online recipes make you scroll through a 19 page story about how these were her grandmother's famous cookies that she made for them growing up in Norway or something? This app bypasses all of that. And you can search by ingredients if you want to spend something. Living in the middle of nowhere, you have to cook at home and this app helps me to be more creative.
If you could have dinner with a famous person [dead or alive]Who could it be?
Died: Frida Kahlo Lived: LizzoYou can find Cristina on LinkedIn. We hope you enjoyed our series and stay tuned for the next helpful human profile.