Responsive, helpful, and dedicated in ways automation simply can't be. We're your team.
Each month, we recognize one of our Most Helpful Humans in Hosting®.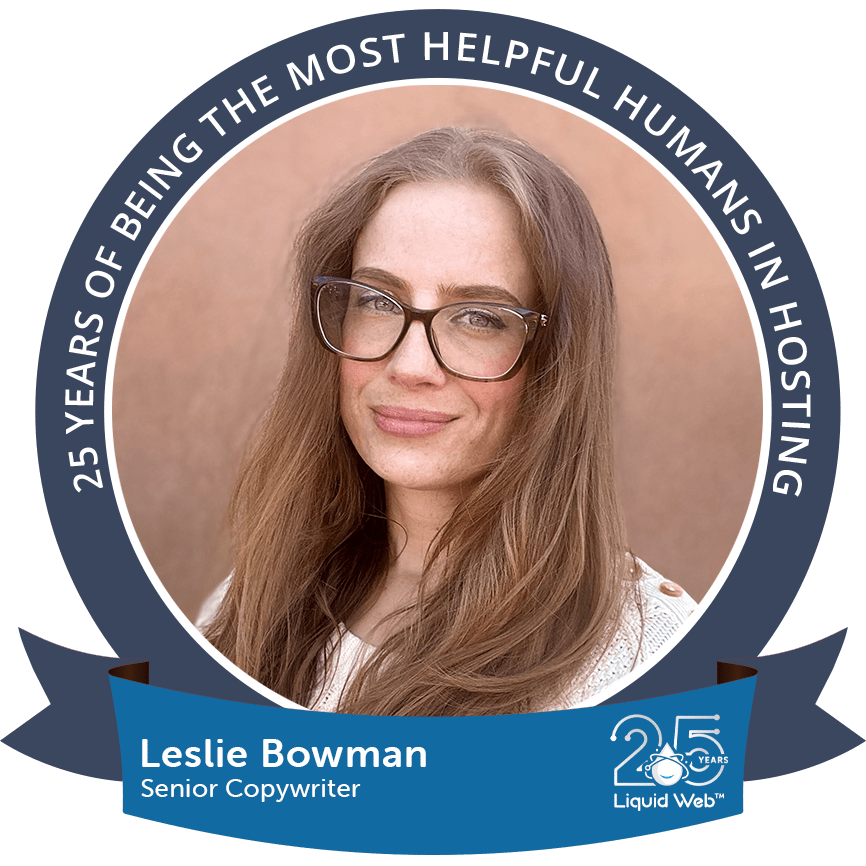 Meet Leslie Bowman
Originally from Albuquerque, New Mexico, Leslie Bowman has hopped around the country since graduating from undergrad. She focused on English and Latin American History in college and eventually attended graduate school in New York City. There, she developed a passion for short, persuasive arguments. Bowman found a love of copywriting and is now a Senior Copywriter at Nexcess.
Why did you join Liquid Web?
They offered me a job! And it definitely sounded up my alley. I love the process of knowing very little and then expanding that knowledge. The interview experience was also very positive. My now teammates were genuinely happy to be doing what they were doing.
What draws you to the hosting industry as a career?
It seems to be a vital, evergreen need. And as we move into new digital worlds, I think it will really be a place of innovation.
Is there something specific about Liquid Web you just love?
Not going to lie, working remotely is the greatest. It feels like a huge upgrade.
What's your favorite part about the company culture at Liquid Web?
I love seeing collaboration across the Family of Brands and meeting new people with new perspectives. Liquid Web is big enough to meet people you've never met before but small enough to remember those people as you continue your career.
In your eyes, what's the difference between Liquid Web and other employers?
At Liquid Web, there is flexibility and ongoing improvement. If something's not working for you, or you think something could be better, you have a support system to make it happen.
What is the biggest milestone you've accomplished?
We recently got the first phase of the Nexcess rebrand out the door and a new navigation menu. Copy-wise, that was a huge milestone.
What are you known for at Liquid Web? What do people specifically come to you for?
I am le detective. Or, that's what I think I am. I solve mysteries and try to locate the most accurate answer.
What is one thing you wish our customers knew about their hosting?
It's powered by a lot of really excellent humans, at every level. I think what's lacking in Amazon and Google's race to conquer the Internet is that human element. Everything about the Internet has been built, maintained, and shaped by human ideas and technology. Businesses are run by people, not Google servers, you know? That's what makes the difference in my eyes.
What is your favorite TV show?
The Leftovers or Buffy. Or Deadwood. Also Lost.
What is your favorite app?
Twitter, but that may not be true by the time this is published.
If you could have dinner with one famous person [dead or alive], who would it be?
​​Maya Angelou or maybe Louis the XIV.
We hope you enjoyed our series, and stay tuned for the next Helpful Human profile.