Responsive, helpful, and dedicated in ways automation simply can't be. We're your team.
Each month, we recognize one of our Most Helpful Humans in Hosting®.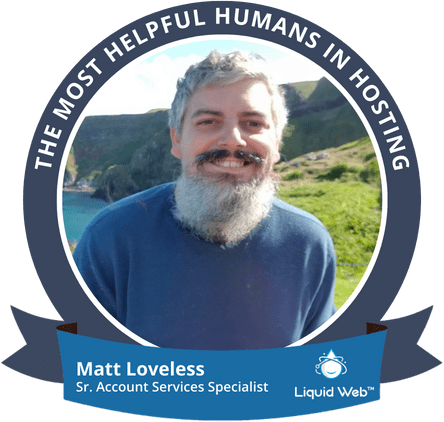 Meet Matthew Loveless
Matthew Loveless has enjoyed a lifelong interest in tech. From tearing apart his mother's appliances to repairing computers for friends in his teenage years, he has always been interested in understanding how things work.
Loveless has worked at Liquid Web for nearly seven years, where he currently serves as a Senior Account Services Specialist.
In 2010, Loveless moved to Michigan from California. He runs his own homestead and farm alongside his wife.
Why did you join Liquid Web?
A friend working at Liquid Web recommended the company. It was a great career opportunity in tech at a company of like-minded individuals.
What draws you to the hosting industry as a career?
I am drawn to hosting because I get to work behind the scenes of the internet, which has become an integral part of everyday life.
Is there something specific about Liquid Web you just love?
I enjoy the cooperation from various departments in assisting the customers in solving their problems.
What's your favorite part about the company culture at Liquid Web?
My favorite part about the company culture at Liquid Web is that the company has an ongoing mission to continuously improve its culture and morale. This is made evident by the annual holiday party, company game nights, and the many special interest Slack channels, to name a few.
In your eyes, what's the difference between Liquid Web and other employers?
The ability to cross-train into other departments and further your knowledge of the hosting industry as a whole.
What is the biggest milestone you've accomplished?
I learned and adapted the Nexcess billing system to integrate easily into our current working infrastructure at Liquid Web.
Tell us about an amazing customer experience you have had at Liquid Web.
My favorite customer experiences have always been when we can get multiple support teams together to assist a customer with issues that seem insurmountable to them and being able to simplify their lives and hosting situation.
What are you known for at Liquid Web? What do people specifically come to you for?
I'm known for being able to handle advanced billing issues, percussive maintenance, and the development of excel spreadsheets for data tracking.
What is one thing you wish our customers knew about their hosting?
To reach out early and often, keeping the lines of communication open to avoid tiny issues becoming more significant, more complex problems.
Work aside, what are some of your hobbies?
Some of my hobbies include beekeeping, making maple syrup, Lego, reading, board games, travel, and "running" 5Ks.
What is your favorite TV show?
I can't choose just one TV show. I love Firefly, Supernatural, Masked Singer, Forged in Fire, and Downton Abbey.
What is your favorite app?
My favorite apps are either Kindle reader or Pandora.
If you could have dinner with one famous person [dead or alive], who would it be?
​​Albert Einstein as a dinner companion or Alton Brown if he were preparing the meal.
We hope you enjoyed our series, and stay tuned for the next Helpful Human profile.