Responsive, helpful, and dedicated in ways automation simply can't be. We're your team.
Each month, we recognize one of our Most Helpful Humans in Hosting®.
Meet Thomas Knapp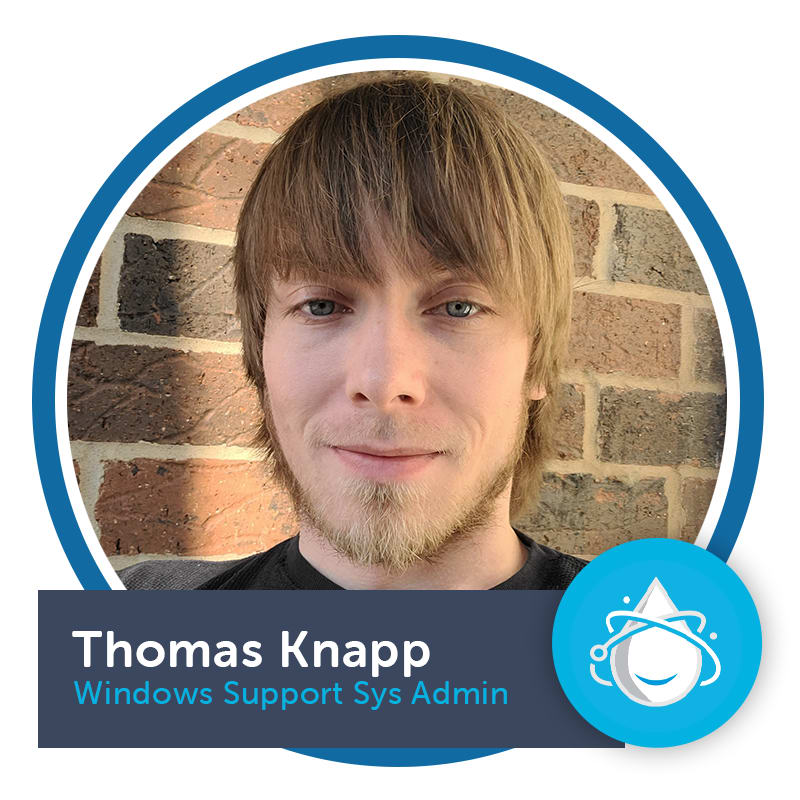 Native Michigander, Thomas Knapp, started working with computers as a kid. By the time he reached high school, he had built his first PC after working all summer to save up for parts. He took extracurricular classes and eventually earned his CompTIA A+ and Network+ certifications by graduation. Knapp knew this was the career for him and found a job in the public sector working in IT as a student assistant while taking classes at Baker College. After earning his degree, he continued pursuing a tech career and found a home at Liquid Web, where he earned his Plesk Windows Expert certification.
Why did you join Liquid Web?
I heard good things about Liquid Web while growing up in Saint Johns, Michigan just north of Lansing, and I knew it would be the perfect opportunity to grow my skills in system administration. In addition, I was excited by the opportunity to work with new technology and learn how networks, servers, software, and security come together to create hosting solutions.
What draws you to the hosting industry as a career?
I am passionate about a career in IT and have a strong dedication to it. The hosting industry is great because I get to exercise and grow my skills by building and maintaining server systems and solving complex problems for customers' business needs. No two days are the same, and each day brings unique challenges. This drives me to keep learning and keeps me on my toes.
Is there something specific about Liquid Web you just love?
The culture at Liquid Web is amazing. Every day I get to work with talented people and get to have fun at work in a professional way. Everyone is dedicated to providing the best service possible, and it shows that we are the best in the business. I like that everyone's mindset is to be helpful. You can always ask to get help internally, and we help each other out. This also reflects externally to our customers as we are the Most Helpful Humans in Hosting®.
In your eyes, what's the difference between Liquid Web and other employers?
Being fresh out of college made it tough to break into the IT sphere. Liquid Web gave me a chance to join their team and continue doing the things I love. They actively invested in me, allowing me to grow—not only in my career but also as a person—and I'm grateful for that.
Tell us about an amazing customer experience you have had at Liquid Web.
Being able to get to know customers on a professional level, successfully migrating their servers to new hardware, and solving their most complex issues is very rewarding. When you solve problems with a system that hundreds or even thousands of people rely on, and the customer recognizes that through feedback, it feels great. 
A few years ago, we had a customer experiencing issues with their website's shopping cart installation. We addressed the issues and got it working quickly. The customer was so grateful that they ordered pizza for our whole team as thanks for our work. They still trust us to keep their website running for their business, and I am glad to say we can do that.
What is the biggest milestone you've accomplished?
Probably the culmination of everything up to where I am today. Through drive and perseverance, I have worked hard to push myself to be the best I can be. I feel like I have more to accomplish in the future, but I am glad to be where I am today. It goes to show that if you're determined, you can reach your goals.
What are you known for at Liquid Web? What do people specifically come to you for?
I'm usually the person to bounce ideas off of at the end of the day when I'm just starting the night shift. Often, these are questions about tough issues that customers are facing from the day. As an escalation point, I do my best to help out my team so we can resolve customer issues and provide heroic support.
What is one thing you wish our customers knew about their hosting?
Backups and security. I can't stress enough how important it is to have not only backups of your servers but also secure them to mitigate threats. The Internet is a dangerous place. Having the proper preventative measures in place can reduce risk and be prepared.
Work aside, what are some of your hobbies?
​​I grew up in a rural area, so depending on the time of year, I am an outdoorsman. I enjoy taking my dog on walks and getting out to the woods. I grew up in the country, so I also like to hunt and fish when I can. I also enjoy video games, working on side projects in web development, and reading about technology.
We hope you enjoyed our series, and stay tuned for the next Helpful Human profile.