Deciding where to host your business technology infrastructure can have a huge impact on your company's trajectory. Choosing the right environment can lower your costs, reduce maintenance expenses, improve responsiveness, provide better options for scaling, and more.
Today, more often than not, businesses are trying to choose between hosting in a SaaS (Software as a Service) cloud or in an IaaS (Infrastructure as a Service)-like environment. Both can be good options for certain companies. Dive into the pros and cons of both approaches to see which is a better fit for your business.
What is SaaS?
SaaS, or Software as a Service, has grown in popularity over the past decade and now represents the fastest growing software segment overall.
Users can access SaaS applications over the web and are generally not responsible for any part of the software stack. SaaS providers maintain all the necessary software, middleware, and hardware, from start to finish.
While this means that SaaS applications can significantly reduce maintenance costs, it also restricts the amount of customization available to businesses that use them.
Here are some well-known SaaS examples:
Microsoft 365Adobe Creative CloudSlackShopifyHubSpotJiraAsanaZenDesk
Main benefits of SaaS applications
The main reason why SaaS applications are becoming more and more popular is that they offer quick and easy solutions.
With SaaS applications, costs are linear and predictable. There are no hardware-related maintenance costs (for example, purchasing or managing servers), so you generally don't need to hire IT staff.
At the same time, SaaS applications require virtually no training, and your team can start working with them right away. SaaS providers also make sure their applications are scalable, so there's no need to plan to grow (or shrink) them in advance. Most companies pay for SaaS solutions on a per-seat basis, so they can simply add or remove seats as needed.
Common Disadvantages of SaaS Applications
Although SaaS applications offer many benefits and most companies will use at least some SaaS solutions to meet certain needs, they are not the right answer for everything.
There are some downsides associated with most SaaS tools.
The first is the cost. While most SaaS solutions are more cost effective with just a few licenses compared to investing in your own infrastructure, there is a point where paying per user will be more expensive than running a regular server. As your business grows, paying for many SaaS tools can become less and less attractive.
The second drawback is the ability to customize your environment. In most cases, you can make some cosmetic modifications to the user interface and experience, but you cannot create new features or change the fundamental functionality of the SaaS application.
So if running your own server is cumbersome and expensive, and working with SaaS is limiting and can cost more and more with growth, is there another solution that businesses can rely on?
What about hosted environments?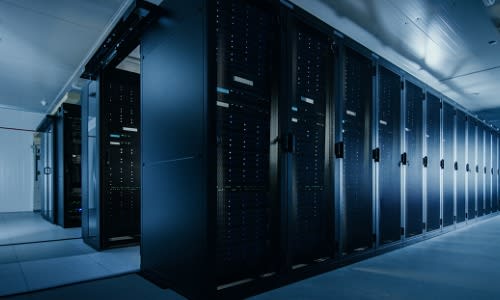 What are hosted environments?
Hosted environments, also known as IaaS or Infrastructure as a Service, bridge the gap between on-premises hardware and SaaS.
IaaS providers remove all the complexity associated with networking, storage, server hardware, and operating system management. At the same time, they give customers the freedom to manage their own applications, data, and software platforms.
With a hosted environment, businesses pay only for the resources they use (eg, bandwidth, storage, etc.) on a pay-per-use basis. This ensures scalability and keeps startup costs low, even for larger deployments.
Some examples of hosted environments are:
Liquid WebDigital OceanMicrosoft AzureAWS EC2Google CloudLinode
Main benefits of hosted environments
More and more companies are realizing the value of IaaS in both on-premises servers and SaaS applications.
Unlike on-premises hardware, hosted environments don't require large up-front investments (or reinvestments later). They also do not require server IT staff. At the same time, IaaS offers great performance and control over all important aspects of the technology stack.
When it comes to SaaS, hosted environments offer much better customization options. You can install and work with your own applications of any complexity, and generally set up a custom environment that best suits your business.
Common Disadvantages of Hosted Environments
Depending on your organization's needs, the tradeoff between more customization and greater responsibility for security and compliance may or may not work for you.
In the IaaS environment, your provider is responsible for all the server hardware, but is still in charge of the runtime of your services.
While your IT costs will generally be lower with IaaS than with an on-premises server, they can be higher (especially when overhead costs are included) than SaaS, depending on the scale of your business.
How to choose the best environment for your company
If you are trying to choose the right environment for your business today, the answer will depend on your needs and the stage of your company.
On-premises hardware is not a great option for most businesses due to higher cost and complexity, unless your business is directly involved in managing servers.
You probably use multiple SaaS environments in your day-to-day operations (eg, chat, collaborative documents, etc.), but moving your entire business to a SaaS environment could cost you more in the long run and restrict your business. customization options.
IaaS solutions provide an excellent balance between price, power, and freedom to develop your own products. You get a top-performing private cloud with a highly available environment to build on.
Still have some questions about the difference between SaaS and hosted environments? Let's help. Just contact Liquid Web and ask how VMware Private Cloud compares to other environments. One of our technicians will be happy to guide you through the process of selecting the best hosting solution for your specific situation.