Data privacy in healthcare has been a major issue for centuries. It speaks to the very nature of doctor-patient confidentiality. Obviously, to provide competent care, your doctor has to know a great deal about you. That includes things you wouldn't want to be spread around casually. However, in the digital age, data privacy in healthcare is an even more serious issue.   
What is Data Privacy? 
To understand today's issues with data privacy in healthcare, we need to address the issue of data privacy generally. Data privacy is the principle of handling sensitive and personal data properly. In this case, properly means ensuring that the data remains confidential and unchanged. 
Data protection can be broken down into three sub-categories: protection, security, and privacy. Classic data protection is mostly about keeping copies of the data safe so that it can be restored. Data security is more about keeping unauthorized users from accessing, destroying, or corrupting data. Finally, data privacy concerns itself with laws, policies, and standards of practice that prevent the improper release of private or personal data by authorized users. 
What is HIPAA?
HIPAA is an acronym that stands for the Health Insurance Portability and Accountability Act of 1996. It is a U.S. federal law that created national standards for ensuring the privacy of personal information related to healthcare and medical insurance issues. For the purpose of this discussion, the most important aspects of HIPAA are the Privacy Rule and the Security Rule that support it. 
The HIPAA Privacy Rule defines Protected Health Information (PHI) and the covered entities (doctors, pharmacies, health insurance companies, etc.) who are required to protect health information while still making it freely available for valid healthcare purposes. The Privacy Rule permits certain uses and disclosures of PHI under specific conditions and forbids it in any other circumstances. 
The Security Rule specifically calls for confidentiality, integrity, and availability of electronically-stored PHI. 
HIPAA Protected Information 
HIPAA defines PHI as any individually identifiable health information held or transmitted by a covered entity or business associate. This is anything regarding a person's physical or mental health, provision of health care, or payment for those services.
With regards to being individually identifiable, things like names, birthdays, and Social Security numbers are specified, but that's not all. Health information is also considered individually identifiable if it would be reasonable to believe that it could be used to identify a person.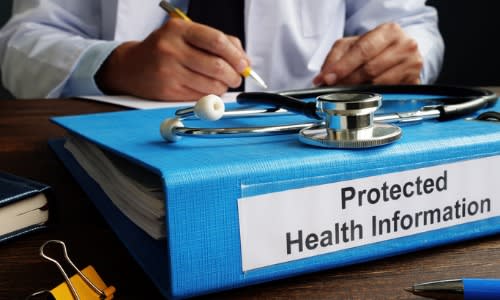 Who Needs to Be HIPAA-Compliant? 
It would be fair to assume that any individual or organization that deals with healthcare needs to maintain HIPAA compliance. And you would be right. But they're not the only ones.
HIPAA's Privacy Rule must be followed by all healthcare providers, healthcare plans, and clearinghouses that transmit health information electronically in connection with HIPAA-covered transactions. Healthcare plans, in this context, include HMOs, Medicare, Medicaid, Medicare supplement, and Medicare+Choice insurers. This also includes any healthcare plans that cover vision, dental, or prescription drug coverage. Group health plans sponsored by employers, churches, or the government fall within the definition, as do multi-employer health plans. (Group health plans that have fewer than 50 participants and are administered solely by an employer are not covered by this rule.) 
Perhaps more importantly, however, the Privacy Rule also applies to business associates of covered entities. Generally, this would be any person or organization that works with a covered entity and to whom individually identifiable health information is disclosed. 
If you perform any kind of services involving PHI, you must also comply with HIPAA's provisions. This includes services like financial, legal, actuarial, accounting, accreditation, management, administration, data aggregation, and consulting.
How To Ensure the Privacy of Users 
It isn't surprising that one of the biggest issues relating to data privacy in healthcare is how to stay HIPAA-compliant.
Here's an overview of three chief ways to ensure user privacy:
Certifications 
Using HIPAA-certified services ensures that your healthcare providers have undergone substantial training to understand the terms of HIPAA and know how to do their job in compliance with those terms. If your healthcare providers are not HIPAA-certified, the likelihood of them being in full compliance may be called into question. 
HIPAA/HITECH Compliance 
One major expansion to the HIPAA Privacy and Security Rules is the Health Information Technology for Economic and Clinical Health (HITECH) Act. This was established in 2009 to update the data privacy provisions of HIPAA, especially in terms of the requirement to store relevant data in a properly encrypted manner. 
Using a HITECH-certified hosting provider, like Liquid Web, ensures that the solutions offered are compliant with HIPAA security and privacy guidelines, including administrative, physical, and technical safeguard measures.
Payment Card Industry Data Security Standard (PCI DSS) 
The PCI DSS was established to make sure that any company that accepts, processes, stores, or transmits credit card payment information does so in a properly secure environment. Liquid Web is fully PCI DSS compliant as well. 
Liquid Web HIPAA Compliant Servers 
By now, you are beginning to understand the importance of storing and transmitting your data in HIPAA-compliant ways. Liquid Web offers fully SOC 2 and 3 certified hosting, which is regularly audited for both HIPAA and HITECH compliance. 
Final Thoughts
Data privacy in healthcare has never been a more important issue. Even without the threat of government intervention for non-compliance, it just makes good business sense to protect your clients, their customers, and yourself with hosting and related services that meet the highest standards in the industry.