Emily Davies, Conversion Optimization Manager at Nexcess, talks about how data and design can work together, working alongside amazing women and the importance of people, at work and at home.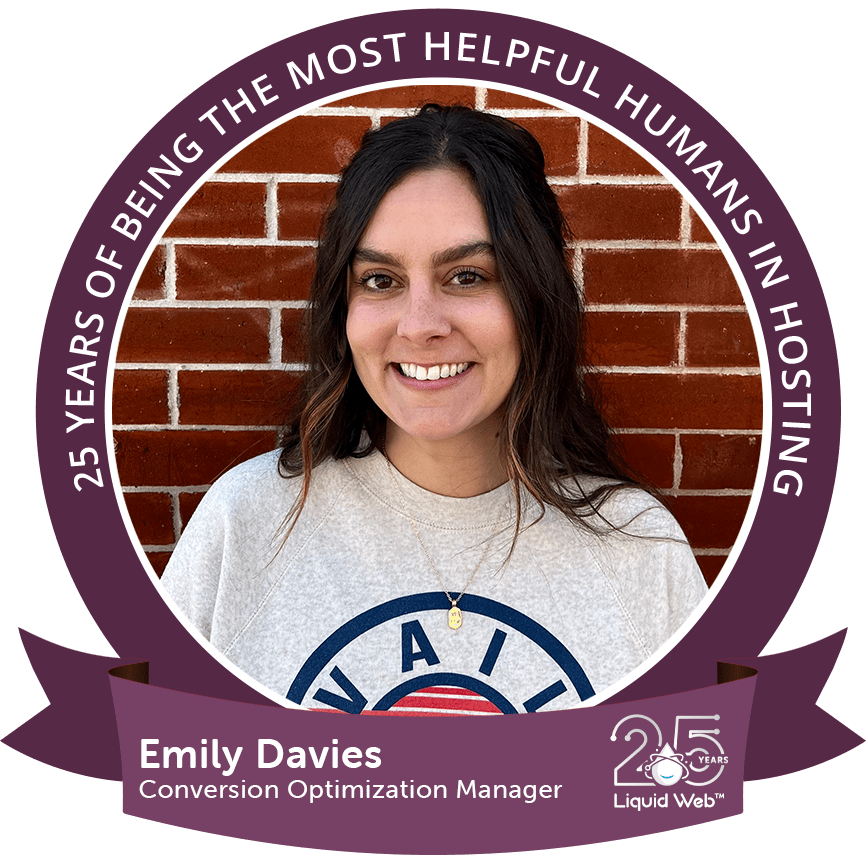 Growing up in Broomfield, Colorado, Emily Davies was the fourth of five children. "I was lucky to grow up in a loving and noisy home," she says. "Definitely never a dull moment!" Both an athlete and an artist, Davies played soccer and was passionate about doing anything creative, including making her own prom dress.
Her deep creativity has spilled over into her career, having worked in digital marketing since 2014. "I studied graphic design, business administration, and apparel merchandising in college and found my way into digital marketing," she says. After learning about conversion rate optimization through an internship in his senior year, Davies discovered that his love of numbers data and design went hand in hand. "It was like I hit the jackpot," she says. "Proving that creative changes would drive business growth and influence digital users was very exciting. I've been working in the Liquid Web family of brands for over a year, and being able to work in the marketing department of a technology company has further highlighted the joys of cross-specialty collaboration and allowed for continued growth and learning. "
Davies brings these skills to Liquid Web as Conversion Optimization Manager for Nexcess, using data and behavioral patterns to find better solutions for digital marketing experiences. "Every day, I focus on improving the customer experience within our website and using data to drive fresh user experiences, design, content, and other digital initiatives," he says.
And while he loves data and design, it's the learning that Davies appreciates most about a tech career. "I also really enjoy being about to work with a lot of different people," he says. "I have had the opportunity in my career to work closely with IT and development professionals, as well as creatives and leaders. It's great to collaborate with different specialties, and I think that comes in handy with the industry we're in and the work we do."
One of Davies' proudest achievements has been taking on management roles. "Being able to support the people on my team and champion them as a liaison with leadership is one of my greatest privileges," he says. "He taught me how to do that for team members who don't report to me. There is always the opportunity to mentor, lead or advocate for the people I work with."
With collaboration at the heart of how he likes to work, it's no surprise that Davies cites numerous colleagues as influential on his career path. "I have had the great privilege of working for, working for and leading many incredible and powerful women. I think these women have influenced me the most. Learning from and working alongside women from all stages of their careers has been a true honor," she says.
People are also at the heart of Davies' personal life. "My favorite way to spend the day is to do anything with someone I love," he says. "Even if we're just sitting on the couch catching up on the latest Beat Bobby Flay, I love being around my people. My family lives nearby so I see them more than I think a lot of people. I love walking to have a coffee or spend a day in the park with my boyfriend and his dog. I also have a good network of friends who I love to meet for drinks or dinner. I love traveling and being out and about, but my favorite day is hanging out with my loved ones, no matter where we are."
Davies is confident in the role of women in the future of the technological field. "Women are the future. I see a lot of powerful women at Liquid Web and how capable they are of leading and owning their specialties. It's only going to continue to grow, in my opinion," she says.
For young women interested in exploring a career in technology, Davies advises not to fear the statistics. "You are intelligent and capable, and if you are interested in the field, go for it. I would also say it's not one size fits all. I studied art and found my way into digital marketing and working for a tech company. You never know where your career will take you, and you shouldn't shy away from a technology opportunity if it arises." For Davies, the key is security and self-confidence. "It's also okay not to know everything," she says. "You'll learn your whole career, which, to me, is beautiful."