Nexcess' Field Marketing Manager on the freedom of ideas in tech, how she defines success, and bringing the weirdness.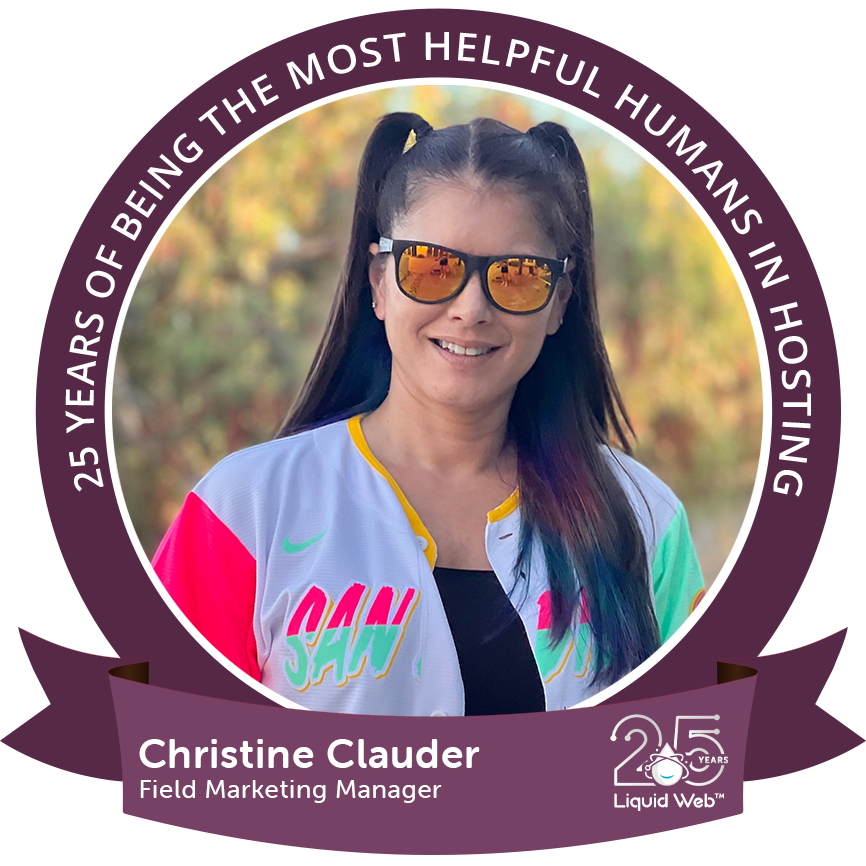 Of all the people she's known, Christine Clauder credits her mother as being the most influential in her career journey. "She wouldn't let me have any cool tech growing up," Clauder says, "so once I grew up and moved out, I invested all my time and energy into learning tech to spite her. Just kidding, kind of."
Born in Guam and raised in Japan for a bit, Clauder mainly grew up in Houston, Texas, before moving to Kansas City for two decades. "That's where I put my roots down," she says. "So although I moved back to Houston about ten years ago, I still consider myself a Kansas Citian."
Clauder says her mother's intensity produced a forceful daughter, as well—if not in the way her mother hoped. "My mother is a tiny and scary Japanese lady. She attempted to raise me with the Japanese mindset of always taking care of 'the man of the house.' Still, much to her chagrin, she accidentally raised me to be a strong independent woman who doesn't give a sh… anyway, my mom is amazing, but I'm her polar opposite."
She'd always been interested in computers, so when her father gifted her a PC—a Gateway—Clauder began devoting all of her time and energy to learning everything she could about computers. "I never stopped," she says.
Clauder began her career at an automotive dealership in Kansas City. "At first, I was doing cold calls and sales calls while trying to convince the dealership that Facebook was the latest and greatest way to market to customers—and subsequently getting written up for being on Facebook too much," she says. "Twenty years later, I was hired as the I.T. and Marketing Director of a large dealership in Houston managing their computer systems, website, Facebook, and Twitter accounts, among other things."
But she says she has her dog, #HankTheHellion, to thank for her job at Nexcess. "Long story short, I built a website about Hank, which got picked up by major news networks, and my previous host couldn't handle the sudden surge in traffic. My friend, Samantha Mueller, works for Nexcess, so when she heard about my issues, she asked Nexcess to save my bacon and migrate my site, which they did in less than 12 minutes. I was offered a job soon after," she says. "Personally, I think Nexcess just liked all the F-bombs on the website."
Now, Clauder serves as the Field Marketing Manager at Nexcess. "My job is ever-evolving based on company needs, so it's difficult to explain everything I do," she says. "I'm the fun voice on the Nexcess Twitter. I'm a glorified party planner. I'm a proud member of the Culture Committee, where I have no idea what I actually do. Actually, let's just say I bring The Weirdness™️ to every team that I have the honor of joining."
What she loves most about a tech career is the freedom of ideas. "I get encouragement when I come up with unique thoughts," she says, "which is just so vastly different from my experience with the non-tech companies I've worked for in the past."
For Clauder, her proudest career accomplishments boil down to boldness and persistence. "Everything I've learned has been through sheer determination and curiosity; I'm proud I was able to find a niche in the tech world just by being myself."
Simply being herself is something she aims to bring to her work. "Everybody thinks that I'm 'the funny one,' but that's just my way of trying to bring happiness into somebody's world," she says. "I'm not a chef, can't grow plants or vegetables, and have zero arts & crafts skills, so I do what I can to bring a little bit of joy into people's lives. Sometimes that means a genuine compliment, sometimes that means being there to listen to them, and sometimes it means joking around to lift that person's spirits. Humor is my love language. Just ask my husband, who stopped being funny about ten years ago."
Success, for Clauder, looks like her family. "My daughter is a kind, intelligent, well-rounded adult and a talented rollerblader with a huge following on social media," she says. "My husband is a catch that I can't throw back. My parents still cherish me despite all my flaws, and I signed papers to acquire my husband's parents in our inevitable divorce as well. My family is my success."
And a good day in her books looks like staying curled up in bed with a never-ending pot of coffee and reading terrible YA novels or binging 90s TV shows. "If I didn't live in the steamy, mosquito-laden tropics of Houston, I'd be found on the golf course every weekend, though," she says.
Clauder is excited about the leadership possibilities for women in tech. "I think the inequality that most women have experienced, myself included, have made us stronger, more empathetic, wiser, and more capable," she says. "Our experiences have primed us to become amazing leaders, which I've personally witnessed within Nexcess. I'm proud to be a part of such a uniquely inspiring, women-led environment."
She encourages young women to look to their passions and consider how those might exist within the field of tech. "Technology isn't just data science or taking apart computers," she says. "Technology connects the world and encompasses everything from marketing to coding to customer service and support. Don't be afraid of the word 'technology' just because of some outdated definition. From emails and text messages to social media, writing papers, and reading news online, you already embrace technology in your everyday life. Conceptualize how your hobbies and interests can merge with tech."
Her advice for women just starting in the field is to go for it. "If you have one iota of interest in the tech industry, find your niche but don't just stick to the job description," she says. "Find where your talents will benefit both yourself and the company. Your company will find value in you when you first value yourself. Also, adopt a shelter animal. It probably won't help, but it definitely won't hurt, and your life will be enriched."
You can find Clauder in Houston with her family and Harley Davidson, where she runs on coffee and crab legs.