Liquid Web's Executive Assistant at iThemes on promoting employee recognition, doing what it takes to support her team, and being a lifelong learner.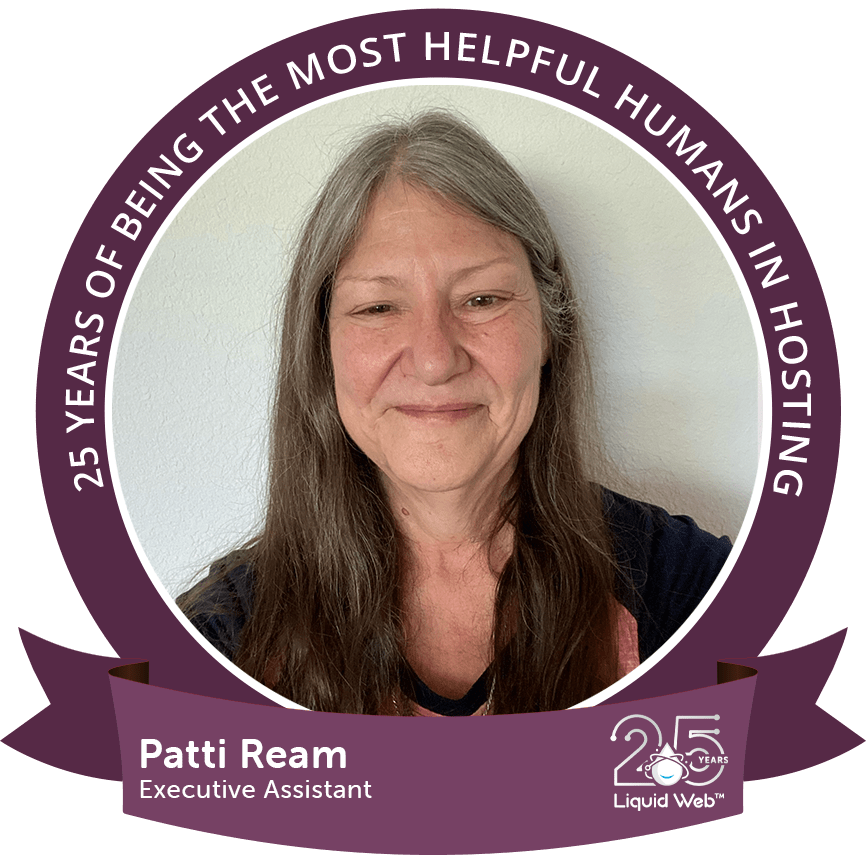 Patti Ream was born in Winfield, Kansas. For trivia buffs, Ream shares Winfield as a birthplace with Mary Ann's character in Gilligan's Island. When Ream was 8, her family moved to Hawaii for a military stint. "In my heart, Ewa Beach, Oahu, is my hometown," Ream says. After graduating from Derby, Kansas, Ream eventually moved to Oklahoma, where she met her husband.
Ream's tech career began in February 2014 when she started at iThemes as the Executive Assistant. "Before that, I wasn't actually a tech person," she says. "But I was the one who learned the processes and programs and trained the staff on them. In addition, I did the weekly maintenance in our satellite offices for the Techies."
Now, Ream is in the unique position of being a support for the whole iThemes team. "Need help with a project? I'm there. Need information gathered? I'm there. Need anything, if I don't know how to solve the issue, I will doggedly trace down the answer," she says. Ream started as the Exec Assistant, running the office, tending to anything that didn't have to do with developing or support—payroll, insurance, accounts payable, providing onboarding materials, and helping new employees. Now she does the same for the Developers and Support staff, helping to keep things running in the background. "Each thing I do teaches me something new," she says.
According to Ream, the best part of working in tech is the people. "It's so inspiring to be around brilliantly minded, forward-thinking people who are creating their futures and changing the world at the same time," she says. "I grew up pre-computers but have always loved exploring with them. I have never met a program I couldn't tackle and master."
One highlight of Ream's tech career has been running an Employee Recognition Program for over 2,200 people and 80 locations. "It was very successful and standing room only at our ceremonies. I have a heart for service and loved making our employees feel great about the wonderful things they did for Oklahoma," she says.
A curious learner, Ream's work style is to dive in deep. "I want to know how to do it, but I also want to know why we do it and how it helps the next person in the chain," she says. In addition, Ream makes it her mission to stay honest, kind, and determined. "When I promise something, I do not relent. I will learn whatever I need to learn to get the job done and spend as much time as it takes to do a good and thorough job, no matter the challenge."
Ream says there is no limit to where women in tech can go and what can be achieved. "Gender has nothing to do with the strength of the mind. Tech is the level playing field of the future," she says. "I would, and do, tell every young woman in my family: Our world has completely changed after the last couple of years. Online technology is the new steam engine."
If she could offer one piece of advice to women just starting in tech or who are interested in the industry, Ream would tell them simply to go for it. "Find the field of technology that interests you and learn everything you can. Find a mentor in the WordPress community and learn from them, too. I have been lucky to have excellent mentors throughout my career. Yes, I have had more than one. Everyone at iThemes is my mentor. Every one of them is a wealth of knowledge that they are willing to share."
Ream says that working at iThemes and learning from her team has kept her involved and relevant. "I've learned things I never thought I would have the opportunity to learn and done things I never thought I would. No matter your age, keep challenging yourself."